Aqua Black Waterproof Cream Eye Shadow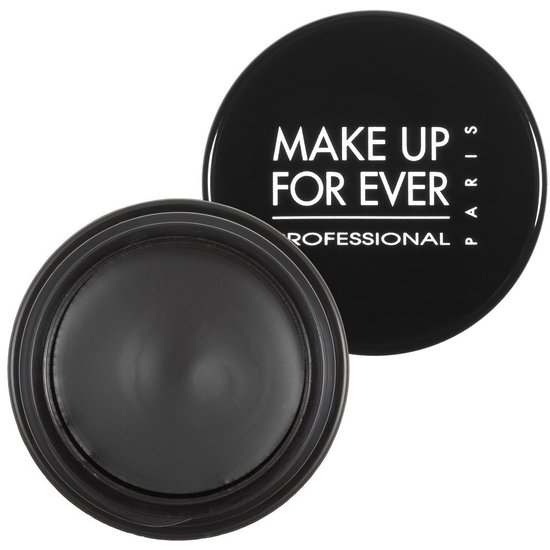 Rollover image to zoom
Reviews

like wonders
I've used every gel cream based liner on the market and no matter the brand price etc it never stays under my eyes until now. This product is AMAZING for under eye liner no smudges no running , I can even cry and it still stays on. It is by far the best black liner for under my eyes I've ever experienced, I have oily skin and still does not budge. From Inglot, to MAC, to Bobbi Brown nothing holds up to this product. ..a must for anyone???

Very dissapointed, doesn't work on OILY LIDS!!!
I had read so many good reviews on this products I had to get it. Since I have extreme oily eyelids and it's "waterproof" I thought I would give it a try. I used my too faced eyeshadow insurance and tried it. It's good if you use it as a base for a dark smokey eye look, but for eyeliner run away from it, especially if you want that crisp line to look fresh all day. This will smudge !!! And it will get ugly because one wrong wipe and EVERYTHING will smear !! Bottom line if you have extreme oily eye lids.. RUN!!! RUN AWAY!!!

The best liner ever!
This is by far the best liner ever. It dries fast, stays on literally after any activity even swimming/beach for hours! As for shadow/smudger I didn't like it very much just because it dries so fast, so once its there it's kind of hard to blend. I totally recommend this if you're looking for a smudge proof, ultra waterproof liner.

Great base for smoky eyes
It's a very good product but you have to work fast with it. It's a very opaque color, is completely waterproof and works amazingly as a base for a smoky eye. It doesn't move once it sets, but it dries very fast so you have to work quickly. You need a very little amount of product to get the work done. Best applied with a synthetic brush.

It's good for an eye liner.
Really good for an eyeliner but dries fast so you have to be quick. For the smokey eye base though I find this product too harsh and does crack a bit, also you can't make a mistake because it really won't budge. Too much messing around with it then you ruin the whole thing.

Blackest Black That Doesn't Budge
This product is simply amazing! I have used it both as a liner and all over the lid for a dark, smokey eye. The texture is truly creamy and I love that it really is pliable enough to smooth out before it dries. You have to move fast though!

Best Cream Shadow "liner" EVER!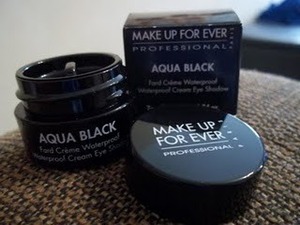 Best Cream Liner: Make Up For Ever Aqua Black hi dollz so in my opinion the best cream liner is the make up for ever aqua black waterproof creme eye shadow :) its sooo pigmented waterproof smudgeproof super creamy sets fast and doesnt move ultra black so opaque and intense and it lasts all day ... i love it ..its my fav creme liner :) retail sales for 22$ @sephora http://www.sephora.com/browse/product.jhtml?id=P237500
xoxo mwah -kiki
---