Rollover image to zoom
Reviews

Favorite Powder Foundation
I own this powder in two shades, NC15 and NC25 for my summer and winter shades. I've used it alone, as a setting powder, and for extra coverage over foundation. It works great for all of them. On top of a medium coverage foundation, I was able to completely get rid of my under eye darkness. I would say the powder alone creates a little more than a medium coverage itself. I love that it's easy to blend, isn't cakey, and has buildable coverage. I have dry skin which does get slightly flakey in winter. During the summer the powder goes on great over some good moisturizer or BB cream, but in winter setting it with spray helps my skin from looking less dry. With setting spray this powder lasts forever.

LOVE LOVE LOVE!
This find is an absolute gem! Perfect for everyday light to medium coverage, or can be layered by itself or on top of a liquid foundation/concealer to achieve extremely high coverage. I toss it in my bag for on the go touch ups, light coverage for school, on top of a liquid foundation and concealer for stage makeup. Even if you find that it is too dark for you in winter, using a lighter liquid foundation, then lighting dusting it on your face works amazingly!

Longwearing, full coverage, reliable.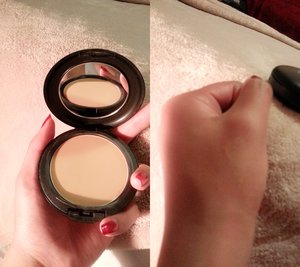 I wore this over a tinted moisturiser for my graduation; I was exceptionally tanned at that time due to the heavy sun exposure and none of my other powders were matching. I went to my David Jones and got this as an emergency buy. I found it came out beautiful in photos, lasted the whole afternoon in intense heat as well as the whole night at dinner. It's worth having on hand for special occasions or as a light setting powder for extra coverage.

Best Full Coverage Matte Powder Foundation
Let me start by saying, I thought I would hate this foundation. I thought it would look cakey, break me out and turn into a mess on my face. I was so wrong! Considering I have oily combo skin and this is a full coverage powder, I experienced no caking or creasing and it left my skin looking poreless and soft. I love this powder for summertime use when I literally have 5 minutes to get ready and run out the door. I have sensitive skin and it didn't upset it, nor did it break me out. I find it's slightly drying in the winter, though, but other than that, it's very silky and makes the skin look beautiful. The only warning I have is to ditch the sponge. The older, oxidized powder left on the sponge will alter the colour of the fresh powder you're applying. If you're insistent on using a sponge, either clean it daily, or use disposable ones. My personal application preference is with a kabuki brush or a very dense powder brush.

IN LoVe !
perfect and I love full coverage make up this is it! its powdery look at first but if you sweet a lot then it turns into just the right amount of foundation with out over doing it...buy it and see for yourself ...I apply it kind of heavy to cover all my scars and stuff ...looks beautiful

Love this!
I use this every day and it just comes on looking great, NOT drying like other powders I've tried. It has great coverage without looking cakey. I don't apply it with the sponge much, just when I'm out and need a quick touch up..but I can't complain about the sponge it comes with, it works pretty well! I use it with a stipple brush when I'm at home. It's very pigmented, I mean EXTREMELY. I've had this for 10 months now using it every day and I still don't see the little silver tin at the bottom! So worth the $27!

I love this powder when I want some extra coverage -- and to look matte. Or as a touch up powder in areas that may need some extra coverage. I've been using this powder for years, and still repurchase it! It's a great product, really.
This is my holy grail powder foundation. I've been using this for years and I've never found a better powder. The huge shade range is amazing - I don't think any other powder foundation has ever been pale enough for me until I found this. Will probably never stop repurchasing this.

And the winner is...
I got NW43 after I took NW48 back. The NW48 was off by a country mile. I could tell in the dark that it was all wrong. I feel that the SAs that work for MAC don't listen nor see well. I went back and they swatch this one and NW45. NW 45 was too orange. I settled for the NW43. This powder seen to absorb into the skin. I can't tell that I am wearing it. This is the powder that I wear almost daily. I have a 5 minute face and I use this powder. I am very oily and it does nothing for the oil. I just have to blot. Overall, I am very satisfied. One thing that I notice is that it neutralizes red. I have areas on my face that are red and wearing this powder makes them invisible.
---