Reviews

You have to get this color, it is a true jet black. I've tried liquid liners and pencils from MAC, but when I discovered this formula, I never went back. Well I only use pencils in my waterline but I always wear Blacktrack on my top lash line. I get complimented on it left and right! It does take a bit of practice but if you want the best results, consider buying the MAC 110 brush to help you get the precision you want. Good luck :)))

L<3ve!
Def a must have! One of the best out there. I say that because its def black, it stays on and I also have no problem removing it! Also its very reasonable priced considering that some a more pricey than this one! I've tried the drugstore brands and they dry out before I can even finish half of the jar whereas this fluidline I had down to the nitty gritty lol

I bought one of these years ago and at first I was a bit shaky when applying since I was used to using pencil versus a brush, but after a few tries I had no problem with applying it, even if I was pressed for time. After I ran out, I was getting a bit cheap with my liner thinking that it was not needed, but come to think of it, some things are meant to be splurged on and this is by far one of the products that is needed. Next trip to the MAC store I'm getting this!! It's long overdue!

One of my top 10 favourite products!
If you are really new at applying liner with a brush, you might find it quite difficult at first and need a bit of practice to get it, but this is irrespective of the product itself - in fact in my opinion it is one of the easiest creme or gel liners to use, and definitely a step easier than liquid liner.
Why I like it:
It has a super silky texture and applies with great precision, like a liquid liner but easier. Once you put it on, its on! Blacktrack lasts all day without shifting or smudging, especially if you set it with a black shadow. Basically, after applying your liner, use a brush to press a black shadow over the top, thus setting the liner and giving it extra staying power. It can also be used on your waterline, and has actual staying power unlike the majority of other liners or pencils. Once again, if you set it with powder, it will last even longer. Because it has such great staying power, it is really good even for people with super oily eyelids. You can use an angle brush or a liner brush to apply it. You can make the line as thick or thin as you want to get your desired shape/style. You only need the tiniest bit of it to get an opaque line, meaning the pot lasts a really long time. It is super smooth to apply - it dosnt drag like a pencil or bleed or run like a liquid liner. I can be used for more than just lining - for example, before it sets, you can blend it out with a fluffy brush to create a great base for a dark smoky eye. It is easy to remove with an oil based eye makeup remover. It comes in a sturdy little glass pot with a screw on lid, so there is little chance of it accidentally opening and drying out, and doesn't shatter if you drop it. Fluidline comes in a few other colours as well!!
What I don't like:
Unlike a pencil or liquid liner that you would apply straight from the bottle, you need to wash the brush you use to apply it after every use. I doesn't come off with just water, so you cant cheat and just try to wash it off in the shower. If you take too long to apply it and the liner dries off on the brush, you will need to give the brush a quick clean before starting again. You need to give it a sec to dry after applying before opening your eyes or it may transfer to another part of your eyelid. If you set it with eyeshadow straight away however, this wont happen. After it had been on for 6 - 8 hours, you might need to refresh it with a new coat to keep it looking sharp and polished.

Obsessed
I love Fluidline. I get 100 compliments every time I wear it. People always ask how do I get the line so perfect with liner, and i always recommend fluidline. Again, it is definitely a product of trial and error. I have been obsessed with lining my eyes since the sixth grade, so I have become a bit of an expert (and even so; i mess up sometimes). Practice, Practice, Practice. Using an angle brush (MAC 266) I have practiced making lines on my hands a bunch of times. This product will stay on your eyes forever. So, prepare to scrub!

SWATCH: Royal Wink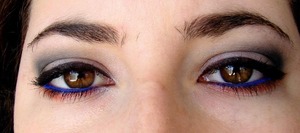 Absolutely, hands down, one of my favorite makeup products....EVER. And I've tried many products.
This bright, almost neon royal blue simply transforms my eyes when I wear it on the lower waterline. It gives it a dramatic oomph without the harshness of a deeper eyeliner. It makes wearing neon color, classy!
Mostly, I wear it on the lower waterline, but sometimes I line my upper lashline and add loads of mascara for a fun look. In the photo, I pair Royal Wink on the lower waterline, and smudge a copper-red-orange on the lower lash line. Because these are complementary colors, they both simultaneously make each other brighter, resulting in a truly mesmerizing effect that got me loads of compliments :)
I'm not sure if this product is discontinued or not, but if it isn't and you like bright color...GET THIS NOW. It's long-lasting, a beautiful color, and high quality.

SWATCH: Blacktrack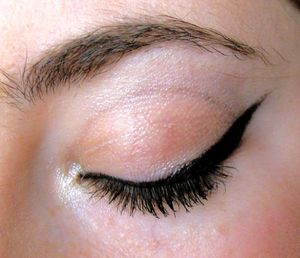 I'm obsessed with MAC Fluidliners, and gel liners in general. I love that it has the precision of liquid liner with the softness and color selection of pencil liners.
Their quintessential black shade, 'Blacktrack', is no exception. It's a pure inky deep black that works with literally anything I own. It can be used simply as upper lashline eyeliner, on the lower waterline for a sultry cat eye, or even smudged on the lid as a base for smokey eyeshadows to stick it. It's a hard worker in your makeup wardrobe and it will perform! Usually I do upper lashline winged eye liner (photo) on more dramatic days with a MAC 263 brush. It seems in the photo that it transfers to the upper lid, but that was because I literally globbed on way too thick of a line with my brush to realize. You only need a thin layer of this product to achieve maximum pigmentation, and it can be easily layered and taken off with basic makeup remover. This product doesn't smudge (unless you intentionally smudge it yourself), and will last all day. At around $15, this product will last you a year, but make sure to seal the jar tight to preserve shelf life. Definitely recommend

I was a little disappointed at first when I bought this, because I saw that it wasn't one hundred per cent black. Then I looked it up on the MAC website, and saw that this wasn't the black one, it was the gold/black one. It wasn't a big fault, and I still use it a lot. What I love so much about it, is that it stays on all day, and all night too if I'm lucky. I can hardly find a fault at all with this product, it stays on, I don't get these "dots" on my inner corners, and it makes any make up pop really good. The only thing that annoys me a bit, is that I find it really hard to put on. Maybe I have the wrong brush or something, but I can't seem put it on properly without failing a lot.

Best gel liner!
Goes on smooth! no tugging or anything! Gives a pretty pigmented line, perfect for winged eyes or cat eyes! easy to use! can smudge for a smokier look! its very versatile! i also use it on my lower lash line and it stays pretty well after i set it with some black shadow! Overall a great liner!

Drys out to quick
i like it, but i find that the lid doesnt close right so it drys out fast but it is a good product i just think they should fix the lid but they do last along time and they dont smudge as much as liquid or Pencil so thats good!
---