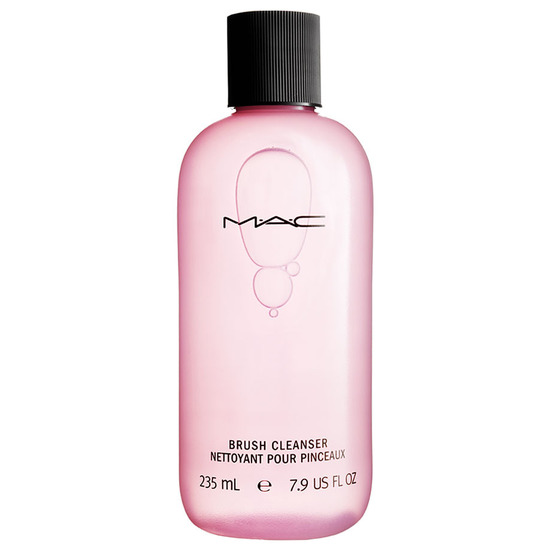 Rollover image to zoom
Reviews

It's a holy grail.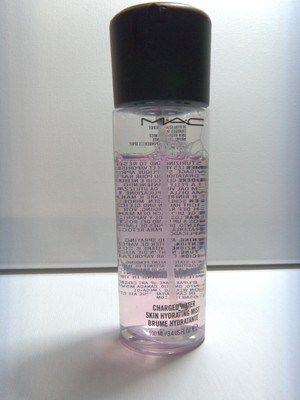 I think this is a great brush cleanser, not because its the MAC brand, but because it has been my go to brush cleanser for about 3 years. I think it does a great job at cleansing brushes. I mix it with distilled or filtered water in a spray bottle for spot cleaning because if you use it concentrated...you are basically wasting product. The price for the brush cleanser is reasonable and it will last you a while. One bad thing about the cleanser is the packaging. It doesn't come with a spray top so it's best if you either transfer it to a spray bottle or add a spray nozzle to it.
I mixed brush cleanser and distilled water into one of my empty Charged Water containers and now it's easy to travel with and easy to store in my train case.

Quick tip: use a spray nozzle to save product instead of using it as a brush soak or pouring it out!
I <3 this stuff... and if you dilute it just a bit 1/3 distilled water to 2/3 cleanser ratio - and add a spray nozzle, you can really stretch the lifespan of this product to last you longer. I get irked out watching videos where people pour this out and use it as a soak or pour it directly onto a washcloth to clean their brushes with... [what a waste!]
If you want to recycle, I used a spray nozzle from one of my travel sized body sprays from Bath and Body Works. Works like a charm!
Best I've tried, and happy enough to never stray. =D

Effortless
This is the brush cleaner i use and i love it! Brushes come clean so easily, and you only need to use a little bit. The only downside is you have to pour it, and it can easily waste. Getting a spray bottle and putting it in might be a helpful thing

I rate this 5 stars! This is a nice cleanser. I use it for spot cleaning and deep cleaning. I put the brush cleanser in a travel size spray bottle so that I am not pouring it out and wasting it. When I need to clean a brush, I spray the brush with the cleanser and dust it off on a paper towel or towel. It cleans it effectively and the brush dries quickly enough so that I can re-use the brush again. I also notice that it conditions the bristles of my brushes and it says that it also disinfects them. When I use it for deep cleaning, I mix 1/4 brush cleanser with 3/4 of water. I let them soak for about 2 mins then rinse them under tap water.

Brittney Chloe H.
Feb 10, 2011
Great for a quick clean!
I love this product! It's relatively cheap, at A$20. Its great at removing product without damaging the brushes itself. I'd have to transfer it to a spray bottle! I didn't know that I was wasting too much product with the cap! But then again, sometimes I deep cleanse my brushes with this, I probably shouldn't!

Nancy-Lee C.
Dec 31, 2010
A great product
This is easy to use and it does not dry out my brushes. It works very quickly at removing all traces of makeup and leaves a clean not chemically smell. This is my always go to brush cleaner.
Like everyone else, I transferred it to a spray bottle. That is why it lost 1/2 a star, because the cap causes you to waste product. And since i already had a spray bottle from my Clinique brush cleaner, I used that.

um..not buying again
After being in school for 3 weeks I quickly realized this product really sucked. I have one in my personal stash at home and rarely use it! It takes forever to get the makeup out of my brushes. As an MUA I have to clean my brushes quickly and efficiently, and this did not do the job. I felt as though I had to grind the brushes into my hand or paper towel and there was still sooo much product left, and the brush hairs began to come out. What I found really works is the MAC eye & lip makeup remover. (angels singing) Because of the oil in the product, the makeup comes off super smooth and twice as fast.

works but waste of money!
works well so it could possibly be 5 stars but depends on how you look at it! I think it's a waste of money and I don't give a rats behind what they tell you or clinically proven to do..yah yah it disinfects but so does alcohol and you can buy your own for cheap and put it in a spray bottle and disinfect your whole house AND BRUSHES. Baby shampoo works great on all my brushes and I've been using it for years and my brushes look brand spank'n new. I've had one of my MAC brushes since 05 now and it works the same as before.

Perfect for spot cleaning!
I have used this for full brush cleaning but I felt I was using too much as I went through the bottle so quickly. I now keep this in a spray bottle on my vanity and use it for spot cleaning every time I use a brush. I use a simple anti-bacterial hand wash to fully clean my brushes, but using the MAC brush cleanser daily makes deep cleaning quicker and easier.
---