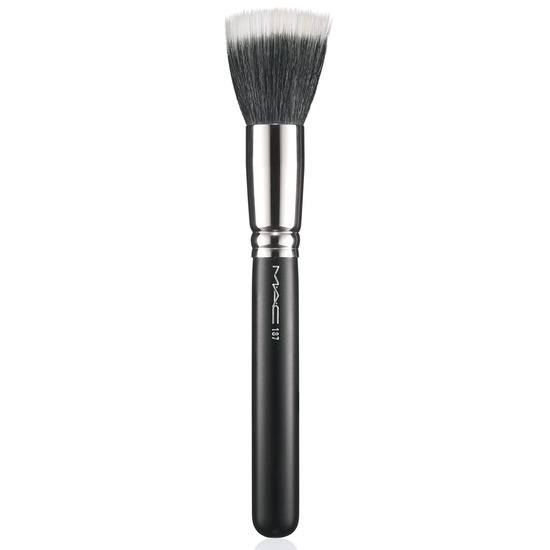 Rollover image to zoom
Reviews

Used to love it
When i got my first foundation mac studio sculpt i was told to use this brush and of course because i didn't know much about makeup i went along. I liked it for a while i thought it was the best brush ever. But now it sheds like crazy and I've replaced it with my sigma F80 which is the best brush in the world ! I now use this for blush so i don't let it go to waste. Would never repurchase this brush

Hands Down, My FAVORITE Foundation Brush for Liquid Foundation!
Because of the synthetic fibers, the brush allows you to stipple the perfect amount of foundation on the skin and the natural fibers, allow you to buff the product into place, leaving you a flawless finish. I prefer the 187 over the 188 for liquid foundation because, the lack of density in the brush allows for a more buildable coverage. This brush is also great for a subtle application of cream blush and powder. Very beautiful tool!

I purchased this brush in 08 and I have yet to find one like it. The quality of this brush speaks for itself I have used this brush for applying everything from foundations to bronzers to blushes of all consistencies liquid, creme and powder I clean it with their brush cleaner and warm water and its like amazing how the bristles are white again ! MAC has a mini one of this but I tend to like the bigger size

Love
This brush is really expensive, but it's definitely worth the money. It makes a flawless application of foundation, tinted moisturizer or really any product you are looking to put on. I find it also makes my coverage a little more sheer instead of full, but that's the way I like mine so I really do love this brush. If you are looking for more full coverage I wouldn't recomend it!

Stephanie S.
Mar 18, 2013
This is a really brilliant brush. At the time I purchased it, about six years ago, there were not suitable dupes on the market. The 187 is amazing for applying everything from foundation to blush to highlighter. I really like it with light, liquidy foundations as well as blushes that require a very soft application. Sonia Kashuk's version is the most similar one I've tried, but I do find it to be a little more flat at the end, and slightly more dense. I do use both quite regularly.

AMAZING!!
This is by far my faveourite Mac face/Foundation brush ever!! The quality of this brush is just fabulous! Ive had this brush for about 3 years an use it regulary an its still in perfect condition.

Awesome Brush!
Mostly people praise this brush for the use of applying airbrushed application of liquid foundation which is surely a universal fact.. I have enjoyed it as well. But undoubtedly i have enjoyed the application of blush more. specially when i need a slight flush of colour from a very pigmented blush or it helps reduce the shine or chunkiness from the glitter loaded blushes and helps the product to apply smoothly.. Thumbs up to Mac!
---