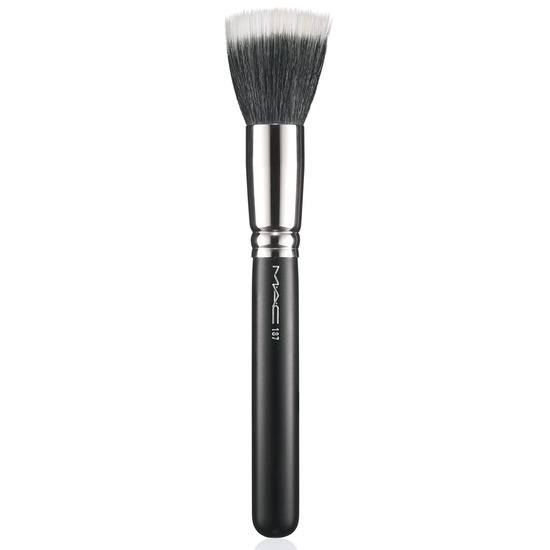 Rollover image to zoom
Reviews

I purchased this brush in 08 and I have yet to find one like it. The quality of this brush speaks for itself I have used this brush for applying everything from foundations to bronzers to blushes of all consistencies liquid, creme and powder I clean it with their brush cleaner and warm water and its like amazing how the bristles are white again ! MAC has a mini one of this but I tend to like the bigger size

BEST FOUNDATION BRUSH EVER!
LOVE...... sums it up! Just pure LOVE! The most awesome foundation brush! Lets the skin looking airbrushed, have to say it works with waterbased foundations better though :) Deff a must have in your makeup belt, feels super nice on your skin and belnds amazingly! Like i said about the duo fiber 130 ( smaller version of this brush ) it gets into all the nooks and crannies on the skin, which is what gives it that airbrushed look! FLAWLESS ;)

Hands Down, My FAVORITE Foundation Brush for Liquid Foundation!
Because of the synthetic fibers, the brush allows you to stipple the perfect amount of foundation on the skin and the natural fibers, allow you to buff the product into place, leaving you a flawless finish. I prefer the 187 over the 188 for liquid foundation because, the lack of density in the brush allows for a more buildable coverage. This brush is also great for a subtle application of cream blush and powder. Very beautiful tool!

Love
This brush is really expensive, but it's definitely worth the money. It makes a flawless application of foundation, tinted moisturizer or really any product you are looking to put on. I find it also makes my coverage a little more sheer instead of full, but that's the way I like mine so I really do love this brush. If you are looking for more full coverage I wouldn't recomend it!

Awesome Brush!
Mostly people praise this brush for the use of applying airbrushed application of liquid foundation which is surely a universal fact.. I have enjoyed it as well. But undoubtedly i have enjoyed the application of blush more. specially when i need a slight flush of colour from a very pigmented blush or it helps reduce the shine or chunkiness from the glitter loaded blushes and helps the product to apply smoothly.. Thumbs up to Mac!

Changed my life!
I don't no what i did with foundation before i got this brush, literally! It gives an amazing flawless finish specially with studio fix fluid blends effortlessly. I have the 188 brush too for my forehead, undereye and nose just to get into the nucks and crannys as the 187 is just abit too big for them areas of my face. I'd say their worth the money as the last a life time depending how much you use them and how you treat them. I have two of these brushes one for foundation and one for blush as it builds blush nicely x

Perfect Brush for Applying Foundation
This is definitely one of my staple brushes; it's perfect for applying liquid foundation. I dab foundation onto each cheek, my forehead, and chin, and then buff it in lightly with this brush. I only press hard enough that the shorter black bristles just touch my skin. After applying my foundation with this, my foundation lasts FOREVER and I seem to get more coverage out of it than if I just applied it with my fingers or a regular foundation brush. It looks amazing! I look airbrushed!

I LOVE LOVE LOVE THIS BRUSH. It can be used for setting powder, blush, bronzer, and foundation. When I first started getting brushes, this was my favorite!! As long as you take care of it, it'll last and be worth it!

My Favorite Foundation Brush
This was at first my least favorite MAC brush because when you first buy it it sheds, a lot. But I was determined to use it because hell it's expensive, So after multiple attempts at using it for blush or contouring and failing because it still shed and washing it 3 or 4 times, it magically stopped shedding and I won't use any other brush for my foundation now. It gives a airbrushed look and it applies it so well that I only use like one or two max pumps of foundation. If you looking for a good brush pick this one up but don't be alarmed at first if it sheds just keep using and washing and it will stop!!
---