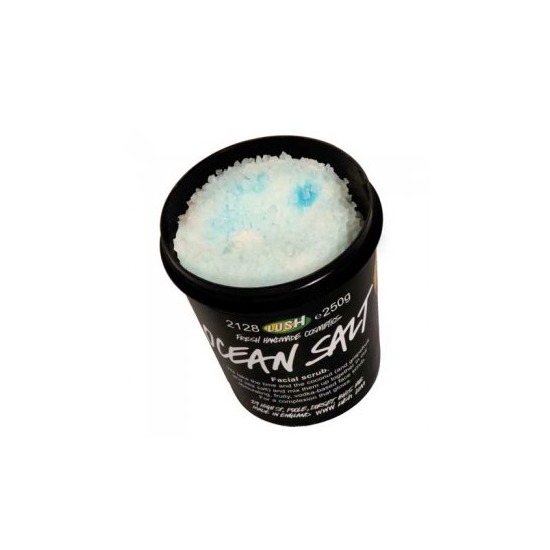 Rollover image to zoom
Reviews

Super Refreshing, Non Drying, Creamy and Restorative + Legit Exfoliation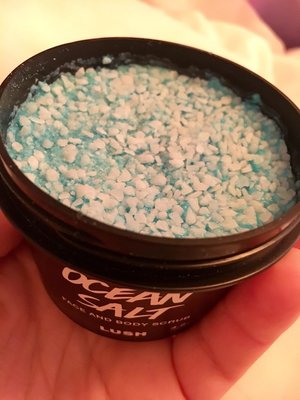 I bought a tub of Lush Ocean Salt upon the recommendation of a friend who knows her scrubs, but as someone who definitely lands on the dry end of the skin type spectrum, and who works hard to stay hydrated and moisturized, I was slightly hesitant at first to apply large grains of salt to my skin.
However, I was persuaded to give it a fair chance when I mixed the product up a bit and saw the buttery blue mixture beneath the salt - and I'm so glad that I did! The salt began as a firm exfoliant, but as I massaged the product in circular motions, it gradually dissolved into the avocado and coconut butter mixture, and left my skin feeling deeply cleansed, fresh, and above all, very soft and well moisturized.
I really love this product and use it about twice a week, and am happy to report it actually seems to be more gentle than the Bobbi Brown buffing grains that I had been super committed to previously. I still plan to keep both around, but if you're looking for exfoliation plus moisture all in one, this is absolutely a product that will meet those needs!

good but not for dry skin
I have very sensitive skin but it can be good for normal to oliy skin but its a bit to harsh on my skin because it has vodka I did get irradiation

Great exfoliant!!
I have sensitive skin and struggled to find an exfoliant that didn't leave me red and stingy. I got a sample of this and tried it out and wow! It's gentle, yet effective and smells wonderful! Another plus is that Lush uses natural ingredients and is cruelty-free!! :)

great !
i've been using this for a while and I like it quite a lot! I use this to get rid of a few pimples and it really works! also the ocean salt lasts for a long time so you don't have to buy a new one quickly. it is 10euro I have no idea why that is in dollars but it is certainly not expensive! I'm in Loveee:D

super facial scrub! best facial exfoliator I've tried. my face feels clean and moisturized when I use this, and I have pretty dry skin. I love using this particularly on and around my nose and forehead, sometimes I use it on my body too. leaves my skin smooth and fresh. if you have any cuts or abrasions on your skin it'll sting when you get this on it!

My all-time favorite facial scrub! Must have!
I am absolutely obsessed with this stuff! I use this especially on the sides of the bridge of my nose because I get a lot of white heads in that area. I just take a little bit of the sea salt ad scrub gently daily, and it clears it all up! After I hop out the shower it leaves my face feeling really soft. I have sensitive skin, and this magic scrub doesn't irritate it.
---