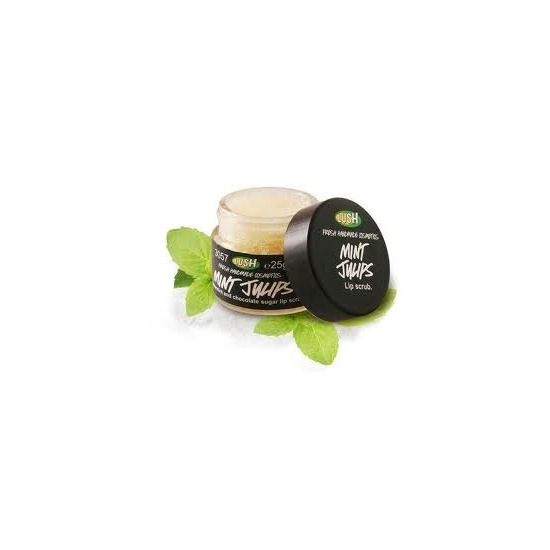 Rollover image to zoom
Reviews

Great!
I bought this product in bubblegum because c0ok1e monster (youtube) had it, but I love it! I exfoliates well and is good enough to eat! I use it every night and morning

minty goodness!
I have extremely dry lips and this does it for me. I like to do this once a week. I love mint anything! Very invigorating. The only tip I have is to make sure you exfoliate thoroughly to get rid of ALL the dry skin. You can lick your lips right after for a yummy mint chocolate taste.

I fell in love the FIRST time I used it. I use this when my lips are damp after brushing my teeth and it locks in the moisture. When I feel like exfoliating, I use it on dry lips. It's sweet too, so if a little gets in your mouth by accident you have no worries about nasty chemical taste.

Must HAVE!!!!!
Everyone should have a lip scrub and I never realized that until the cold climate I was living in made my chapped lips, crack. This is step one in making your lips go from chapped to smooth while making your lipstick application smoother. Although it might a little messy, you dab your finger into the scrub and scrub your lips and lick off the excess. I then apply my favorite lip balm before I proceed to my lipstick application. I love this!!!

One of THE BEST lip products!
I bought this more so just for fun because I liked the idea of exfoliating your lips with something natural enough to actually lick off! I was amazed at how smooth my lips were after and the oils in the product soothe your lips without making them greasy! I use it before bed and put on a lip balm and by morning my lips are beautiful! I also love the scent. Minty Sweet.

Makes your lips so, so smooth.
Now, the LUSH lip scrubs are messy, but they are so worth it. Just dab your finger into the sugar, apply it to your lips in a scrubbing motion (like brushing your teeth), lick off the excess from your lips and use a tissue to get the bits off your face. This stuff is a must before applying lip balm, gloss or lipsticks. Everything goes on buttery smooth and looks amazing.

Megan-Rose Core MUA C.
Dec 30, 2011
Ireland has been getting colder lately and the talk of the dreaded snow is among us!! My friends and family seem to be dropping like flies with colds and flu's, luckily (fingers, toes and everything else crossed) I am still sniffle free! The one thing I do suffer from though is chapped lips. For years I used to leave the lips sticks and glosses behind and carry a tube of Vaseline in my pocket dosing my lips every hour trying to get rid of the flaky skin. It was only this year I was told that Vaseline does not work it actually dries them out more!! So I went in search of a new product and alas I found one!!!
On one of many random shopping trips with my beautiful friend Noelle, she told me about an article she read in one of the many fashion magazines about a exfoliating scrub for the lips and that u did not need to carry a lip balm around all day with you. The minute she said LUSH made it I knew it would be Divine!!. So we popped into LUSH on College Green in search of this wonder potion.
The wonderful LUSH store assistant pointed us in the right direction as we looked like two lost puppy's in search of a bone. This lip scrub comes in 3 flavours Bubblegum, Sweet Lips and my favorite Mint Julips. All handmade and made from natural ingredients. These scrubs main ingredient is sugar so their edible and its kind of hard to resist having a little taste! They taste as delish as they smell!!!
These little jars work out around €7 but last a life time. All u need is a pea size amount each morning to scrub into your lips each morning, after giving them a good scrub just wash off the scrub and then apply your favorite lip balm. By the time your finished applying the rest of your makeup your lips should be flake free and nicely moisturized so you can apply your favorite lippy. So girls and boys forget about those previous years chapped lips and say hello to kissable lips all year around!!
---