Lemony Flutter Cuticle Butter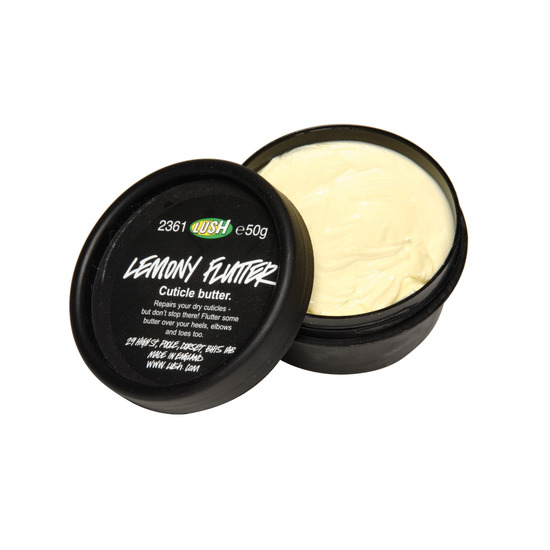 Rollover image to zoom
Reviews

Saved my nail beds!
This product has saved my nails! One day I looked down at my nails & saw that my cuticles were so dry & cracked they looked just awful! I ordered this from Lush & it has been great! I just put a bit on before I go to bed & my nail beds instantly look more healthy! I don't even have to re-use this for like a week or 2! This little container will last you a very long time. I am no where near done with mine & I ordered it 5 months ago.

Threemoons T.
Oct 14, 2012
You want this next to your keyboard at work, for just about EVERYTHING.
I have dry cuticles. I also tend to get really bad dry knuckles in winter, whether I wear gloves or not. I LOVE this product.
First of all, a tub of it lasts forever. Secondly, it is not only the best rub-on for cuticles, but the rest of your hands as well. And heels. And even your lips. In a pinch, you can also use it for split ends. I have even used it to smooth down my brows as an emergency fix-up (think being stuck on a commute without an umbrella, coming to the office looking like a drowned rat).
Know that this smells very strongly of lemon though, but in a GOOD way. Whenever I take it out at the office, people ask me what perfume I'm wearing; when I show them the tub they ask to try some! So lock it in your drawer after work or it may go missing!

Cuticle life saver.
My cuticles are soooo dry and hard but after using this for some days my cuticles are seeing its better days. Not only am I using it on the cuticles but all the really dry areas all over the body. At first i though that the smell was really strong and i tend to get a headache of strong scents especially lemon but now i think it smells just wonderful and it doesnt bother my at all. I can just sit around and smear it all over my self for hours.

In Love!
I use this on my cuticles, toes and heels every other day. I give myself a manicure every week and my cuticles have never looked so healthy. It's smooth, creamy and very moisturizing especially for those dry areas. I would definitely recommend this product to those who have dry hands or have dry skin around their nails. If you're a beach person, definitely use this after you spent your time in the sand and ocean. I guarantee your feet will feel smooth the next day.

Lab-approved!
I am taking a year of organic chemistry classes and we have to wash all of our equipment with pure acetone. This is murder on my nails and I have tried so many cuticle creams to try and save my nails. This is the sure-fire winner! each week after lab, I run my hands under water and then rub this into my cuticles and its like lab never happened! Lush has made another awesome product that I will use for LIFE.

S O O T H I N G + B E A U T I F U L <3
I use this product pretty much every day it is soft and does wonders for chapped hands. It has a fresh scent and really moisturizes heels as well elbows and hands. It is well worth the money and lasts a very long time, however i feel sometimes it feels a little bit greasy so make sure you rub it in well.
I have to say go get some, it is well worth it :)

so much love!
I am not a LUSH product person. What I mean by that is - I don't have drawers full of LUSH products, but this is the one out of two that I own (the other is Bubble Gum Lip Scrub). Mostly, I am afraid of developing an addiction and spending all my money on the bath items, so I am trying to pace myself...
I purchased the Lemony Flutter Cuticle Butter after I saw a few reviews on this product by ladies with beautiful nails. I have frail nails and my cuticles dry out quickly, which bothered me a lot and I thought I'd try it out.
Once I went into the LUSH shop and smelled the product, I knew I'd actually use it (I keep forgetting to use cuticle oils all the time, because they are so messy and don't always smell as good). The smell is pretty strong, so if you are not into such strong smelling products, you will not like it. However - everything at LUSH smells strong, so you must have guessed that already.
Every time after I use this, my cuticles are so soft and happy, and so are my hands. This is perfect, especially during winter. You may want to use it and massage your cuticles while you are watching TV or something, because your fingers will get quite greasy for a bit and you don't want to touch things that will keep the oil.
If I had to pick one LUSH item, it would be this, especially for those with not so perfect cuticles. It feels so nice, you will not regret it.
---