Lemony Flutter Cuticle Butter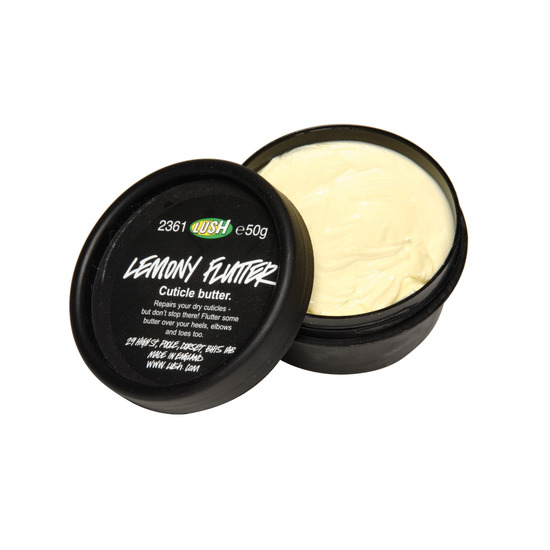 Rollover image to zoom
Reviews

Cuticle life saver.
My cuticles are soooo dry and hard but after using this for some days my cuticles are seeing its better days. Not only am I using it on the cuticles but all the really dry areas all over the body. At first i though that the smell was really strong and i tend to get a headache of strong scents especially lemon but now i think it smells just wonderful and it doesnt bother my at all. I can just sit around and smear it all over my self for hours.

Threemoons T.
Oct 14, 2012
You want this next to your keyboard at work, for just about EVERYTHING.
I have dry cuticles. I also tend to get really bad dry knuckles in winter, whether I wear gloves or not. I LOVE this product.
First of all, a tub of it lasts forever. Secondly, it is not only the best rub-on for cuticles, but the rest of your hands as well. And heels. And even your lips. In a pinch, you can also use it for split ends. I have even used it to smooth down my brows as an emergency fix-up (think being stuck on a commute without an umbrella, coming to the office looking like a drowned rat).
Know that this smells very strongly of lemon though, but in a GOOD way. Whenever I take it out at the office, people ask me what perfume I'm wearing; when I show them the tub they ask to try some! So lock it in your drawer after work or it may go missing!

Smells good!
I already finished a pot of Lemony Flutter and I've enjoyed it so much I'm getting a new one. It's a buttery cream with lemon scent with hints of honey. It's very nourishing not only for cuticles but for elbows, heels, hands and feet. And I dare to say even to lips! It's a multi purpose cream and I love it!

In Love!
I use this on my cuticles, toes and heels every other day. I give myself a manicure every week and my cuticles have never looked so healthy. It's smooth, creamy and very moisturizing especially for those dry areas. I would definitely recommend this product to those who have dry hands or have dry skin around their nails. If you're a beach person, definitely use this after you spent your time in the sand and ocean. I guarantee your feet will feel smooth the next day.

Lab-approved!
I am taking a year of organic chemistry classes and we have to wash all of our equipment with pure acetone. This is murder on my nails and I have tried so many cuticle creams to try and save my nails. This is the sure-fire winner! each week after lab, I run my hands under water and then rub this into my cuticles and its like lab never happened! Lush has made another awesome product that I will use for LIFE.

An multi-purpose moisturizer.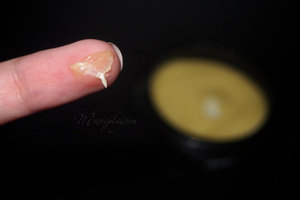 The scent is amazing and moisturizes really well. I don't only use it on my cuticles but also on other dry areas, like the knees and elbows. It's not greasy at all surprisingly because most of the ingredients are oils. It absorbs quickly and a little goes a long way.
Full review here: http://musicplayson.onsugar.com/Lush-Haul-Lemony-Flutter-20800071

S O O T H I N G + B E A U T I F U L <3
I use this product pretty much every day it is soft and does wonders for chapped hands. It has a fresh scent and really moisturizes heels as well elbows and hands. It is well worth the money and lasts a very long time, however i feel sometimes it feels a little bit greasy so make sure you rub it in well.
I have to say go get some, it is well worth it :)

I'd read a lot about this online and couldn't wait to try it - it smells AMAZING. I've been using it about 2 weeks now, on my cuticles, hands, elbows and heels. It's made such a huge difference - my elbows aren't nearly as dry as they used to be and because of the citrus in this, the dull parts of my skin are less discoloured and much brighter now, exactly what I wanted. I absolutely adore this. It's so thick and creamy too, it's going to last so long which is fantastic - well worth the money.
I hope one day they can find a way to make this product vegan though.
---