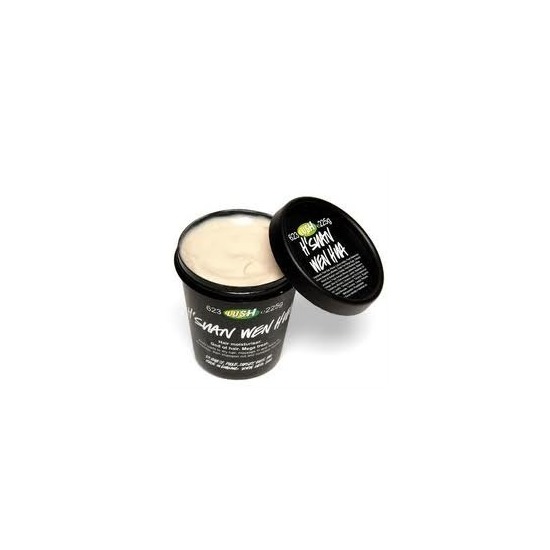 Rollover image to zoom
Reviews

amazing product! yes, it does smell like salad dressing in the tub, but after washing and drying leaves a light, deliciously sweet scent behind. I don't know how that happens but it does! makes my hair soft and shiny when I abuse (heat, style) it and it's left dry and damaged. it works! more than just a feel good product!

read reviews and seems like i should give this a Try! i have been looking for a simple hair mask although i do know a home made one but i don't feel as if it will do any better then this now since ive read comments above & where exactly can i get this?

Smells weird but works amazingly
This is my first product i've ever tried from Lush, as my skin is really sensitive i thought i'd give their hair masks a try. My hair is prone to frizz and is very curly and dry but this makes my hair feel super soft afterwards. I didn't really mind the smell, it's a bit peculiar but my mum hates it and can't stand being near me so that's the only downside but other than that does everything you could want for dry curly hair, especially when all the ingredients are vegan and natural!

Ewwww but Yay
It smells terrible; the vinegar is so strong in this mask that it makes me feel sick after a while but it works very well on my hair surprisingly. Just remember to use it BEFORE you shampoo otherwise your hair will end up all stringy and weird!

Smells like christmas :)
Ahhh i had the biggest problem with my hair. It was really fine, but super knotty at the same time. After getting my hair cut a bit shorter I went in and bought this to stop my hair getting in a state again.
They say you can't get many uses out of one pot, but so far i've managed about four. I leave it on for agesss, about 30-40 mins and then use shampoo and conditioner. Initially i didnt think it made a huge difference but when i woke up the next morning my hair was much smoother and easier to brush through. So overall it's really nice although the smoothness only lasts a few days.

Knew I Shoulda Bought This!!
Argh. I was at a Lush in Chicago last week & I thought about getting this, but I decided on Veganese instead. Now I know that I should have gotten BOTH!!
Chicago haul video (including Lush purchases) to be posted on our blog very soon!! :) Be sure to "follow!"
Mendi @ Her Late Night Cravings http://herlatenightcravings.blogspot.com/

Cinnamony Goodness!
I've recently started using this hair mask again. I hadn't purchased it in awhile because of the price, but I've found that my hair needed a little extra TLC because it was feeling very dry and damaged. You use this mask by applying it to dry hair and then shampooing it out. The amount you use depends on the length and thickness of your hair. My hair is rather thin but very long...even so I've noticed that I don't need as much as the directions require (definitely not half the pot!). I'm only halfway through the pot right now and I've use it 3 times. The smell, to me, is exactly like cinnamon. Its one of those smells that you will either love or hate. Many seem to think it smells like salad dressing, but I don't get that at all. The smell will also stay on your hair for a couple days afterward. My hair feels like silk after I use this, so even if you don't like the smell, give the product a chance! This is not something I would buy regularly (due to the price) but anytime I feel like my hair needs some extra help and pampering, I will be picking this up. :)

I swear by this product!
This hair mask is the best thing I've ever discovered at Lush! I went to Lush one day with a good friend and one of the gals there was talking to me about how this hair mask did wonders for her dry hair. I bleached and chemically colored my hair last year so now my hair is so dry and frizzy at the ends. It got to the point where I wanted just to chop it all off but now since I've been using this I don't feel that way anymore.
This might smell a bit weird while in the tub but once you use it in your hair and let it dry it actually smells really good. Nothing close to salad dressing haha. After the first use I noticed my hair was extremely soft and so much more manageable without any products. I leave this in my hair for about 30 and then just shampoo and condition it like normal. This whole tub would last me about a month. I have a lot of hair and it's getting really long so I would have to use a lot of product. I recommend this to everyone! I have been using this for a year and a half now and will continue to use this until they no longer make it anymore. $20 is a bit pricey but completely worth it to anyone who wants/needs to repair and put moisture back into their hair.
---