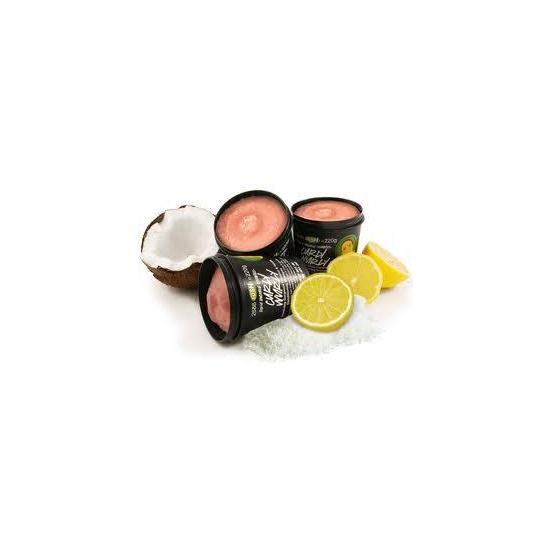 Rollover image to zoom
Reviews
My best friend has curly, frizzy hair (well, now had thanks to this shampoo). I personally have never used it since my hair is straight, but her and I noticed a difference in her hair. It was less frizzy, and the curls were more uniform, smooth and softer throughout.

Almost perfect
I am finishing up my first jar of Lush Cosmetics Curly Wurly and I am sure to purchase another. The moisturizing formula and lather really helps my dry, curly hair and leaves my hair healthier after each use. The chunks of coconut took some getting use to but makes for a unique texture while washing. My only dislike of the product is that I noticed it would strip out hair color from my dyed hair. Still a great product!

love it!
This shampoo is definitely the most hydrating I have ever used. It takes down A LOT of my frizz and shapes my natural curls really nicely. Normally, if I just let my hair air dry it is a poofy disaster. If I use this shampoo my curls dry pretty nicely. Not to mention this smells AMAZING. It is like the beach during summer time in a bottle, love it. A lot of people complain that this is difficult to use because it doesn't lather. It is a little tricky to get it to lather. I find that if I scoop some out and hold it on top of my head and then just stick my head under the water for a second It starts to lather rather easily. I have also heard the complaint that it leaves coconut pieces in the hair. It does do this right after I rinse it out but after I put my conditioner on and rinse THAT out I have never had any leftover pieces.

Not my favorite...
First off, the smell is amazing! It's filled with coconut and shea butter to nourish dry, curly hair. However, it doesn't lather at all and feels like I'm smothering my hair in chunky conditioner. The chunks also take forever to come out and I find my self needing to search for coconut before I get out of the shower! Overall, the smell is amazing but be warned if you are looking for a more traditional shampoo.

I got this because my curly hair was just lacking curl, body, and moisture. When I used this it lathered up very fast and nice. The smell though i'm still debating whether I like it or not. It's not bad it's just... interesting! But it has chunks of coconut in the shampoo which took some time to get them all out. I must use a conditioner after using this just because my hair was very tangled after I got out of the shower, but overall my hair was very nice afterwards and curly and did not look dry!! Still debatiing whether I'll buy again.
---