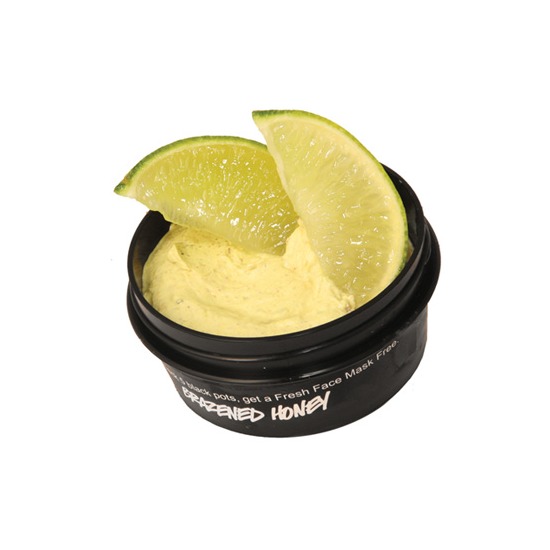 Rollover image to zoom
Reviews

Alexander L.
Dec 23, 2013
I love this mask. And 'love' may be an understatement of sorts. More like borderline obsessed. This is the first mask I tried from Lush and it's the mask I go back to time and time again to spoil myself. This mask:
1. is an amazing exfoliant. 2. smells brilliant. 3. leaves the skin feeling soft and smooth. 4. gives the skin great radiance.
I just can't get enough of this mask.

leaves my face smooth, soft, and feeling rejuvenated. great for when you have some time to treat yourself. I love LUSH face masks. smells good, in a 'this has natural ingredients' way, not a perfumey way. has some gentle exfoliating action going on as well. needs to be used up quick since it has no preservatives--two weeks or less. I get about 4 uses out of a single pot.

Fresh faced!
I have always used the Lush face masks, they smell fab and give a pick me up when i'm feeling tired. The smell is so fresh an uplifting, i can certainly smell the honey and a certain spicey scent over it. I tend to pop it on after a hot bath and leave it on for upto 20 mins. It leaves my skin less red (i tend to get the odd red patch) and leaves it smoothe. It is under £6.00 so won't break the bank!

I bought this face mask a few weeks ago and Im obsessed! Its fresh and 100% natural. You have to keep it refrigerated because the ingredients are so fresh and natural, which I love! I have very reactive skin so anything unnatural and synthetic makes my skin break out. This mask is soothing but works as an exfoliant at the same time. Its made with honey and ground almonds amongst other wonderful ingredients! After just the first use of this mask my skin felt softer and glowed. I use this mask 2 times a week. In fact, Im about to go use it again right now!
---