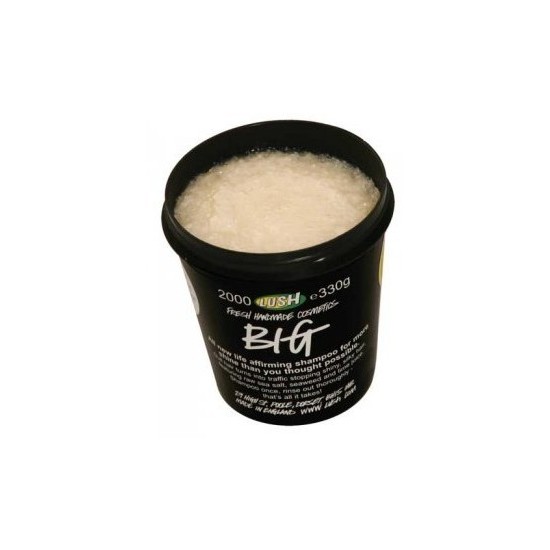 Rollover image to zoom
Reviews

Oh, how I love it.
This shampoo is the bomb. It smells AMAZEBALLS. Like, this really beachy, salty scent. It lathers like a champ, especially if you do a quick little shampoo with it once and then go back in with a little more. It leaves your hair SUPER soft and volumized. And my hair is NEVER volumized. I wouldn't recommend using it every day, especially if you have dry hair, as the salt can be drying, but it's so great for special occasions.

Best shampoo I've ever used!
I don't know where to start with this, first of all, I LOVE the smell (big blue is my favourite bath ballistic), it smells just like the seaside because of the seaweed and sea salt. These ingredients also make your hair soft and shiny, and my hair never, ever shined, so this product really stood out for me. The texture is a little weird for some people because it's 50% sea salt, but it feels nice when you massage it into your scalp. The price puts some people off, but it's worth the money and it lasts a lot longer than you'd expect it to, because even the tiniest bit goes a really long way. Recently, I've been trying to grow my short hair and found this shampoo has helped a lot. My hair looks and feels so much healthier and seems to be growing a lot faster. I couldn't find a single fault with it, I don't think I'll ever buy a different shampoo!

Love it so much.
I love this shampoo so much. A little bit goes a long way and I was surprised my first tub lasted as long as it did so the price definitely made this an investment. I only use this maybe once to twice a week to give my hair a nice deep clean. It adds a good amount of volume and leaves my hair looking radiant and healthy.

BIG Love for this one!
I don't know what I hate about this shampoo. I love the scent, the feel and the texture it leaves my hair. To my surprise, it actually really froths up and lathers in nice seeing as how it is sea salt turned foamy shampoo. I definitely recommend to anyone, though watch how excessively you use it. I use mine twice a week and only feel the need to use the tiniest amount because it can be really drying to the scalp! All in all big love for this bad boy.

Don't use too much!!
The first time I tried this product I grabbed so much to put on my hair because I didn't think it would spread well because of the salt... Then I realized it lathered and I quickly had a tub full of bubbles! Haha my bad! I wouldn't use it everyday but I use it like twice a week and I love how it feels rubbing the salty shampoo into my hair (: Don't let the price scare you since you use such a small amount and not every day!

Love it :D Everything about the shampoo its funky texture, the citrus-y scent. It definitely does what it promises to do though I wouldn't recommend using it more than a few times a week, the sea salt will be a bit drying, I got a few more split ends than I usually get but nothing a good conditioner won't fix.

Amazing!
I really love this product! I made the mistake of using too much because it looks like you need quite a lot for your hair, but a tiny bit will actually do. I normally use it after normal shampoo and conditioner because it tends to dry out my hair if I just use it like regular, but I really do get a lot of crazy volume too. It's definitely not an everyday thing, but for special occasions or just once every week it is simply brilliant! It might not work on really dry hair.

I LOVE big shampoo from lush. First of all the smell is so amazing, its like beach in a bottle! A little goes a long way and as unexpected as it is, it really lathers up! It gives my hair a beautiful and soft shine as well as body. The one down side to this shampoo is it does strip hair color.

Little goes a long way!
I use this shampoo once or twice a week when I am doing my deep conditioning treatment because it gets your hair SO squeky clean. I color my hair so I dont use it every day bc the Lush girl told me it would strip the color but overall I really like this shampoo bc a little goes such a long way!
---