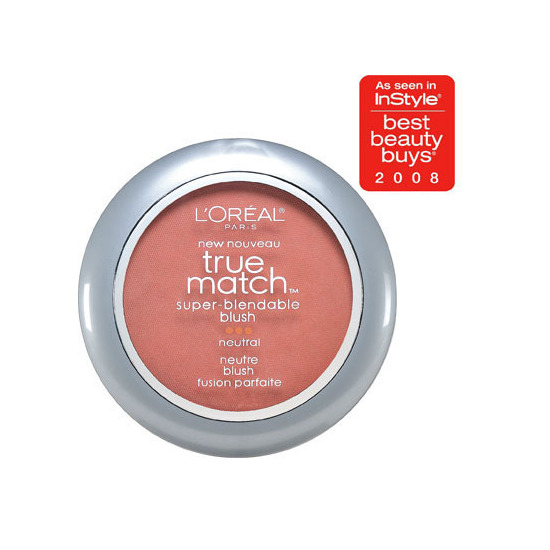 Rollover image to zoom
Reviews

Geat pigment, want to try others. Not really plum, though.
I stumbled upon these babies when looking up blush reviews. I was interested in the True Match line initially for their powders but noticed these also had good reviews. I like their extensive shade range and the hearty size of the blushes. I have a few I still want to try, but am now using a really good palette that has shadows/contour/blush colors, you name it, so I have to put a hold on sampling these. I got the shade Spiced Plum because I LOVE burgundies/plums/roses/mauve etc colors- on lips/eyes/and the CHEEKS. So of course I was stoked and the picture here made the blush actually look like...spiced plum. However the real blush is kind of a medium pink/rose shade that at times can lean coral. So its not the shade I actually wanted but it looks great, very natural, creates dimension and contours well and is really pigmented. Just a few taps and you're good. Its not a creamy powder, but the stiff texture does not mean lack of pigmentation. With the brighter shades use a lighter hand and build up from there. I really want to try the apricot/light pink and beige shades but that will have to wait, especially since I have even higher quality ones in my Sorme Treatment Cosmetics palette I got through beauty school.

VERY EXPENSIVE LOOKING, GREAT PIGMENTATION, HIGH QUALITY.
I'm very pleasantly surprised by these blushes. I believe these are comparable to MAC blushes. Some can be a little powdery when you initially dip your brush into them, but the pigmentation that comes with them is awesome! Color range is good, and the colors look expensive. I love these and will be repurchasing more. If you want MAC quality without the price, try these. Xx

I LOVE IT
I absolutely love this bronzer. The colour payoff is amazing, and they have a variety of shades, for all skin colours. I have 2 from this line: baby blossom and barely blushing. Baby blossom is a nice light pink, a good way to highlight my cheeks, while barely blushing can even be used as a bronzer. There is a small brush that comes with it at the bottom, but its a bit rough, so I use my own blush brush for it. Other than that, it's one of my favourite drugstore blushes!

I only have this blush in the shade baby blossom, and I adore it! Very finely milled and is very similiar to MAC Cosmetics blush in "dainty". It glides onto your skin very soft and smooth.

Great blush!
I've been using this ever since the True Match line came out. I didn't think that the match (Apricot Kiss) was right for me when I first bought it, but I quickly changed my mind! The color is really pretty and sits well on my skin. It's the right amount of color to give a nice flush. Lasts all day and never looks blotchy. It's my go-to blush when I'm not experimenting with others.

So so
For me the pros of this product is the color , a very nice rosy color and it looks so natural when i apply it on my cheek, but the brush which comes from this product is very hard and brittle for me , so i must use my own blush brush to apply it. and the package should b more durable cos i dropped it one time and the package is broken ( but the product is not broken, wow its amazing ) but if u really want a blush which gives a nice natural looking . Its what u r looking for!
---