Telescopic Waterproof Precision Liquid Eyeliner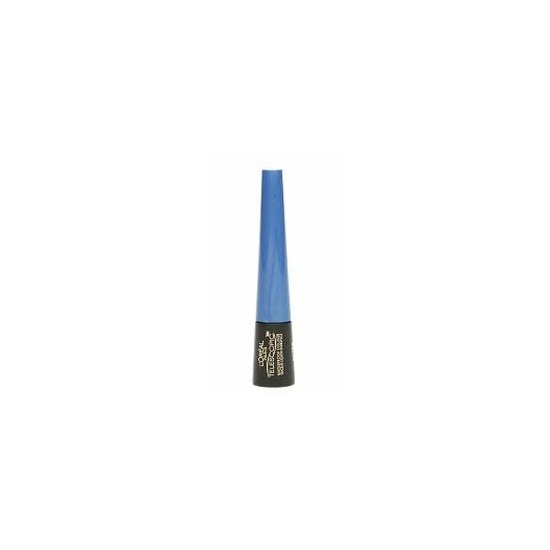 Rollover image to zoom
Reviews

Great pigmentation, super staying power
I love this stuff. Provided you give the bottle a good shake before application, the pigmentation is great. The applicator is a little on the thick side, so it will put down a fairly thick strip of product, which I like. I have never had any issue with this product flaking or running. It's great.
I will say that it's not my favorite for any kind of dramatic winged liner look. When you apply it really big sections, it will tend to crack and pull. So for those looks I just use a gel liner anyway.

Great Alternative to MAC Liquid liner!
I went into my local MAC Cosmetics store to replace my brown waterproof liquid liner just to find it was discontinued and replaced. I went on a scavenger hunt for a great brown waterproof liner especially since i needed it for a wedding i was hired for. I purchased my L'oreal Telescope waterproof liquid liner at my local target for around $7 dollars. This comes with a great felt tip brush perfect for winged liner looks, or an everyday soft line.
I used this liner in 2 weddings with around 16 girls total, none of them had problems with running liner from an emotional day ;) It glides on very smooth, drys fast and performs like the company promises!! It doesn't dry shiny so the attention isnt all on your liner, the only set back is it is VERY watery. Due to how thin the formula is it can run into your lashes when you are applying it to yourself; this causes your lashes to clump together and when you get to the mascara you find your lashes wont cooperate like they normally should. Using a light hand or an angle brush will help you bypass this issue!
I highly recommend this to anyone in the makeup business, waterproof liner will save your butt!!

Very dissapointing
I was terribly disappointed with this product. It was flaky and had a very flimsy applicator. The pigmentation can be quite light if you do not shake the product multiple times. I would not recommend this for beginners or people wanting a super thin line.
BURN BABY BURNSSSS
i am so glad this product is getting discontinued. First of all,it starts off good. 15 minutes later,its already fading and flaking away. second: the packaging. the stopper which prevents the liner from spilling out, got stuck and everytime i opened it, i got liquid liner everywhere because the liner stopper got out! the felt tip was good,however, everytime you go over the line you made would disappear because the felt tip took some of your eyeshadow. this is such a miss. not to mention if you get it in your eye,it burns like crazy!
---