Studio Secrets Professional Secret No.1 Magic Perfecting Base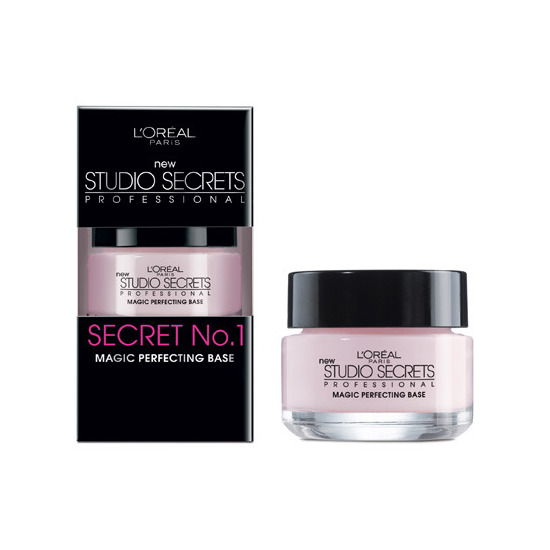 Rollover image to zoom
Reviews

Packaging is not environmentally friendly and extra package increase real jar size, an actual size of the jar smaller than most of the brands (most 30 ml) but L Oreal primer only 15 ml. It makes a product more expensive than other drugstore primers.
You will need very small amount to cover the face. This product design for an oily and combinational skin. I use it mostly for T zone on my face. It easy to apply and get good and thin coverage. Primer removes shine from an oily face, fill the pores and prepare for the application of foundation.
I will defiantly recommend this face primer

Not a fan
I am not too picky when it comes to primers as they are just the base, but this one does not do it for me. It's really thick and I can feel it sitting on my skin. Especially in the summer it makes it impossible for your face to breath. I guess I don't see the magic? It dries out my skin, especially around my eyes and t zone. For around the same price the revlon photo ready primer is a better choice for dry skin.

Not a good primer at all
When I first bought this product I made myself try it out for about a week. I did not like it after the first day, but I thought maybe I could find some tricks that would make it work amazingly because everyone else seemed to like it. I could not find any way to use it to make it work. This primer made my foundation go on patchy and it wore off even patchier. I would not repurchase it or recommend it to anyone.

THIS WAS JUST SUPER BAD FOR ME...
...doesn't control oil on the oily areas (actually made then even more oily), but it also dried out parts of my face that were somewhat normal/dry. Don't understand this product. Tried using little, tried using a lot. Just didn't work. Also it irritated my skin badly.

Good but...
This product definately gives a matte finish but it doesnt prime very well. My makeup always wears off with this primer. Besides the priming issues, it is good product. It gives a matte finish, it doesn't give a pink glow to it, even though the product looks pinkish. But it goes fast. There isn't a lot of product in the small jar, especially for how much you may for it.

This is the first and only primer that I use. There are a few setbacks, but overall I really like this. I really like the fact that I can use this by itself, or with foundation. Most of the time I just put this on and it gives a really nice "no-makeup" look. It evens out the texture of my skin and fills pores. I have a little bit of acne scarring and it fills them in very well. It really helps my foundation glide on evenly and overall better. This also works great as an eye primer, letting me use less shadow and it stays on longer, with out creasing or looking cakey (same goes for my foundation). I don't see a matte like effect with this primer, but since my skin is so oily, I think it helps give me a nice dewey look. I have very oily and acne prone skin and this did not break me out surprisingly. Especially with the feeling I get that I am spreading crisco on my face. Because that is what it feels like. I am light complected, so I don't get the chalky look that I have heard from other people.
Now on to the downsides. I do not like the packaging at all. I have longer fingernails and I end up with a lot of product in my nail, so I end up wasting quite a bit. If there is another way of getting this stuff out, please let me know. I do not like the greasy feeling, but it hasn't caused me to breakout, so I'm not that worried about it. Plus, as I said above, it tones down the shine and I don't have such a dull look. I also thought that the price was way too high for what product it had, but trust me when I say that a little bit goes a long way. I use this about 4 to 5 times during a given week and this primer lasted a few months. So that isn't bad at all. I really do like this primer and I will keep using it until I get the nerve to venture out and purchase another brand.

Dominique S.
Jul 25, 2012
Surprising
I wasn't very interested in primers, considering I'm a student and don't take time doing my makeup. But, I will say that when I tried this primer I noticed my foundation looking more polished and flawless. I love the lightweight feel. Being 18 my skin is still subject to breakouts. But, with this primer I didn't experience any clogged pores or breakouts! This stuff is great!

Very Good
I've tried a few different primers. This so far is my favorite. It minimizes the size of my pores and smooths out my face. It feels nice on my skin. I use it under my eyes to prevent Benefit's erase paste from creasing. It is a small jar and kind of expensive, but a little goes a long way. It also doesn't make my skin any oilier. I have a very oily t-zone and dry cheeks.

Just ugh..
Nah, nope, nah uh. I bought this on a recommendation from a beauty advisor because of my oily skin. Took as little as I could to cover my t-zone area. To me, it was a gritty feeling when applying it to my skin. Then it just left me oilier! Nah, not for me.
---