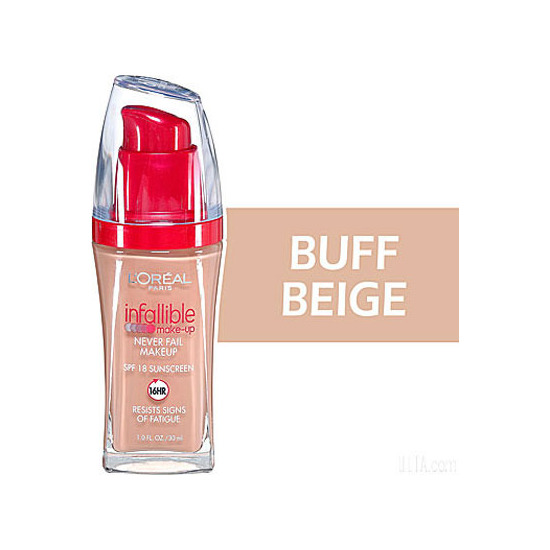 Rollover image to zoom
Reviews

ANOTHER MUST HAVE!!
This is another liquid foundation that is a must have in my makeup bag especially for those special occasions. This gives off a matte-airbrushed finish which then makes your face look flawless for that perfect romantic date! I love this and I alternate this with my Revlon Colorstay Foundation.

best foundation ever
I have combination skin, with my nose being the oiliest part of my face. I usually use a combination of tinted moisturizers and concealer and powder to achieve a satin/dewy effect but my oily nose shines through after about 3-4 hours which is super annoying. I also tend to crease really easy along the sides of my nose and in this little indent I have on my chin. But not with this. I wear this foundation and I don't need CONCEALER OR POWDER. DO YOU UNDERSTAND WHAT A FEAT THIS IS!?!? I don't have any blemishes to hide but I have terrible dark circles that I usually need to go through this elaborate scheme to hide but this foundation is opaque enough to hide them with minimal creasing- again, no powder necessary. It looks super natural and today I wore it for 8 hours and it looked like I had just applied it, matte and fresh. It creased very very little around my nose, less than I have ever seen with any other product. My new go to forever and ever!!!

Hands down, best foundation I've ever tried
I love the consistency of this foundation. It takes minimal effort to blend in with a foundation brush and it leaves my face looking radiant, yet the foundation itself sets and does not feel or look oily to the touch. It has a natural looking finish - it is in no way "cakey" which is a huge plus in my book considering dry skin can look terrible under foundation! It has decent coverage for every day and the colour seems to match me well considering how pale I am. Also, as suggested by the name, this foundation also lasts throughout the day and even after I get home from being out all day my skin looks perfect. I really do recommend this foundation if you're looking for medium to high coverage, a natural dewy finish and a reliable staying power! :)

My Favorite Foundation! :)
I love this foundation. I have quite a few foundations and I find this one to be perfect for me. It is a tad bit heavy, so I could see some people not liking it. I need a full coverage foundation because I have a couple blemishes that need hiding. I don't recommend this for somebody who doesn't need full coverage, otherwise I highly recommend it! :)
Oh, I don't understand, Ulta.com and here, it says SPF 18, but my bottle says SPF 20!! :So confused, I emailed Ulta about it and didn't get a response. jerks. :)

Long-lasting, not cakey
I really liked this foundation. I liked that it had a pump, which keeps me from having to use the back of my hand as a palette-- I can just pump it onto my brush. I found that it went on easiest with a stippling brush (I used the MAC 187) and blended well. It didn't wear off or get cakey, even when I covered it with a light pressed powder by NYC Cosmetics.
---