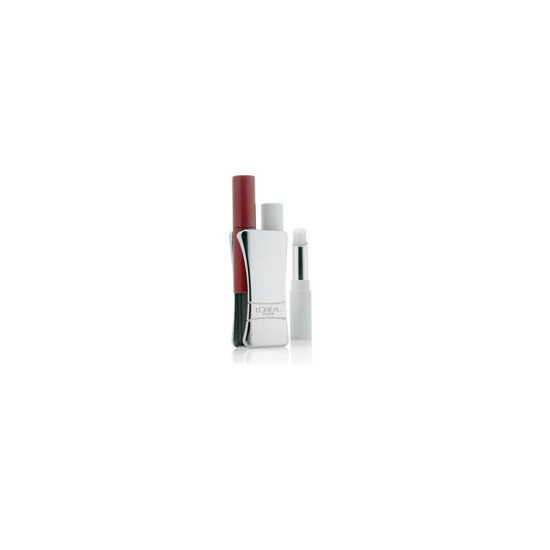 Rollover image to zoom
Reviews

Elizabeth C.
Oct 22, 2013
Really quite good
So I went out on a limb and tried this product, and was pleasantly surprised by how nice it actually is. I applied the lipstick, let dry, then the balm, and devoured a chicken dinner (let's say I'm not the most lady like eater sometimes) and the color was as vibrant as when I first applied it. Once it dries it feels so light yet is so durable. I love it.

Not The Best!
I was going into my local drugstore to find an amazing red lip stain and I heard about this infallible Lip color in crimson. I picked it up and where I bought it the product itself was about ten dollars at my local drugstore. Since it was a little more pricier than other I figured it would be a great product for me to use and I heard great reviews. Well when I got it home I tried it on and after about 30 seconds of having it on it dried my lips out completely. I used the "conditioning balm" after I waited 2 minutes and it chipped off so for me not a re-buy.

Best(the only one) lip product I ever used!
I'm not keen on wearing lip products(especially lip gloss), but this is absolutely amazing! It lasts half a day, doesn't smear, you can even kiss people on their cheeks and prank them("Oh, I'm sorry...I left lipstick marks on your cheek!"). Although I don't recommend it if you have dry/chapped lips, all I can say about this product is: "WOW!!!"

ok
this product is ok it does last for a long time, but when i tried to put on a second layer it all rubbed off kind of like what happens when you put too many coats of nail pollish on at a time and it also did something similar when i tried to use the lip balm stuff that comes with it. it also smells and tastes odd and it dried out my lips, which should be expected with a lip stain, but usually it goes away after i apply glos or balm but it just rubbed everything off and ddnt work

BRIGHT!
I purchased the Beyonce red lip color months ago and put it in a drawer and forgot about it. I recently found it and finally tried it. The product does lasts for hours! It is very bright in color and does not smudge! The only down side was I found it very difficult to take off. I found myself alomost scrubbing my lips with a lot of pressure to get the product fully off. But if you're looking for long-lasting stay this is definitely a go to!

I love it!
I have also recently tried the Beyonce red Infallible lip color and it is so pretty! it last all night long and when you first apply it is is sticky and takes some time to get use too but overall if you are looking for a good red that will last all night and won't fade then I say pick it up!

Will repurchase but use sparingly
I bought this product based on a review I saw on youtube. I will be honest and say that I thought it was horrible at first. Felt way too thick no matter how little of it I used and it seriously dries out my lips. But after I changed my skin care routine and my usually dry lips started "cooperating" I definitely noticed a difference in the way the product felt at application and how well it lasts. I did see flaking in the center of my bottom lip after a few hours but as I learned top use the product it minimized flaking after a while. It is tough to use it during winter though as my lips are relentless and get drier during this time but as long as I exfoliate and keep them moisturized I have no problem using it. I really don't like the problem it is with taking it off at the end of the day but I think it is totally worth it especially since it goes so well with my skin tone.

in love with this lipstain
Ive been wanting to try these out since they came out and havent had a chanse to purches them, and last week i saw some on sale for 75% off and i grabed the ones that were markd and it was only three shades but got 3 for the price of one, anyways, these are so pigmented they stay on your lips for a good 10 hrs they youd have to reapply, it does dry your lips so you have to keep it in ur purse to tuch up with the lipbalm that comes with it, or cary a gloss with you, other then that amazing, my favorit one is #299 andie's rose
---