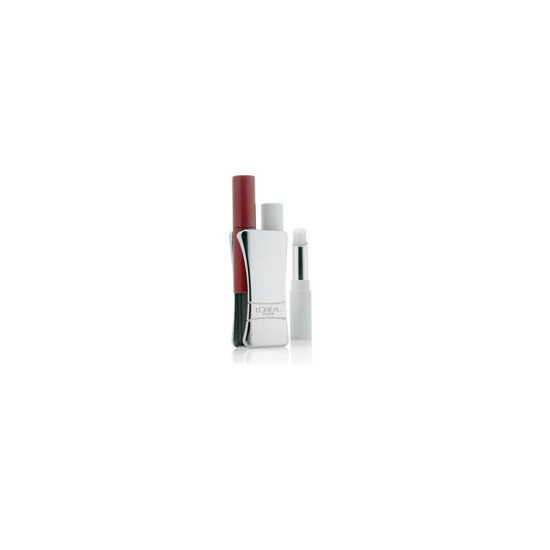 Rollover image to zoom
Reviews

Best Long Lasting Lipstick
I bought the Beyonce red Infallible Lip color because I fell in love with the gorgeous shade of red it was. In order for it to work properly you have to apply it properly. I only use 1 swipe of this making sure to get the corners of mouth, and everywhere in between. After waiting for it dry for 2 minutes it feels sticky, but after you apply the balm (which is clear) you will see that none of it comes off and your lips look glossy. The balm also smells like candy which is a plus.
With any deep lipstick I find that it works best if you use a lip scrub first just to get all the dead skin off, I then applied a lip balm and waited for it to dry before I started. After this is done the color payoff was intensified and it stayed on even longer. I only had to reapply the balm 3/4 times throughout the day, I thought it would have to be more because I usually apply Chapstick a lot throughout a day but doing the lip scrub first definitely helps. I use MAC Cleanse Off Oil makeup remover to get off which takes a bit of work but is totally worth it. With Christmas just passing I wore this to all of my events and even after eating, drinking, hugging and kissing family cheeks it still lasted and everyone was so impressed!
Bottom Line: I will be repurchasing and trying new colours for sure.

Fantastic!
I love these!! You need to put it on RIGHT though. You have to start with completely clean lips, no chapstick or anything on them. Once you take the color want out of the tube you have to scrape as much product off as you can. You put on a thin first coat and let it dry for about a minute, then repeat. Then, after it is completely dry, put the lip balm it comes with on. Don't go too crazy with it though because it is kind of a slick formula. I found that if you want more moisture, the Nivea kiss of Smoothness lip balm works well with the product. I have worn this through out full days and several meals and no flaking, you just have to put super thin layers on for it to work.

A product worth trying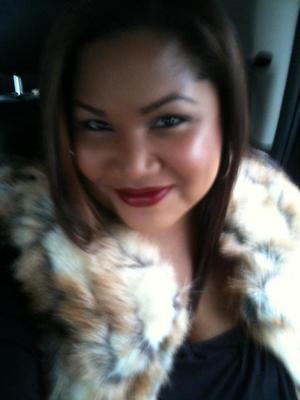 I really like this lipstick. At first I was skeptical because it sounded like every too good to be true gimmick out there. So I pulled myself together and just gave in a bought one lipstick. It took a while to get used to at first. Yes, it did not stay as thorough like others here mentioned and of course what its advertised to be. But, that was my first trial run and also I didn't have my lips prep how it says they need to be on the package. I gave it another try the second time around and I love it. This lipstick really last a very long time. And really, it's not really a lipstick in my mind it's like a lip paint (in between a lip gloss and a lip stick…similar to the OCC Lip Tars)
The way I apply is making sure you have really dry lips (I mean moisturize them for a good 10mins before applying anything to your lips and then wipe off the residue so there's not a film of anything on your lips). Then, I lightly line my entire lip with a lip liner similar to my lipstick shade, I then wait a few seconds. Next I apply the lip color and I use a very thin coat. The Infallible's are pretty pigmented so there's really no need to pack it on. Once the lip shade is on, seriously let that dry for a good minute or two. Kiss your hand just to be sure nothing transfers. :) Then finally, add the lip shine/moisturizer it comes with….and whoohoo you have beautiful lips that will last all day.
I apply mine at 7am in the morning and no joke by 8pm it's still on. I know this product can be a bit pricy for drugstore…BUT if you find yourself a coupon from Ulta you can score a good discount, plus L' Oreal seem to always have sales so definitely take advantage of that. AND…right now around this Christmas time at CVS they have 50% off this products….which I was able to pick up more shades. So far I own Garnet, Beyonce Red, and Diane's Tuberose .
Sorry this is long…..I just had to give my breakdown on this product since I know people are having some mixed emotions. :)

Best(the only one) lip product I ever used!
I'm not keen on wearing lip products(especially lip gloss), but this is absolutely amazing! It lasts half a day, doesn't smear, you can even kiss people on their cheeks and prank them("Oh, I'm sorry...I left lipstick marks on your cheek!"). Although I don't recommend it if you have dry/chapped lips, all I can say about this product is: "WOW!!!"

Elizabeth C.
Jan 06, 2012
in love with this lipstain
Ive been wanting to try these out since they came out and havent had a chanse to purches them, and last week i saw some on sale for 75% off and i grabed the ones that were markd and it was only three shades but got 3 for the price of one, anyways, these are so pigmented they stay on your lips for a good 10 hrs they youd have to reapply, it does dry your lips so you have to keep it in ur purse to tuch up with the lipbalm that comes with it, or cary a gloss with you, other then that amazing, my favorit one is #299 andie's rose

i love love love this product!!
i love this product!!! it last all day!!! it does not i repeat does not come off. The variety of colors they have are amazing. the only thing i do not like is that you have to use an oil based make up remover to take it off. but other than that i love this.

I love this product but there is a catch to loving it.. I love the pigment rich color.. They have amazing colors and the color pay off is very eye catching.. The issues I have is you have to use the gloss it comes with it or 1. your lips are super dry without it 2. when using other glosses it seems that the color on your lip starts to break down and doesn't have that flawless finish it does with the gloss it comes with..
That being said as long as you use the gloss that it comes with you will have great looking lips time and time again

Love!
I love this stuff. It goes on like a gloss, and dries like a stain. Once I add the glossy balm over the top, I'm set for the day. The color does come off with time, but does it as a fade. I reapply some of the clear balm throughout the day and I'm usually fine for several hours. I had to learn not to use too much of the color though or it went on way too heavy and transferred off on everything. I'll usually put some on in the middle and blend it with my fingers, then let it dry a few minutes before applying the gloss. Once I've done that, it's set for the day.

LOVE LOVE LOVE
I purchased this product yesterday in the shade "beyonce red" and it didnt budge at all. I wore it through out lunch, a few drinks, took a nap, supper and kisses in between ;] I love it and so does my boyfriend, he doenst have lipstick all over his face. It didnt feel drying or cakey at all. Would def. be great for weddings, special events or when your out painting the town. No touch up's necessary! Can't wait to purchase in more shades.

I love it!
I have also recently tried the Beyonce red Infallible lip color and it is so pretty! it last all night long and when you first apply it is is sticky and takes some time to get use too but overall if you are looking for a good red that will last all night and won't fade then I say pick it up!
---