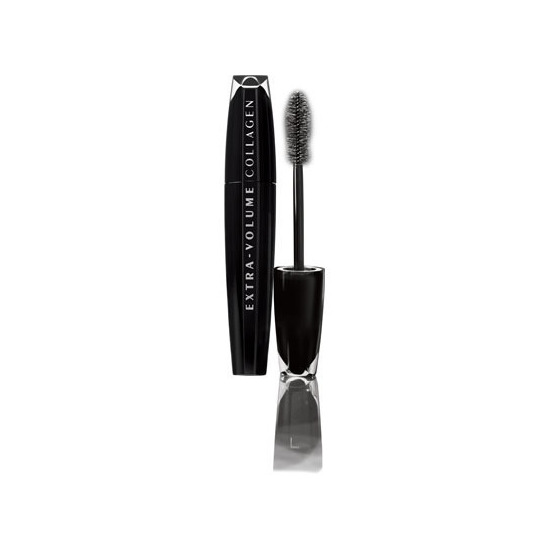 Rollover image to zoom
Reviews

Beauty!
Honestly the best mascara for dramatic lashes. Thickening, lengthening, and the wand is pretty decent too. Towards the end of the bottle it can get a little clumpy and thick but most mascaras do.. No smudging and no flaking. Continuous use is moisturizing and thickens your natural lashes. Must be the collagen :)

I dont normally use drug store makeup but this is my all time favorite mascara. I normally use Dior Show but when I don't want to fork out $30 every four weeks (Yes, I go through mascara like water lol) this is my go-to mascara. In fact, it works just the same as Dior Show if not better. I have naturally long and full lashes and when I wear this it doesn't weight my lashes down but it makes them fuller and more luscious! Ive even had some people ask me if Im wearing falsies when I use this mascara. I definitely recommend it.

I will never use any other.
I'm a mascara fanatic, and this is by far the BEST mascara I've ever used. I always get asked about my lashes, but with this, everyone just assumed I always wear false lashes. I never ever have worn those before. After I use this, I usually use Maybelline one-by-one to get out the little clumpies. And there aren't many! I'm just a perfectionist ha.

Great!
Hands down the BEST Mascara I have ever tried thus far, I was in awe the first time I tried it and I haven't switched or gone looking elsewhere since. It really does the trick in one swoosh for me. I love the volume and intensity I get. I also love the wonderful comments I receive about my eyelashes... most people even ask me if they're falsies!?! But it's only a combination of long eyelashes and my kicka** mascara! ;)

amazainggggg!!!!
Absolutly love this mascara!!! word can not express how great this leaves my lashex. i have thin long straight lashes, and whin i put one coat of this on, i love the way they look! my go to everyday mascara is covergirls lash blast, but this mascara is my holy grail for full volume lashes!

Outstanding!
This stuff rocks! It's affordable, applies easily with a nice, big brush, wears well and produces amazing, long, thick, lush lashes with just one coat! Even after 8 hours, it doesn't smudge or flake into your eyes. Hands down, one of the best mascaras I have ever used!
http://freebeautysecrets.blogspot.com
---