Extra-Intense Liquid Pencil Eyeliner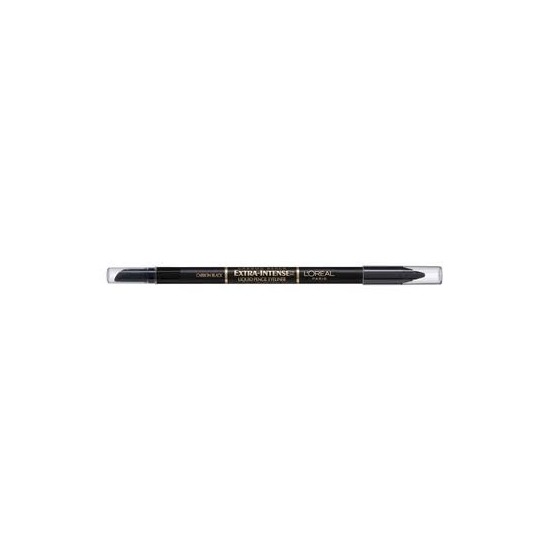 Rollover image to zoom
Reviews

I Love This!
This Eyeliner is amazing! It's really black which i like, it glides on nicely and is really pigmented. It does fell like a liquid eyeliner in a way but in a pencil! It's really easy to create mostly any look with this eyeliner which i absolutely love about it! When i first saw this i was really hesitant at first because most drug store eyeliners don't work on me very well, but this one proved me wrong! There is only one con that i have and it is that it does wear down, but it's okay because everything else about it makes me not care about it wearing down. I would really recommend this eyeliner to anyone who is looking for a good cheap eyeliner! I will continue to buy this eyeliner because i love it so much and it's really worth it!

My new absolute favorite liner!
This liner is so amazingly pigmented, goes on so smooth and easy, and stays put on my eyes. Doesn't smudge at all when I wear it. It is a bit soft almost like the liner is half melted but its still amazing. I really think this is my new go to liner. Hope this stays in L'Oreal's product line permanently!!

Crisstyna D.
Jan 16, 2012
My Absolute Favorite Eyeliner!!!
This eyeliner is AMAZING!!! It is the blackest, softest pencil eyeliner I have ever used!! I prefer it to all the higher end eyeliners. It applies with incredible ease, and lasts all day! It is perfect for tight lining. The only thing I would have to say is a con with this product is that because it's so soft, it wears down quite quickly... but with that being the only con, I would highly recommend anyone to try this product, it's worth every penny, and more!! I hope they come out with more colours soon.

Horrible
I bought this because of all the great reviews on here. This is a huge miss in my eyes. When I went to apply this my upper eyelid, it applied way to easily and smudged just as easily. I am looking for a liner that compares to UD 24/7 but less expensive. This liner is way to soft of application. When I put it in my waterline, it ended up all over my face by mid-day. I do not understand how anyone can give this 5 stars. I normally smudge my liner (b/c that is the look I go for on my day to day basis), but this liner applies to soft. If you are looking for something comparable to UD then this is not it. I will be returning it.

This is one intense eyeliner. The one product that I must use everyday is my eyeliner. I have tried so many of them and this one blew away all the expensive brands I have purchased so far. It glides easily on my eyes, doesn't smudge and easily comes off with my eye makeup remover. Definitely a good buy for the price of $8.

I wanted to see if I could get to like liquid type pencil eye liners. I use to have just regular pencil eyeliners and then when watching jazziebabycakes tutorial she had 1 day tattoo liquid eyeliner by k palette and I got hooked and switched.. So I thought I would try this.. It does glide on very easy perhaps a little to easy.. I didn't like the control I had with it as I got a better controlled line with my liquid liner.. I will use it because I have it and I don't let things go to waste but I wont be buying another one

One of my favorites of all time!
I have honestly, NEVER used a pencil eyeliner that is as good as this one. I have darker skin, and thus many black eyeliners that look relatively black on lighter skin tones, look gray on me. This eyeliner was not one of those. It is the most opaque, beautiful black I have ever used, and it's so smooth and easy to work with. It also stays so well on my waterline, I wasn't even expecting that. It's the only pencil that I feel comfortable using as a base for other eye shadows, or even for use on my upper and lower lash lines as well as the water line. It just blends so nicely and is so pigmented. 100% recommend this eyeliner. Everyone should try it out, it's amazing.

THE BEST EYELINER EVER!
i looooove this eyeliner! before i purchased this eyeliner i had about a year search of finding the perfect eyeliner that is super black and wont smudge...and then i found it! this eyeliner is intensely black, very creamy, glides on like butta and doesnt smudge for HOURS! the only problem i have with it is that sometimes it fades, but when it fades it doesnt end up on the bottom of my eyes, it just kind of dissapears lol. so i always have it in my makeup bag for touchups on the go!

B + ( opinion from someone with oily lids and skin)
I honestly can say I'd five this a B+ Yes. It's Very intense. It glides on and it's easy to use. But the problem with this product is that the staying power is "so so" it laste for a few hours fo me but out the outer water line it smudge in less then 5 min. I have very only skin and eyelids and it's difficult to find a product that works on the water line. But I must say 1 thing.
Using it for tight lining and upper lash line is amazing.
---