Everstrong Reconstructing Shampoo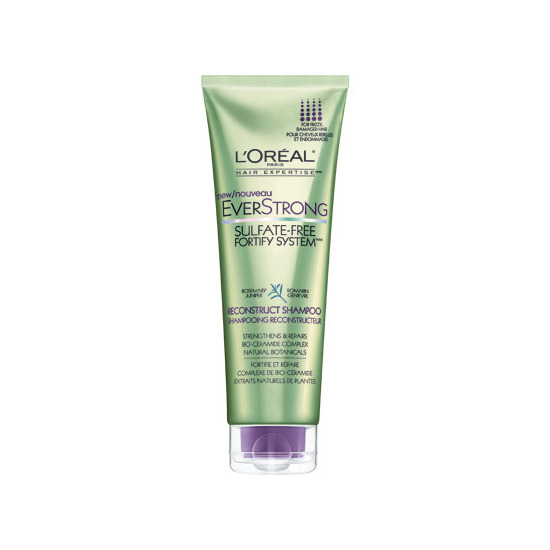 Rollover image to zoom
Reviews

Favorite shampoo of all time
I freaking love this shampoo, it made my hair shinier instantly. & it smells so delish ! and its sulfate free which is a huge plus since I hate using bad and harsh chemicals in my hair.
I recommend this .

No better product at this price point for Long Color-Treated Hair. However, you must use the "Reconstructing" Conditioner with it to get the best results. And to blow your mind, buy the "Deep Replenishing Masque" in the green Jar that goes with this line. I sleep in it atleast once a week and the results are amazing. I love the Kerastase Line (it is made by L'Oreal), and I'm Obsessed with L'Oreal Professional - so I like the "company" this product keeps (:
Great for older women with hair loss.
I have found that this shampoo has saved my hair somewhat. I have 3 kids and so naturally I started losing hair when I brushed it and throughout the day. It's gotten really bad at times. I have used this shampoo for 2 years and it has helped stop my hair from falling out so much.

Works for 2 weeks
- Smells good - I had beautiful hair, and less damaged durinf 2 weeks after it was like the old days, dry, frizzy hair with split ends....
Summary: If you're going on vacation for 2 weeks bring it with you, but be carefull, if you stay longer you will end like Cinderella at midnight, but in your case you will not have a pumkin to hide your hair.

Definitely fail!
It sounded good but did not work for me. It made my hair oily and greasy as if I hadn't washed my hair. I really do not suggest this! I gave it a good two to three weeks and my hair did not come back to life until I switched back to my original.

Total miss for me!
I like the fact that it's sulfate free and reduces the harmful chemicals we put into our hair wile shampooing. The smell is awful!!! I go to sleep smelling it and wake up smelling it! The texture is very creamy and thick. As a result it weighed my hair down and made my hair fall out :(

not what I was hoping
I hear sulfate free and I think this has got to be great for my hair, but I was left disappointed shampoo. The one up point of the shampoo was that it lathered well.The biggest down point was the smell, it has a minty pine tree smell which I really didn't like.
---