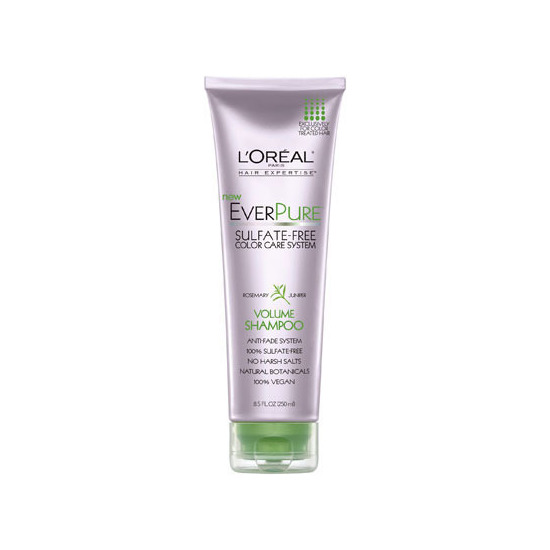 Rollover image to zoom
Reviews

My hair feels so soft and healthy!
I purchased L'Oréal Everpure Volume Shampoo and Conditioner about a month ago and so far it has been pretty great. My hair is softer and less damaged. It also leaves my hair smelling great. Some people have said that they don't prefer the smell, but I think it smells so clean and fresh. Even though it's rosemary and juniper, it reminds me of tea tree oil and brings me back to the days when I used to wipe down my yoga mat with tea tree oil in college! Overall, a great drugstore shampoo and conditioner!

so far so good.
After the first use, I noticed the difference. My hair felt softer and healthyier, it was just different from other shampoo's I have tried. It didnt feel stripped down. With some shamppos I feel like I absolutely need to use conditioner. Otherwise I wouldnt be able to comb my hair. Not with this. I have only been using it a few days. Hopefully it doesnt dissappoint me

this is a permanent item in my shower :)
this shampoo gives me more volume than any other volumizing shampoo i've tried so far. it makes you feel like your hair is naturally thick not pumped with product. the fact that it's sulfate free is a plus too! when i had colored hair, it helped keep the color in longer. if you wash your hair every other day, i'd suggest using a clarifying shampoo about every 5th or 6th wash, but it really doesn't build up like most hair products. the only downside is...you can't use it alone. ALWAYS use a conditioner with this shampoo. my hair is naturally smooth/shiny, but when i use this, it becomes a bit more frizzy (flyaways are definitely more visible), but as long as you apply a leave-in conditioner spray or heat protecant spray before blow drying, it's perfect. no problem. smells fresh/herbal/minty. i really like it.
---