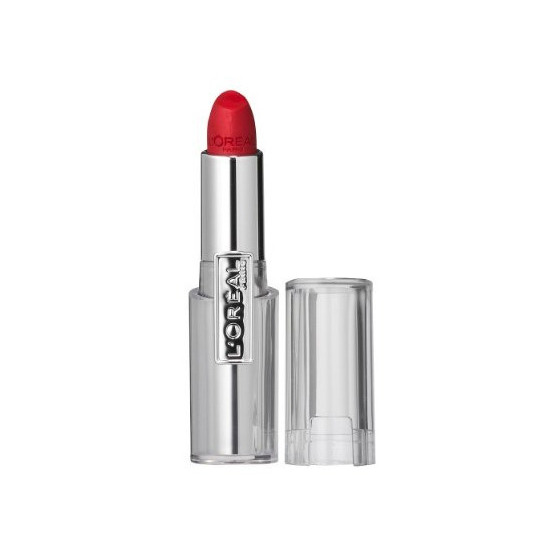 Rollover image to zoom
Reviews

Jamie Lynn P.
Feb 16, 2011
A winner in my book!
Check out my review of Perpetual Peach here:
http://norulesjustbeauty.blogspot.com/2011/02/loreal-infallible-le-rouge-perpetual.html
Log story short: I love these lipsticks. Long wearing without the tight dry feeling. Wish the price point was lower, but anxious to try the more bold colors!

Where have I been??
This is hands down one of my favorite lipsticks I have it in 337 I have looked and looked for a perfect red and here it is is lasts me most of the day if I snack/drink stuff but when I don't it keeps my lips moist and stays put it's really amazing. I also noticed it works best with a lip liner on the bottom and it's amazing with the nyx in plum it's a nice color combo for me :)

My favorite lipstick hands down the matte is not dry like Mac lipstick and it pigmented like crazy I own 10 colors here is a pic for y'all of me wearing it

My New Fav
Okay I usually don't wear drugstore lipsticks but I won 2 of these lipsticks in a Giveaway and wow I love them. They are actually very long lasting, pigmented, creamy and they don't dry out my lips at all. In Toronto I have seen them for $12.99 which I think is a little pricey for a drugstore lipstick. Besides that I love this lipstick.

Persistent Plum
So as I looked for a plum color lipstick for fall I came across this lipstick.... and only after seeing great reviews on youtube I decided to try it out. I must say that this lipstick is amazing. Unlike their regular line lipstick in the (old gold grandma looking tube which smells terrible) this lipstick has a nice sleek silver packaging and it has no smell (yay). It looks matte in the tube, has a bit of shine when applied on lips, and after it dries it goes back to almost matte which I find kind of cool. It has a claim to last 10hrs and I HAVE TO AGREE... IT IS VERY LONG WEARING. I dont have to reapply it all day. Its smooth, creamy, and does not dry/peel/ crack my lips like many other lipsticks do. As far as the other colors, I cant speak for them because I only own this beautiful plum one, but I can tell you this one rocks!!!! My only complain is the price :/ its kind of pricy for a drugstore lipstick... that is the only thing keeping me from trying other colors from this line ( since I have my eye on Tender Berry and Unending Kiss)

SO longlasting!
I purchased this lipstick in the shade Ravishing Red after seeing it on Gwen Stefani in the ad. This is a beautiful bright red shade and the lipstick is very pigmented. In terms of the formulation, it was excellent. It was extremely moisturizing and went on very smooth and creamy. The best part about this lipstick is the long lasting aspect. I put it on before going out to dinner and a movie and it was still on when I came home! Normally formulas this long lasting are not very moisturizing and vice versa, but Loreal definitely hit the mark with this one. I will definitely be purchasing more shades.

Pretty long wearing
The most interesting thing to me about this lipstick, how small the bullet is! Not length but diameter. I am IMPRESSED with this because not all of us have voluptuous lips. This makes it easier to put on (for me) than other wider lipsticks. I do wish that it would retract all the way into the actual tube so I do not accidentally it it with the cap (which I am bound to do!). It does last for hours through drinking and eating.
The formula is not super drying and the product applies evenly and is highly pigmented. I bought this is Forever Fuschia and it is VERY pretty. I will probably buy more of these eventually. The only thing about this lipstick is that I think it is around ten dollars and because the width of it is smaller you do get less product. It says .09oz. The black label NYX is .15oz and my Maybelline is around the same size as the NYX (just the drugstore references I have that are slightly lower price points). Something to consider. It doesn't last all day so you will have to reapply one to two times throughout a full day.
---