Elnett Satin Extra Strong Hold UV Hair Spray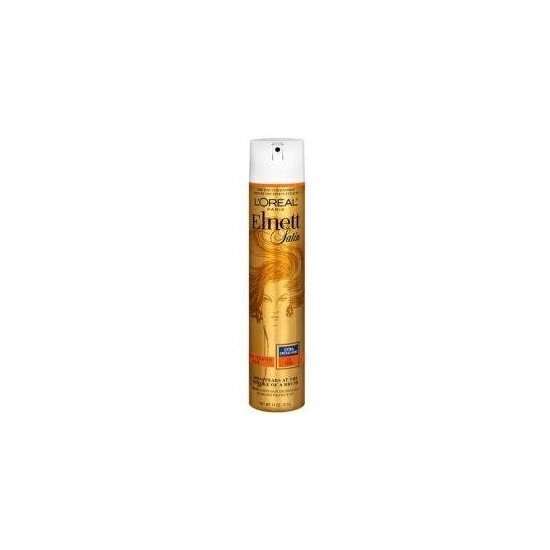 Rollover image to zoom
Reviews

Great hold.
This is the only hairspray I've used that lives up to it's claim of EXTRA strong hold. I have extremely thick hair, and it keeps my up-do's & curls nicely in place. Even after having curls for a day, the next few days my hair is still filled with nice waves. The only problem I have with this product is the packaging. I've had about 3 containers of this hairspray & the sprayer on every one of them goes crazy after a few uses. I'm constantly having to un-clog it, & sometimes it starts spraying straight up into the air? Overall, that's only a minor issue, and I do love this hairspray.

I bought this hairspray awhile ago and ever since, I continued to buy it. It doesn't dry out hair which is great and it holds your hair for a long period of time. It smells so good, I can't resist it. Sometimes I put it in my hair just so I can have that smell. I don't really have anything bad to say about it because it hasn't really gave me problems. Another thing that's good about this is that it doesn't leave any white stuff in your hair after you spray it.

better than alot of salon hairsprays
I love this hairspray very manageable and its never sticky at all and i like how it mists and dont matter what type of stle your doing your hair it stays in place the only thing i can careless for it is the smell otherwise something worth purchasing again;)

Non sticky
I don't usually like using hairspray because if the sticky feeling it leaves on my hair. I have straight fine hair so I need to becareful what I apply on my hair. The smell of this spray is pleasent. I'm really liking this product. It dries fast and doesn't leave my hair stiff were it becomes unmanageable. I won this product on a giveaway I entered. I was not payed to write this review.

every one is in love with this spray and i see that every hair stylist is using it but why its not working for me at all ? maybe am not spraying enough? i dont know what went wrong but am failing in teasing my hair

Hands down the best hairspray ever. A must-have in any hairstylist's kit. The mist is so fine that you never get droplets and the hold is strong, but you can brush it out without any white flaking. I took off half a star because I hate the smell--it's very old lady and strong (if I use it in the morning, I can still smell it all day long).
---