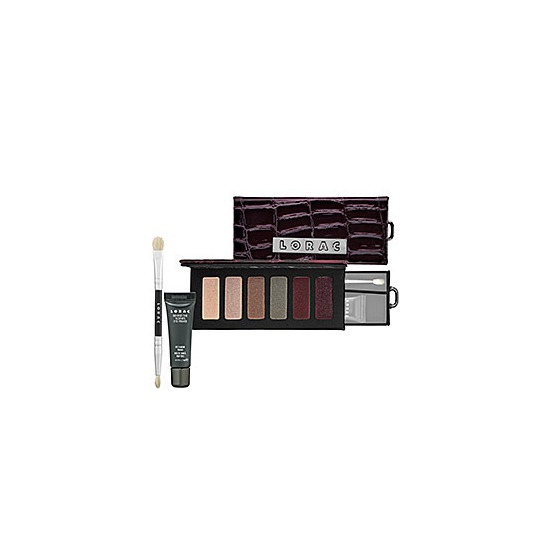 Rollover image to zoom
Reviews

Jacqueline P.
May 11, 2012
Great for simple looks
I use this palette every so often and when I do I get plenty of compliments on the colors.You can go very soft and subtle or do a gorgeous burgundy smokey eye with it.My only issue is the bulkiness!I wish it were in thinner packaging(my brush came breaking apart and I'm not a fan of the primer so I could've done with out them!)But overall the pigmentation is great and it has been one of my favorite buys from lorac!

I like this palette a lot, I don't use it as frequently as I do my others..but the pigmentation is good however all of them are shimmery. The 2nd to last purple-ish dark color is probably my favorite to use for the crease. The lighter colors are good to use for highlights underneath the brow. I did not like the brush that came with it very much but overall a great product. Nice palette for a night out look.

No Longer Available D.
Jan 18, 2012
Great palette!
PROS: - The shadows are highly pigmented. - The Eye Primer works very well. The primer is nice and creamy. Love that it's squeeze tube. - Cute Crocodile packaging. - A drawer that holds the brush and the primer makes it easy to travel with. - No weird smell. - Doesn't irritate my eyes. - Shadows are long lasting when used with a primer and/or a base. - Can create everyday neutral looks and night time smokey looks. - The shadows blend very well and applies smoothly.
CONS: - Packaging may be too bulky for some. Not for me though. I don't mind it. About 5 ¼ inches wide, 1 ¼ tall. - The eyeshadows are soft, which can cause lots of fallout. - The brush isn't that great. (but I do use the smaller side to apply shadow in the inner corner of my eyes) - If you don't pick up shadows with a light-hand you can get lots of crumpling. - Because the fallout, you will need to apply some loose powder under your eye or do your foundation last. - No matte shadows in this palette. (It should at least have one, IMO) - If you blend too much it will look muddy. - The price.
Overall, this is a really nice palette! I really enjoy using it whenever I do!

A good buy
I bought this last year, and have not regretted it. The primer that comes with it is very good. There are NO matte colors in this palette. They either have a strong shimmer, with the black having sparkle bits in it. The shadows are VERY pigmented and the colors are gorgeous. I will say, I wasn't a fan of the brush and it has long been lost. But don't let that discourage you from this palette.

It's all right.
I bought this a while back at Sephora. I was originally looking to purchase the Urban Decay Naked Palette, but they were sold out. Instead, I purchased this thinking that it would be sort of similar, and after testing the eyeshadows in store, I was sold. However, I found that the colours looked 'muddy' on me. I have tanned skin and the colours are more on the cool side (the neutral ones, anyway). I tend to use the purple/red shades more though. I love the primer, but I'm not really a fan of the brush. The packaging is a little bulky and I regret buying this.
The quality of the eyeshadows is amazing though. They just aren't the right colours for me.
http://thedailyswatch.blogspot.com/
---