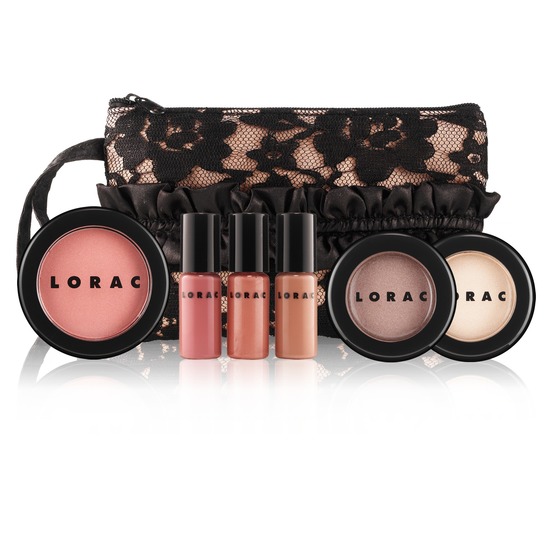 Rollover image to zoom
Reviews

This is a gorgeous set!
Just a quick review on another value set I purchased recently. This one is from Lorac and I mainly purchased it to try out the mini lip glosses that it came with. I've been hit or miss with Lorac eye shadows but the ones that came with this set are amazing! The baked Lorac eyeshadows that I tried were super chalky and the ones that I had in a palette broke right away. However, this set came with little shadow pots and I can't say enough good things about them.
First, the lace clutch this came with is so pretty. I love anything with black lace and nude color so I instantly liked this. This doesn't feel low quality at all and I could see myself using this as an actual clutch for a night out. Packaging gets an A+
Next, the lip glosses!!! I'm obsessed! The colors this came with are Vintage, which is a true nude shade, Trend setter which is a peachy pink with a slightly shimmery look but no actual glitter, and last Muse which is a great nudey pink. These are available to purchase in full-size outside of the set and I have to buy them. The smell of these are amazing. It's like a cinnamon marshmallow? Haha I don't know it's hard to describe, but if you've used the Lorac Tantalizer Bronzing lotion it is the exact same smell. These are very creamy and do have some opaqueness to them. While they are thick enough to be pigmented they don't feel sticky. I need to buy Vintage and Muse, they are so pretty and perfect colors on me. I've been wearing these alone and over lipsticks and they work great either way.
These eyeshadows are great everyday shades. The texture is very creamy and they blend like butter. If you aren't very good with eyeshadows these would be very easy for you to use. While these colors are not available outside of this set I believe these are the same formula and packaging as Lorac's normal single eyeshadows. Boudouir is actually a more taupey plum than in this swatch and it makes a perfect crease color. Negligee is a champage cream color and makes a great highlight because it isn't overly shimmery but I also have been wearing this all over my lid or in my inner eye. They are just great, easy to use shades.
The blush is a great classic peachy pink called Rendezvous. It works really well with the other items in this collection and just gives my cheeks a nice natural flush. It's not matte but the shimmer in it is still wearable everyday.
Overall I think everything in this set is great quality and it's a great neutral collection to have. You can wear everything and look super natural but you can also use boudoir to smoke out your eye and easily transition to an evening look. I think this is an excellent group of items to keep in your purse for fast touch-ups at work and to take you from a day to night look. I'm really pleased I didn't miss out on this ( I got it during a sale on hautelook) so if you see it for sale online or at a store grab it!

What's not to love!?
I got this set off Hautelook for a great deal. It was my first time with Lorac and I was instantly a fan. The blush and shadows are very pigmented! The shades are very neutral and could work for anyone. The lip gloss smells amazing (a sweet vanilla). The bag is super cute, too, which is a plus! I definitely recommend this set if you can still find it!
---