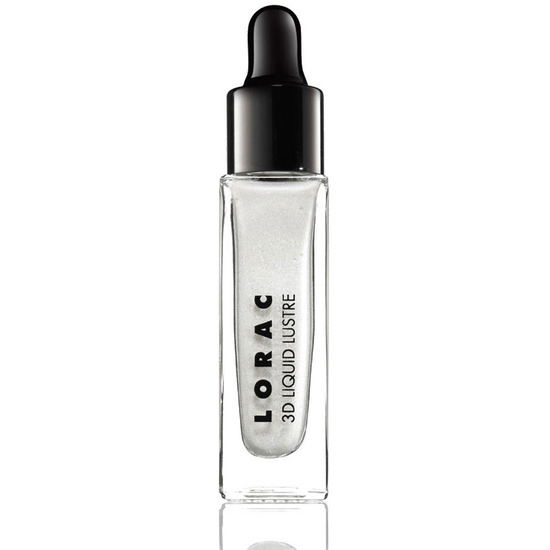 Rollover image to zoom
Reviews

I want to love this so much more than I do.
I got this product free during LORAC training when I worked at Ulta and I was so excited about it... and when I use it I still get excited about it because it looks absolutely amazing.. the only problem is, the glitter falls off throughout the day. The look of it is perfect, but the staying power could use some help.

one of the most innovative products in a long time!
This stuff is addictive that sometimes I just can't help myself using it lately with almost all my looks. I love how it can totally transform eyeshadow colors especially blues cause they can make them silvery or blue purples. It takes a while to get the hang of using it cause a little goes a long way I mean a long way! Getting right application is the hardest part that's why I prefer a synthetic brush for application and only using it right in the middle of the lid.

Jacqueline H.
Dec 12, 2012
A sparkle junkie's wet dream!
I own both of the silver and gold liquid lustre drops. This product packs such a big punch with a minimal amount of product. Let me get my only complaint out of the way here.... I wish the packaging was different. This is a liquid product that you need to apply fairly quickly, no big deal; however, the dropper is the lid, and when you are applying the product, you don't have time to go back and re-screw the dropper, so.... my guess is that there will be plenty of guys and gals that have, or will have knocked this container over and spilled some of the product out and freakishly tried to shove the remains of the product back in the container. I wish LORAC would change the packaging wherein the dropper was a secured cap, and all you had to do is shake it up and disperse it without worrying about a loose screw top dropper.
That being said, here's what I love: These drops can be used underneath shadow, over shadow and as a highlight. If used under shadow, you will get a very subtle, extra dimensional sheen. If you place it on top of your shadow, you will get full on dazzle sparkle that you can actually blend. The intensity you want is up to you.
I have also used a bit of it on some loose strands of hair for a photo shoot, and it looked phenomenal. I love these little drops of sparkle, and as long as LORAC makes this product, they will have a lifelong devotee in me!

Awesome product but poor packaging
I love this product - it's the perfect finishing touch for an eyeshadow look because it can either give just the hint of shimmer when lightly touched on or it can add unbelievable sparkle with not too much product. It's great alone too, and in fact I've even mixed it with clear lip gloss for a holiday party look. As far as I can tell it doesn't crease, and even though it's liquid it has never messed up my underlying eyeshadow when I applied it - plus it has zero fallout and lasts through the day or night. The gold color is pretty but the diamond shade is more than silver, it has a beautiful, ethereal irridescence that I've never seen a dupe for.
My only complaint about this product is the packaging - it's really bad. It's not so much the dropper that bothers me (though as a previous reviewer said, it's annoying), it's that the sparkle pigment settles in the liquid when you aren't using it, and then it kinda stays clumped up down there at the bottom of the glass bottle and you have to shake it all over the place and try to break it up with the dropper... it's pretty irritating.

Alexandra J.
Aug 16, 2012
Such a FUN product!
I was so intrigued by this product when I was first introduced to it. Depending on your application technique it can give a light shimmer or a full-blown sparkle attack. That's how I use it! :) I apply it on my eyelids after my eye look is complete to add depth and shimmer. When the light hits it, it gives such a pretty effect.

Pretty good
I really like this product. It's beautiful when it's on. I've only got the gold color, but it's beautiful! I like to put on just a little eye primer and dot this on for a quick daytime look that still gives me a little shimmer. I have two complaints: 1. you don't get very much product. my bottle was only 3/4 full, unlike the bottle in the picture. 2. I hate the applicator. It's a dropper, and I hate having to 'drop' it onto my finger and then put it on. I don't know how they could fix this since a spray top would be worse, but I'm not a fan of the dropper. Other than those two things, I love this product! If there was more, I would totally use this as decollete shimmer when I go out!

glittergasm!
i dont know what else to say this is just a super fun product. it packs soooo much glitter into one drop you might wonder if you'll ever run out...... thats is unless your tempted to put it every where because it makes you feel like becomeing a wonderfull runway glitter fairy princess. it is perfect for fashion shows ect... becuase of the amout of glitter you can concentrate in one spot and the glitter isnt super chunk its very light but its highly concentrated wich makes it that extrem kinda sparkly. its also great for day to day or nightly wear just the tiniest drop on your finger tip or the tip of the right brush dabed into the center of the eye lid after you've finished your shadow application and you have a fun and intresting highlight and if you use it like that it will last you for ever! (well it will seem like forever)

DISCO GLITTER ON YOUR FACE!!
Holy Cow! This is no joke! I absolutely love this product! You can wear this alone or on top of any eye shadow look! And it's so sparkly and beautiful. And it's not sticky or smelly..lol I can't wait for holiday and new year's looks! I will be wearing this all the time! I love it!

"majic lil bottle of potion"
this is truly one of its kind! i love how it is formulated, just a teeny droplet goes a loong way and it gives brilliant sparkle to anything. and its not messy like like loose glitters which makes it easier to apply. its super sparkly and irridescent. 2thumbs up

this little bottle will transform your current shadow collection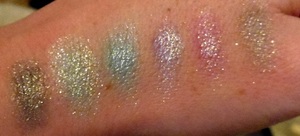 I really wasn't too sure how to use this product when I first got it. Quickly, after just one experiment I realized that this would entirely transform ANY look, lid, or shadow you already have in your make-up box. I had a really affordable large palette from a mall accessory store that was SO blah... and this product gave them new life! Check out my hand swatch... that's just one example! This stuff is awesome!!
---