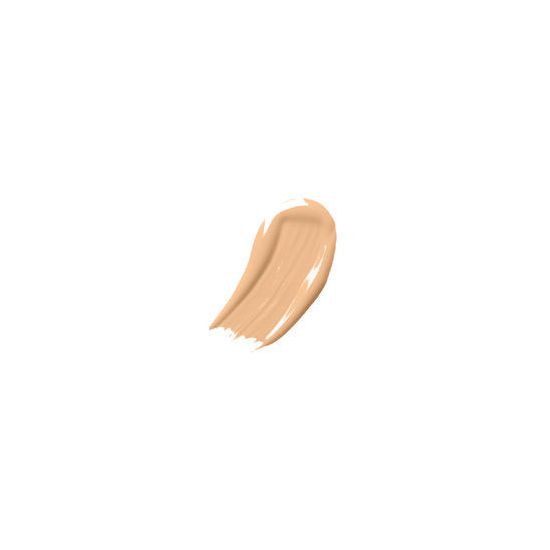 Rollover image to zoom
Reviews
Amazing!
This foundation is amazing. I am very pale and I always have a hard time finding a foundation light enough for me. This is my perfect match. I have a lot of redness on my cheeks and the foundation hides all redness with the tiniest bit of product. My skin is also very dry and sensitive and this foundation feels incredible on the face. It is so lightweight I forget I have it on. It doesn't break me out and it doesn't dry out my skin. So if you have dry skin, this foundation is for you! The finish on me is very natural and doesn't look dewy at all. I would recommend this to anyone who is still on the hunt for perfect foundation.

Love it!!
This has got to be the best foundation I've tried so far. It's so lightweight yet it gives you the coverage you need. It blends really well into my skin and makes it look so flawless. I just love it!

EXACT MATCH!
Let me tell you first by saying it is SO HARD to find a perfect match for my skin since I am German, Japanese, and Filipino LOL I have strong yellow undertones and have never found makeup with strong yellow tones to it. I even heard Chanel had more of a yellowish tint to it and when I went to the counter there was NONE for me! I went to the Lancome counter and I have NEVER used Lancome products EVER so when they matched me to bisque 4W with this teint miracle stuff OMG even my fiancee was shocked...he said "you have been trying to find the perfect match since I MET U!" hahaha TRUE! I waste money on products online that look close to my skin tone but as soon as I apply them they either have a pink base to it or a beige base but I need YELLOW YELLOW YELLOW....I don't agree with the chemicals in Lancome products but what can I do for the perfect match? MAC doesn't even have my perfect match and I also get pimples with their products.
UPDATE:2/4/12 I know it's hard to find foundation that is safe for your skin and has safe ingredients but I haven't found anything that looks well and covers good so highend foundations is the way to go for me! ANYWHOO knocked this down to 2-3 stars. this product dries my skin out and it is a match but not exactly...it's a little darker! I went to the mall and got samples from shiseido, clinique, NARS, lancome, and Chanel...CHANEL IS BY FAR THEE BEST THING I HAVE EVER PUT ON MY FACE! I have dry skin since it's winter and the Vitalumiere is hands down the best thing and doesn't look cakey or dry me out and looks just like my natural skin color/tone...WOW! I have no words for this foundation and will purchase Chanel products from here on out! Shiseido lipstick is THEE BEST I've ever put on my lips also just to let you know.

the perfect foundation for me
This is the perfect foundation for me! Having acne prone combination skin with a really oily forehead and dry flaky cheeks it's hard to find a foundation that works for me. This foundation doesn't emphasize any dry patches and it also doesn't make my skin oily or break me out so I really love it. Ivoire 2 (C) is the PERFECT colour for me but this foundation doesn't have a large shade range especially for darker skin. It's oil free, fragrance free and has SPF 15. It has sheer to moderate coverage that gives a natural finish without a cakey effect. The finish really does make your skin look "lit from within" like it claims! The wear on this one isn't excellent and is far from the 18 hours it claims and I would not suggest wearing this without a setting powder or spray. This foundation feels light and silky on the skin and doesn't feel too heavy for everyday wear. The packaging is attractive, the pump is effective and distributes the perfect amount of product. The price is pretty high at 39$ for 30 mL but I think it's well worth it and the best foundation I've tried.

I've had this foundation for about 2 months and I love it. I like to stipple it on with a Sigma F82 and then blend it in with an F82. The way I apply it gives a medium coverage. You could apply it differently to make it less coverage if you wanted. I build up layers on my cheeks where I need more coverage and it doesn't look cakey. It looks really natural, more like skin than makeup. It gives a pretty dewey finish. I set it with a silica powder to take out some of the shine. After that step, it really does give you a lit from within look. Keep in mind that I have moderate acne to cover and this hides it wonderfully. I usually use concealer on top to give more coverage over blemishes but I would be comfortable going out of the house with just this foundation on. I have combo skin and this doesn't accentuate dry areas or make oily areas look more shiny. I don't think it lasts 18 hours, though. Maybe 10-12 depending on whether you use a primer and set it with powder. I have only used this in the winter so I can't say how it holds up to the summer heat, but I suspect that it would need to be powdered throughout the day. Sometimes if I don't want such a dewey finish I mix it with L'oreal True Match and it makes it more matte but still natural looking. I usually use 2 pumps but if I'm mixing it I use one pump Lancome and about the same about of the other one. Overall, I'm really happy with this foundation. I would repurchase this even though it is quite expensive.

Nice, Moisturizing, and Luminating!
I bought this after returning Lancome's Teint Idole Ultra by accident and being disappointed by weeks end with it. This foundation is GREAT during the winter, which is mainly when I use it. I am normally neutral-warm toned, but the cool shades in this particular foundation flattered my skin more. It gives a light-medium buildable coverage and is SUPER blendable so I never have any kind of problem with it looking cakey or obvious which I love. The finish is a nice satin-dewy finish and it makes your skin look really healthy and radiant. I am combination-oily skin with sensitivity to products and this one neither made me look like a greaseball, or cause any irritation or breakouts. There are some illuminating particles in this foundation which I normally stay away from, but once you apply to the foundation to the skin they are completely undetectable even under the harshest lighting.

Not long lasting, bad coverage, NOT worth the money
I've used this foundation since summer and I have to say that i'm not a fan. The foundation looks great for about 2 or 3 hours, this foundation is not long lasting and have bad coverage. I want a foundation that can cover blemishes, but if you want light coverage this is the foundation for you. But of course there is something good about it too, the colts is beautiful and they have many shades. But overall, this foundation is not worth the money..
---