GÉNIFIQUE Youth Activating Concentrate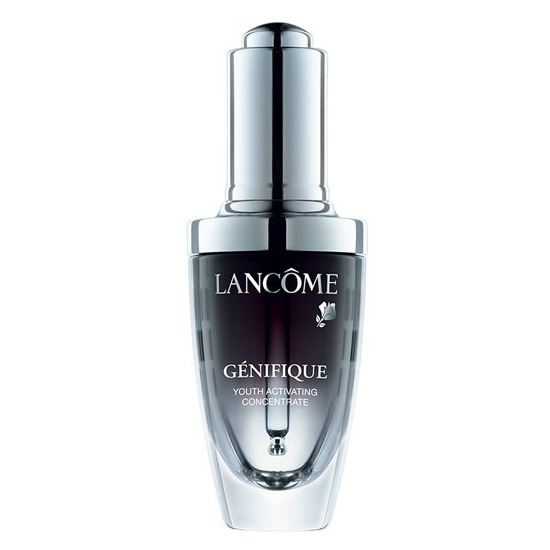 Rollover image to zoom
Reviews

I love Lancome's Genifique
I buy this product all the time. A little does go a long way. I really started noticing a difference in my skin within the first week of using it. Given my situation I was already at a disadvantage but using this along with their Visionaire my skin feels nice and radiant. I have very few lines and wrinkles and I'm very happy to use this product.

I did not see a difference in my skin. I don't have acne skin but I would think my pores will be smaller. It was just one of those that I just used to use up and get what my money was worth. I dont think I will be buying this again. What I do love about this is the consistency. It feels good when you apply it on your face. I like how quick it is on drying. Doesn't feel like a lotion or too watery where it takes forever to dry. I love the smell. I actually got the set at Macy's sometime last year and just ran out of my favorite moisturizer it came with :(

Really evens my skin tone
I am fair and freckled. I have some acne scars and large pores. This product, while incredibly expensive, works well. I like it. I also use the gel cleanser. Most noticeable change is the toning/texture and evening out of my skin tone.

Very unsure about this
A very expensive hyaluronic acid. I'm unsure about this product because I've used other hyaluronic acid before an never had a reaction. When I first started using this, it was fine until about 5-6 days of day and night usage, my skin ended up with a bad reaction that took another week to heal. I had red bumps that looked like I was at some mosquitoes' dinner party. They didn't really itch either and it kept coming back until I figured to stop using the serum. Of course, the mozzie's bumps look alike disappeared after a few days of not using it. Of course, animal testing too so BOOOOOO!! I only give a star cause it smooth my skin like any other hyaluronic acid before the reaction.

I'm a Believer!
So I'm approaching 30 and I figured I better invest in my skin already so I picked up Lancome's new Genifique serum to add to my skincare routine which goes something like this: 1) Face Wash (haven't found the right one yet, so I won't recommend anything here) 2) Hydrating Toner (MAC Fix Plus - this stuff is awesome for prepping skin for moisture) 3) Concentrated Serum (>>Insert Lancome Genifique here<< ) and finally 4) Moisturizer (also still haven't found the perfect product but Giovanni's D:Tox System Step 3 Facial Moisturizer has been doing the trick which it's all natural organic ingredients thus far)
Anyway, it's difficult to isolate the effectiveness of a product without noting what I am using in n combination with this stuff, but I have to say that after a life-long history of extreme dryness with flaky skin every day, discoloration including dark circles, redness, blotchiness, and bumpy texture, my face finally feels back to it's highschool days! Incredibly soft, smooth, no more flaky skin and the tone has improved a ton. For yeeeeeears I felt so uncomfortable without face makeup in public, with my friends, even while home alone. With this new combination of products (especially Lancome Genifique and an all-organic natural ingredient moisturizer) I am seeing a world of difference and I'm super comfortable with my face in the buff!
The only curiosity I have is with regard to the fact that I cannot for the life of me find a published list of ingredients for this product. I think it might have something to do with the 9 patents-pending ?? I will update if and when I get the info!

let there be LIFE!
I have been using this stuff for about six months... discoloration under my eyes and around my face in general is just gone... seriously GONE... my skin is more even in tone and has an overall youthful look... it is bat crazy expensive but honestly I will be getting it again when I run out.
---