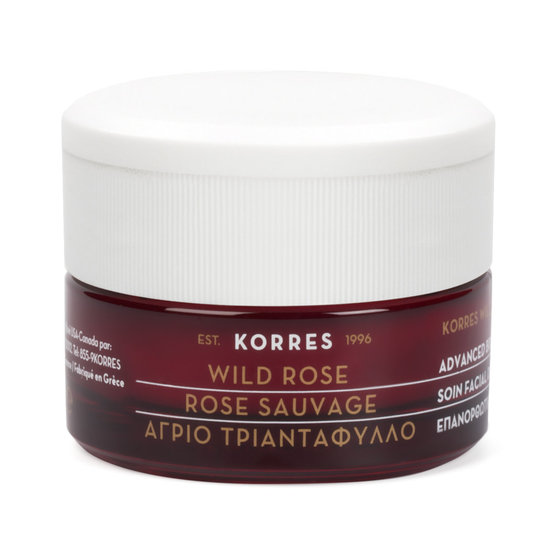 Rollover image to zoom
Reviews

Holy Grail
This was my first night cream. I really didn't believe there was a difference between regular moisturizers and sleeping facials until I purchased this, used it all up and tried to replace it with an expensive brand. My face was not happy and it showed. My uneven skintone returned, dark spots from acne seemed to never diminish, and my brighter, more luminous skin was missing in action. I can't recall how long it took for my face to see results the first time around, but I counted each day after I came running back to KORRES. After 10 days, my skin was back to its radiant, plump and even self. I love it!
I'm in love with this stuff
I'd heard a lot of great things about Korres previously. This was my first product from them and now I'm hooked! After just a few days I've noticed my skin has gotten much softer. Putting it on makes my skin feel really slightly oily but it quickly absorbs, and in the morning my skin is never dry or oily but much more balanced. I personally love the floral smell but I suppose its not for everyone. It is a bit expensive but I think you get what you pay for. Will repurchase!

Jacqueline H.
Dec 19, 2014
Dreamy
This is my first Korres skincare purchase, and I'm glad I chose this product. A sleeping facial....count me in!
I have normal skin; neither dry nor oily, and I was a bit concerned that this cream might feel heavy on my skin, but it really is amazing lightweight. One only needs to apply a very small amount to achieve full skin coverage. Now here's where it gets a little weird: The cream is instantly absorbed by the skin; there's no greasy residue to it at all ; however, a minute or two later there is a very distinct waxy-tightening feel on the surface of the skin... kind of like how an actual face mask would feel on the skin when it's almost dry and ready to be rinsed off. Fear not though, that feeling only lasts about 10 minutes, then your skin will feel very soft and supple with no 'waxy' feeling.
As most of the reviewers of this product have mentioned, there is a very strong scent to this cream. When I think of the smell of roses, I think of Tea Rose perfume.... The Body Shop's Arctic Rose cream.... straight up uncomplicated rose scents. The Korres Wild Rose Sleeping Facial Cream does not smell like rose to me. It has a very sweet, almost tuberose like scent mixed with a Cashmeran musky-woody component. I do not care for the smell of this cream; however, the scent really has no silage(staying power). If you are sensitive to strong scents, this product may not be for you.
Overall, this is a very nice skin cream that will give your skin a rested, hydrated, dewy kind of glow. I would definitely re-purchase this product. ;)

did nothing
Ive had this a little over a month now. I was looking for something to bring my dull skin back to life and from the reviews I thought I found something. It did very little for me. The smell is nauseating. I hated it. Way too much fragrance. It did plump my skin up a tad when I woke up but nothing worth the $50 price tag. I will not be reordering and it wasn't my savior.

Pleasantly Surprised!
I don't usually review products, but I've had such an experience that I thought I should share. I received Korres Wild Rose + Vitamin C Advanced Brightening Sleeping Facial as a birthday gift. It's not something I ever would have picked out for myself. Not because I wasn't looking for what it promises, only because there are areas other than brightening that I'm currently working on. When I received it, I read a TON of reviews- most very good, but again not what I was really looking for at the time. And almost all the positive reviews said they saw IMMEDIATE results. I don't know about you, but I'm wary when I see that...makeup is the only immediate result I've ever found! However, the gift giver was so excited for me to try it & wanted my professional opinion as well, so....I've been trying it.
It's marketed as 'sleeping facial', so I apply at night after my evening routine & after a serum. I've used it **mostly nightly for approximately 6 weeks. (Minus an evening here & there...I'm a makeup artist, know it's important to go to bed with a clean face, but we cant expect perfection, people!) I always only try one new product at a time. That way whatever results I get (good or bad) I know what product it is.
6 weeks later...and WOW!!! I wasn't expecting a whole lot, but I most definitely got it! Overall, i have pretty good skin, not alot of complaints, but here are my few.. My skin is combination. I get very oily over a day (sometime even just overnight) in the T-zone especially, I break out a couple times a month on my chin & forehead, like clockwork. I get these scaly spots on the sides of my nose. I do have some uneven skin tone, to a certain extent & redness. I also have some fine lines, some dark spots, some acne scars. And the last few years, I've noticed that the texture of my skin is not what it used to be... My skin is now CLEARER, SMOOTHER, FINER, and YUP! BRIGHTER, than it was before I started with it! I haven't broken out once, and those scars & dark spots have faded. Quite considerably. My skin has just an all-around clearer, fresher look.
Previously, I could not & would not leave the house without foundation, even if no other makeup than that.. I had come to accept that's just how it was & had perfected my foundation routine. Now, I only use my beloved foundation routine on occasion. Most days, it's just SPF moisturizer & translucent powder, or at most a touch of concealer on prob spots I could NOT be happier. I'm not going to say it's a cure-all, miracle product. I don't believe in the whole "Holy Grail" product myth, I don't think there are holy grail products! I WILL say that I got much more from this than I ever even imagined I would. Definitely a repurchase!
A few people have mentioned the smell...personally, I love it. It's light & fresh & fades quickly. It makes me feel like I'm pampering myself. (And why not?!?) I think it's just personal preference.
I wouldn't personally use it as a daytime moisturizer.
The texture is silky smooth. It truly only takes a bit, it spreads very easily. And it soaks in quickly...which is great for those of us with oily or combo skin.
This NEVER feels heavy or greasy.
Course, this is just my experience with it.
Hope this helps a bit! Stay beautiful!

Rise and Shine!
I have been using this product for a couple of weeks now and I must say I do wake up to glow-y, radiant skin. I don't see the usual irritated red patch on my cheeks instead I see supple and rested skin. The effects are even better when I hydrate myself well before going to bed. It does have a touch of "your gramma's beauty cream" scent but it doesn't last long and the benefits of regular use outweigh it. Will re-purchase this product for sure!

Hydrating but not greasy
I have combination skin and have tried several night creams. They left my skin feeling greasy and/ or caused irritation. I bought this cream because it has Vitamin C and received mostly positive reviews. This cream is thick and has a light rose scent. Very little is needed to cover the face. On my combination skin, this has not left a greasy residue. I have only been using it for two weeks but I do feel my skin is well hydrated and more supple. I don't feel like I've given it enough time to see more changes but so far I am very happy with this cream. This came from Beautylish; it arrived quickly and nicely packaged.

Soft, smooth, brighter skin
I absolutely adore this night cream. After a few uses, I could start to see my skin looking noticeably better: Well hydrated, soft, a little glowy. It also smells fantastic (like roses), but the smell is strong (you've been warned). It took me about 6 months to go through my first jar. Repurchased a second. While it is a thick cream, it does not feel greasy or heavy on the skin and I did not experience any break outs. Absolutely love it.
---