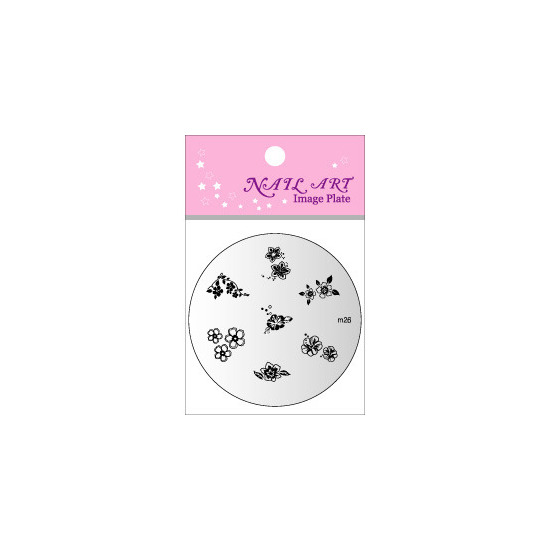 Rollover image to zoom
Reviews

Snarky Princes s.
Oct 01, 2011
Practice Makes Perfect for Salon looking nails!
I found Konad through a friend online, and thought it had to be difficult. I mean- those nails with the intricate designs HAD to be ridiculously overpriced... Right?
Wrong! I typically buy my plates on Amazon.com because there are some cheapies that float around. Konad stamping is fun, because you can come up with endless combinations, designs, patterns, and basically have something for every occasion!
It's a little tricky to learn how to stamp well at first, but after the first two times... You'll be a pro too! I'm constantly asked where I get my nails done... And very proud to say "I do them myself!" Expensive looking nails for pennies- yes, I like that idea very much!

it's fun,amazing and easy
No more paying top $$$ at the nail salon for me. This is so fun and easy. All you do is apply a coat of nail polish to the plate ,scrape,stamp and WALLAH!!!! they offer so many designs. And most importantly your nails will look professionally done. You can practice on friends ,family ,pretty much anyone but once you become a pro don't forget to charge :)

Miraculous
If you're a nail art beginner or just love flawless designs on your nails, this is AWESOME!! It'll have your friends jaw dropped when they see your manicures, and the first thing they say is "Did you do that!?" They do have their tricks on how to use them properly though, such as:
1. You need to be very fast when you pick up the nail polish stamp or it will dry and the stamp won't pick up the design. 2. The scraper scratches the metal plate so using a paper card works better.
It can get a little annoying and be somewhat time-consuming if the polish keeps drying, but the results are soo worth it! You just need patience and dedication, but the designs are amazing.

MY FAVORITE
I absolutely love my konad. I get compliments on it all of the time. I use it all of the time and overall it's a great product. It is hard to do at first because you have to learn the tricks on how to properly use it. However if you are into nail art, you HAVE to get this!! I recommend this for anyone who loves nail art and wants a nice manicure or pedicure with some nail art!

Fantastic!
I absolutely love this product! It took a while to get the technique down, but after practice, the designs started coming out better and better! I love how it dries fast on the nail so I never have to worry about the design smearing off after I finish stamping. I love being asked how I got my nails to look so perfect.(:

if you're new at doing nail art, this is the product for you... it gives clean image of a design, you just need to practice a little bit. trust me, you'll like it

Love it!
I love these! I got 2 for Christmas and they work really well. I do not like that the metal scraper will scratch it, I will get a plastic one. The designs are all pretty. It takes practice, but after trying it a couple times it looked fabulous! Also I find you do not have to use the special polish as long as the polish you use is thick. I hope to get more of these soon!
---