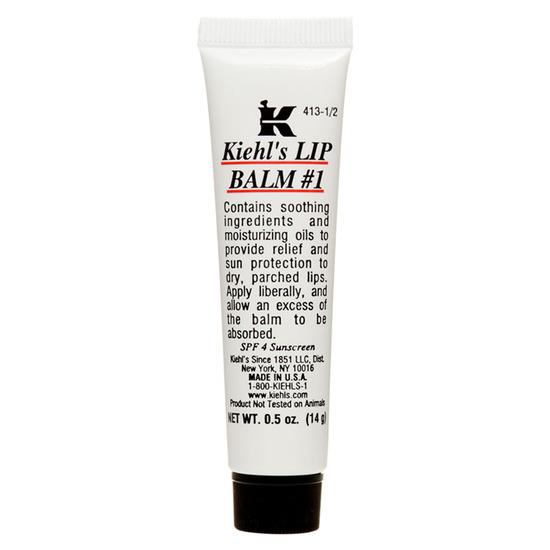 Rollover image to zoom
Reviews

Shine and moisture make this lip balm one of the best.
Mango + Cranberry Kiehl's lip balm are two of my go-to favs. I love that they provide SPF protection, moisturize and add high gloss on days when I want an au natural, dewy look. The fresh fragrances are a major bonus too. The original #1 is available unscented. For the sake of the price (around 7 bucks), it's best to keep close tabs on these tubes.

My favourite!
I've been using this one for quite a long time now, and I must admit I CANT GO ANYWHERE WITH OUT IT!. I always keep it on my in case of dried, chapped lips. it's great in the summer, but definitely my favourite in winter-time. After 'scrubbing' my lips with a (wet)towel I like to apply it, and let it sit overnight, when I weak up i have the most gorgeous lips ever. The only small thing i dont like about it, is that it's pretty hard to get the exactly amount out if it, but you really look behind that when you see the wonders it does.

I have this in the red color but I need a whole lot of product to see any difference in my lips. I have really dry lips and it gets foggy and cold so they crack. Then its been hot recently and they have been dry and still I need to use it a couple times a day just to see any bit of effect!

choose to indulge
Unfortunately I lost my original tube on a night out not long after I purchased it, which was a shame as its expensive for something that is basially Vaseline. It did a great job at protecting my lips from the wintery weather, but its definitely a indulgence product, I brought it only on the basis that I wanted to use this brand not because its better than any other.

I own three tubes of this (Vanilla, Coconut and the Original) and while I do love them, its really just an expensive branded version of Aquaphor. They are both great at moisturizing the lips and Kiehls does contain spf so thats nice..but in the end its just vasaline. Like Ning said, I also use it on my brows to keep them in place. If you want to spend the extra $$ I suggest this, if not head to CVS for some Aquaphor!
---