True Romance Eyeshadow Palette - Ludwig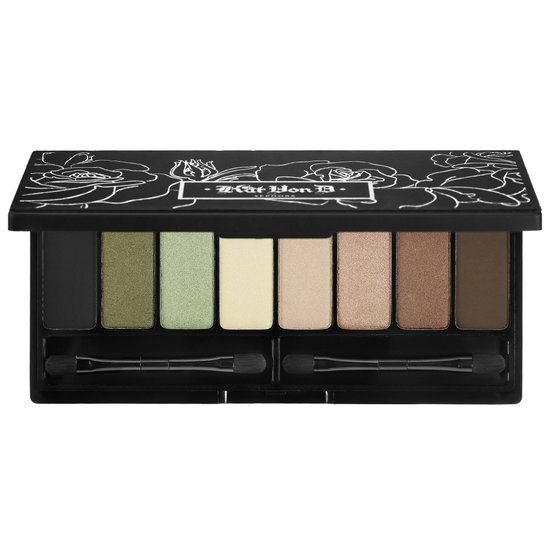 Rollover image to zoom
Reviews

Okay if you like simple, neutral looks

Quality : Overall, these eyeshadows are soft and blendable. The pigmentation is decent, but certainly not impressive. The lighter colors (dimebag, tequila, and clay) are quite sheer, so use a colored or extra sticky base under these colors. You can definitely make the lighter colors work but just takes some effort. The darker colors are decent, and the black is fabulous, but for the majority of the palette, they probably won't show up on your skin if your complexion is any darker than mine. I'll let these swatches speak for themselves. I want to say that the quality is similar to Maybelline eyeshadows. They're slightly powdery and delivers decent pigment, but again, they're not amazing.
Final Verdict: If you're looking for a palette with fairly wearable colors, and you want to break into color, this palette is for you. While the site describes it as "edgy-glam," I honestly don't think the eyeshadows deliver this promise. I do love the packaging, inside and out, and I will reach for this palette when I want to do a day look. I don't particularly like the neutral colors in this palette, because they're too shimmy, and I would have much preferred some taupes or rich chocolate browns as opposed to coppers. Even though my skin is not particularly dark, I think I'll have to use a paint pot under these eyeshadows. Definitely not worth the $34, and I would not buy it again.

Amazing!
I love this palette! The quality of the eyeshadows is the best of all that I've tried. I especially love the matte brown and black as they are richly pigmented, soft and blend really well.
I like that there are two green shades so this isn't completely a brown, black and tan palette.
I definitely recommend this if you have brown eyes, or if you like the colours. It's definitely worth the money if you don't have anything like it!
http://thedailyswatch.blogspot.com/

I can't get enough.
The colors in this palette are fantastic neutrals that can be used all year long. I love this specific palette I am currently on my third Ludwig palette. The pigmentation is amazing just like the other palettes and the colors don't fade throughout the day. I have had an eyeshadow break but it was easily pressed back into the pan and looks as good as new. Tequila is my go to highlight no matter what look I am going for. Stunning.

My favorite palette!
I researched long and hard into what eyeshadow palette I should get (yes, this is the only eyeshadow I have). I needed to make sure it had neutral colors so I could wear it to work, and also because I'm more fond of neutral colors. I eventually decided on this one...though I was very torn between this and another Kat Von D palette. I usually use this when I have time in the morning and also on the weekends (so around once or twice a week maybe). For the day, the colors I use are "Downtown" (a light beige) and "Leather" (a dark brown) with "Tequila" as a highlight and they blend together beautifully. On the weekends I'll add in "Baroque". I haven't touched the green too much yet, but "Orbi" is very pretty and matches well with my winter/fall clothing. My mom always always compliments this eyeshadow whenever I have it on (and I wouldn't call her much of an eyeshadow lover lol). If I'm short on time, "Downtown" is the perfect neutral color to sweep quickly onto my lids!

Mary Anne M.
Jul 08, 2012
Quality Shadows, Good Range of Finishes, Sturdy Packaging, but Color Selection is Nothing New
The eyeshadow quality, color selection, and packaging quality are impeccable.
One thing I seek in palettes, considering being on the go quite often, is a good blend of shimmer and matte eyeshadows in addition to wearable shades. This palette is excellent! It has highly pigmented colors that are soft to the touch and easy to apply. The two darker shades on either side (black on brown) are a little stiffer, which is good since it's easier to control their application. They're also matte, which helps create depth and contrast.
However, these are common shades in drugstore eyeshadow palettes so unless you love the stellar, highly durable packaging, the included mirror and the applicator, there's nothing else absolutely extraordinary about the color selection. Wet n Wild's Color Icon Palette in Comfort Zone is very similar, for a fraction of the price.
If you can get this palette for lower than its recommended price, I highly recommend it! But otherwise you might as well stick to drugstore eyeshadows if you just want the colors, since these are common colors.

I use this almost every day. The colors are extremely pigmented and last all day with primer underneath. I'm more of a browns than green - so clearly one side of the palette gets used WAY more than the other. For the price of the palette it's a little bit of a bummer that one half is only going to be used half of the time. If you see yourself using all of the colors, then go for it. If you only see yourself using the browns or greens, there are other - smaller palettes out there.
---