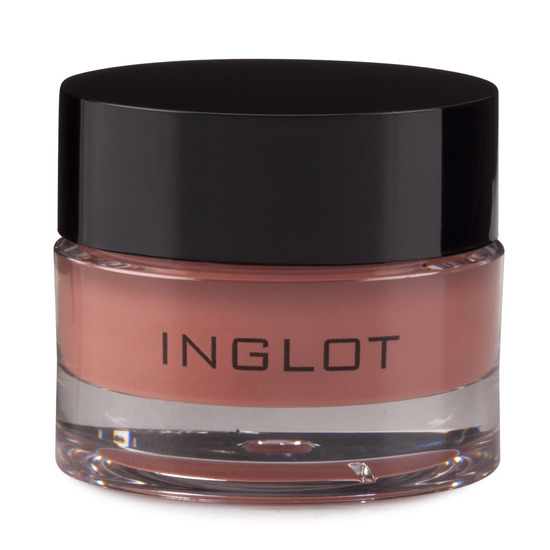 Rollover image to zoom
Reviews

Pigmented, glossy, lush
I have this lip paint in 3 shades: 52, 65, and 68. I love all of them very much, but I'd be lying if I didn't say that 65 is my most loved of them all. That's completely a shade thing, and not because of any kind of variation of the formula. 65 for me is just the perfect dark pink-brown for an everyday look. I have struggled long and hard to find a perfect 'nude' for me that doesn't wash me out (I have a medium olive skin tone, so you can imagine how hard that was), and the moment i slapped this on, I was charmed. Because it comes in a pot, I'd say you should use a lip brush if you're nervous about germs, but I'm definitely too lazy for that and I just use clean fingers. The perks of using your fingers is that you will feel the incredible texture of this lip paint. It is thick, creamy and just wonderfully melty. Your finger will sink into the pot, and when it comes out, the most beautiful pigmented color will come out. As a total lip product afficionado, I have tried hundreds of formulas, and this definitely ranks very close to the top. On normal lips, this probably feels great, but on my perpetually parched smackers, they feel absolutely divine. So smoothing, so moisturizing, and because of the semi-glossy sheen it imparts (the amount of gloss will completely be dependent on how much you put on), your lips just look plumper too. One downside to such a moisturizing, comfortable formula though, is that it doesn't last very long. If I hold still and stop trying to eat and drink everything I see, this can last up to around 4 hours. Once anything touches your mouth though, be prepared to reapply. The silver lining to this, however, is that despite its pigmentation, it won't leave that ugly lipliner-esque stain on your lips as it wears out (you know what I'm talking about). Instead, it gently and evenly disappears from your lips, like all good non-longlasting lip products should. I have already bought a backup from Beautylish of my favorite shade (which is 65 in case you forgot), and I know I will likely need more backups in the future!

Lightweight color packed lipgloss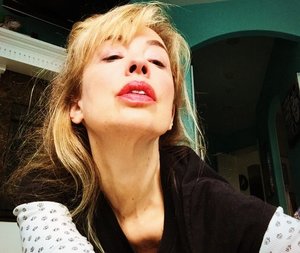 I still have big lips, even though I am middle-aged, and they are very pale which can make me look sickly. I tend to wear a lot of goopy, nude glosses because when you get older, bright colors can be tricky and my lips are always dry.
But I love this berry shade, I also got number 61, which is a terra-cotta, for summer. These are lightweight, fairly pigmented glosses, you can apply with your finger or a brush. You can do a light glazing or a pretty pigmented application. I use lip fusion as a primer, the white non-colored one, which really fills in and plums up the cracks and my lips without that weird stinging burning that most lip plumper's have. Then a swipe of this and it makes my lips full and pretty without being electrifyingly shiny. Love these things!

A PINK PURPLE DREAM
This is just what I was looking for. This highly pigmented lip paint is BEAUTIFUL as an all-over lip color, but I purchased it mainly as a highlight color for some of my darker purple lipsticks. It's not lavender or lilac, its a soft purple with just the right amount of pink to it, so that it doesn't lean blue. Just perfect! The price is great, the product size is standard, it is not terribly sticky or shiny, and has a slight fruity scent.

I don't usually purchase glossy lip products, but I took a chance after seeing this in beautiful shade 69. I love darker shades and couldn't resist! I'm so happy I made the purchase. It isn't dramatically shiny, especially when applied lightly as a tint rather than as a full-coverage color. The formula lasts for a few hours and wears off with food or drink, but the color disappears evenly without any of the unattractive patches or dryness left by most longwear lip products. Because of this, wearability is not an issue for me. It's easy to reapply on the go, no fuss or special tools required! I recommend shade 69 for those who like shades that lean toward the purple side of the spectrum. Don't be afraid of the color's intensity in the pot! It looks beautifully subtle when worn as a sheer tint, almost "my lips but better." It also works well on top of darker lipsticks, deepening the shade and adding gloss and dimension.

Mmmm...Delicious
Inglot's lip paint is just lovely. It's not 'sticky' but glides on. The color can be used alone or used as an enhancement to your favorite lipstick. It also smells like cherries...divine! I also purchased shade 55 and I'm equally fond of this shade. Will definately be purchasing other colors.

Loved it so much
I bought it twice. Once as a lip pan to go in my palette and again as the lip paint. (._. ) Lip paint is easy to carry around and a bit more pigmented. Perfect for winter! Nice smooth feel and great smell. Don't judge.

Amazing product! Little goes a long way
This product is amazing! I have just gotten into lip color and have been trying products that are recommended or I read about. While purchasing another product a took a look and saw the price was low. While reading reviews I was hooked. The product looks a little more darker on my lips but that was with a pretty decent amount of lip product. As soon as I opened it I pressed my finger into excepting it to be hard but mine was very soft. I do not know if that was the product or its that it was shipped in the middle of the summer. I think I like it soft since it's more like a cream instead of a hard paste. Great color pinky, brown, and great amazing product and fall color!

i first got color 51. liked it so much i am gradually getting all of them. these are the best. they are gloss with out any stickiness. they feel wonderfully moisturizing on my lips. there is just a hint of a scent. i usually don't like scents, but i do like this one. they are a little opaque but i can control the depth of color by the amount i use. i'm so glad i found these. and beautylish customer service and shipping is #1
---