Nobody's Perfect - Concealer Palette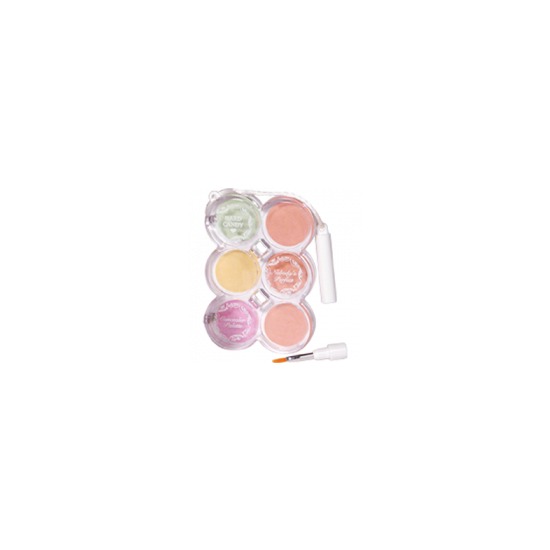 Rollover image to zoom
Reviews

I bought this mainly for the green and yellow concealers in it but this product SUCKS! I would never recommend this to anyone, it's barely pigmented at all and the concealers do not even cover anything. Waste of money if you ask me. This was the only Hard Candy product I have ever tried and I can't believe how disappointed I was with this !!!

Don't buy this.
This does not conceal my dark circles and this product if way too creamy and has almost no pigmentation at all. I would not repurchase this. The brush that comes with it does not even work to apply this. The green and yellow concealers were very greasy and didn't hide any of my redness nor blemishes. Don't buy it's not worth it.

SUCKS!
IT SUCKS! I regret buying this sooooo much!!! it suuucks!!! DONT BUY IT!!!!!!!!!!! the coverage is HORRIBLE. swatched all the colors look the same...its just not worth it....wanna spend $8 on a Hard Candy face product?? spend it on the Hard Candy Welcome Matte which i LOVE or the Glamoflage concealer!

Horrid!
I decided to try this on a whim because I wanted to try a green and a yellow concealer...and I really wish I hadn't wasted my money. The concealers are greasy and have poor pigmentation. They didn't last long on my face, and made me break out. The packaging is cheap and the brush is useless. Stick with hard candy's "glamoflauge" concealer, its much better!

Great for the price!
I spent 8 bucks on this concealer palette, and I was pleasantly surprised. I used the yellow one (because it's rather thick and sticky) as a primer for my eyes for the longest time, and it prevented my shadow from creasing and it also lengthened the wear on the eyeshadow. I then moved on to the darker skin tone for the primer (since I used up almost all the yellow) and have since almost used all of that pan as well. I recently started using the rose colored concealer under my eyes and it gives you a very sheer coverage. Overall, apart from the yellow and darker skin shade, the other concealers are rather greasy and they're pretty sheer. It's pretty cheap so I think it's great for a starter concealer palette, and like I said i used the two shades as primer under my shadows and they worked great!

does its job!!
I just got this product today, I don't really like using makeup on my face, parts of my face are very dry, some are normal, as well as oily..The texture of this feels oily but is not thank god!! It also seems to be covering my dark circles I get as well as my very red cheeks I tend to get in the winter! This product makes me feel like I am in my summer skin again!!!

Christina N.
Nov 14, 2011
Beginners guide to concealor
I got this palette on accident, I thought I was getting neutral eyeshadows and it turned out to be concealor. I decided to play with it amd learned how to use the lavender concealor and the green and yellows too. Its creamy and goes on smooth. Every person should have something like this with their makeup.
ehh
I bought this on a whim and considering that it had a green concealer, I went for it. The green wasn't pigmented, yet the darkest skin toned concealer was. It does cover up the redness using the green concealer then the skin tone, however it wasn't to the extent that I had expected. That concealer brush that's attached did absolutely nothing for me!

Awh : (
Unfortunatly, this is a no go for me. I was really hoping this would be a good product too! The thing about it is that it is so light, the green is like white, the pink can be used as a highlighter. The yellow is i dont even know. and the darkest color is my concealer color. It cakes up. To me it feels like creamy paint and I do not want to put that under my eyes or any where on my face!
---