Glow All the Way - Skin Luminizer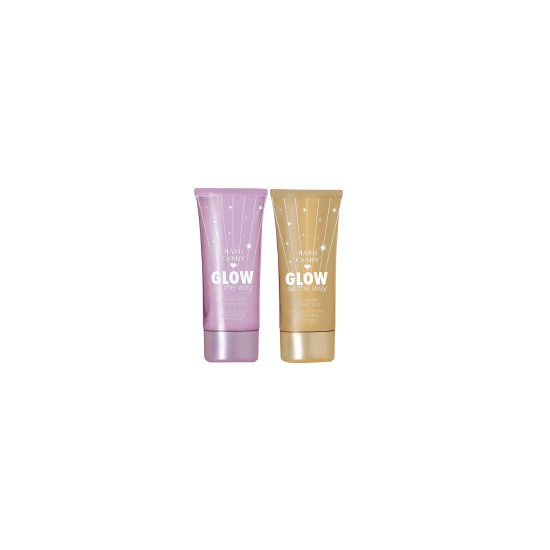 Rollover image to zoom
Reviews

Glitteratzii!!
I bought this product in "doll face" and I love it!!! it has a shimmery pink undertone that compliments my skin and makes the skin stand out and makes it shine :DDD For the price it is a must have!!

Great deal!
With these illuminating highlighters, you get a LOT of product, for a great price. Seeing as how you only need a tiny dab for your cheekbones, brow bones, etc., this stuff goes a long way. Comes in a great range of shades. I have oily skin so I use these when I know I'm going to be out in the sun & heat. Great for turning "oily face" into "glistening face".

LOVE<3
I bought it in the pink container called doll face. It's beautiful on fair/light skin tones and gives you a nice pink glow to the cheek bones and anywhere else you wish to apply it. This is def my HG item<3

If you want sparkle & shine, look no further!
For the price that Hard Candy is going for you can NOT beat this product. You should be warned that it is VERY VERY glittery and the bronze color that it gives off can be a little much for light skin. A little goes a long way! Sometimes I mix it with my lotion for a lighter look.

I like it - like it
I really love this product. It's not very expensive, and it works, and you get a lot of it. I use the bronzer. A little goes a LONG WAY! So you just have to make sure that you don't try to use too much, otherwise you end up a little orange. The other thing it that sometimes it comes off on your hands if you don't put a powder over it. But over all I think it's fun and I like it.

I think the packaging is super cute and you get so much product for the price. I have the bronzer and the highlighter. The bronzer is really nice. You have to be very careful how much you put on your face because a little bit goes a long way. The highlighter is really pretty as well. It gives a nice sheen to my face just make sure you blend it really well or it can look streaky.

Not the best, not the worst
I purchased Hard Candy's Glow All The Way in the pink container. One thing that I will rave about is that it contains SO much product for a steal, but that's about all I can say in a positive light. I want to like this product SO much, I have used it for almost a year in hopes that it will magically work one day, and have barely made a dent in it, but I must say that I officially give up. Everytime I apply it above my cheekbones it's like it disappears. I have layered it and layered it but no luck. I can say that when applied to my cupid's bow it looks great - for the first five minutes, but quickly disappears. I'll stick to Benefit's moon beam... this is definitely a miss, and a product I will not repurchase.

Glow all the way with this awesome bronzed tanner!
I have the bronzer and it is amazing! If you want to get that great "JLO GLOW" without spending a ton of money, then you need to try this out! I have used this all summer and it gives a nice sunkissed glow to my face. Love this product!
---