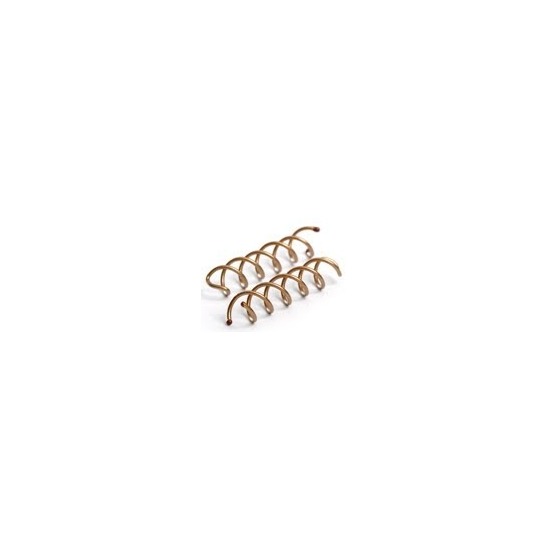 Rollover image to zoom
Reviews

An amazing product!
I was definitely skeptical at first but this was such a great investment. It's reliable and doesn't pull my hair like hair ties do; which is perfect because unfortunately I easily get headaches from tying my hair up in buns. It's so easy to use. I like to use it to keep my braid intact, as well. It keeps the layered hairs from poking out.

LOVE
I love these springy pins. You can pretty much do anything with them. I don't use hair bands anymore if I have these around. It really does eliminate using bobby pins in any hairstyle your trying to do. The best part is, you'll only need one or two. The hair style won't fall off! Oh, and these don't hurt, unlike bobby pins.

These are really easy and quick to use. They hold a bun really well. I would suggest this! The only problem I've ever had with these is that sometimes if you spin the pins in tightly you can see the ends of the pins, but again this is only of they are in tightly.

Best Invention Ever
Buns are a snap! Totally eliminates the need for bobby pins. I LOVE IT. They're easy to put in and remove and there is no worry about the ends snagging your hair like a bobby pin. Not to mention they come in a few colors to match your hair.

Great for protective styling
I love to use these for my buns when I am protective styling. Protecting my ends is critical for me to retain my length so my hair can grow longer and remain healthy. I find that using too many bobby pins can take out my hair when the little bulb on the ends snags in my hair. These are perfect for me and I would highly recommend them to anyone on a hair journey that uses buns as a protective style, or anyone who likes up-dos, but does not like using a lot of bobby pins.

Great for thick hair!
I have alot of hair so I was hesitant to think these would work for me but I am SO impressed with them. I can easily do a top knot bun with these 2 and it wont move AT ALL for as long as I need it to. Super easy to use, to take out, and put in. Definitley nice to have in your purse instead of 50 random bobby pins!
---