Fructis Pure Clean Fortifying Shampoo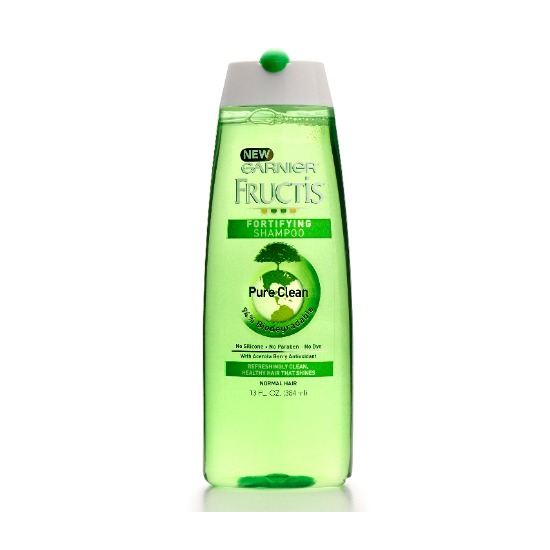 Rollover image to zoom
Reviews

I love using this from once a week to every two weeks as a clarifying shampoo. Smells absolutely wonderful and lathers so nicely! I love to follow this with a hair mask or a deep conditioner.

Love it!
If it is good for the earth, it's good for my hair. I don't know about you, but this shampoo does not leave my hair greasy, and I use it daily. My hair became more healthy, shiny (not greasy), and I love the smell. I also use the conditioner and the leave-in conditioner.

I love this shampoo! After I rinsed it out and dried my hair, my hair felt so light. Now, I don't know if the "normal hair" on the label is for straight hair or for dry hair, but if it's for straight hair, I hope to see if they'll make it for curly hair (my hair is naturally curly but has straightened out over the years). :)

I Like It.
I actually really love this shampoo. I love the smell, it gave my hair a green apple smell and it stays on my hair all day. I use it everytime I wash my hair and I can see a difference in my hair. I have curly hair and when I use heat against my hair, it can sometimes make my curls loose definition when I want to curl it. After I use this shampoo the minute I start to curl my hair, my curls are back. I really don't care that much for the conditioner. But I like the shampoo. It didn't leave my hair oily or damaged looking. I guess its because my hair is so coarse. Other than that I don't like the conditioner but I love the shampoo very much!

great as a clarifying shampoo- not daily shampoo
i notice i'm the only one leaving a positive review here lol. i actually really like this shampoo. i DO NOT use it daily. it really does CLEAN your hair. if you do use it daily, your hair will be so stripped. i only use it AT MOST once a week after my hair has accumulated some buildup from other hair products. but i mean...isn't that why people buy clarifying shampoos? it does a really good job at removing that buildup. my hair is super clean and more bouncy afterwards. just be sure to use a conditioner afterwards. no biggie. i always use conditioner when i wash anyways. the fact that it's environmentally friendly is great (one of the main reasons i keep repurchasing) it smells like green apples :) but the smell doesn't really stay after you wash and dry if you're worried about that. it's cheap too!
---