 Rollover image to zoom
Reviews

say no to yucky dry lips!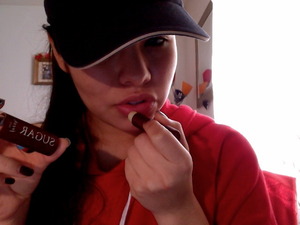 Got this lip treatment in my VIP gift bag from The Beauty Social and have been using it ever since!! To keep my lips looking nice & moist I always apply some sort of chapstick before I go to sleep. Some I've tried do the job, & some don't. This one definitely does! it smells amaze too!!...like lemons!! Fresh lemons! hence "Fresh" haha. No but really, look no further for a lip treatment! Plus, added bonus that it has natural ingredients!! :D

Lazy day at school go to balm!
I own this in two shades and I use them almost daily! It's a moisturizing color that is perfect for any day! I throw my hair in a ponytail, put on eyeliner and slick this on for quick make up on a school day. I definitely recommend this!!

i used Sugar Lip Treatment SPF 15, i love the fact that this one has SPF,15 so smooth on the lip, love the texture, only down side is, it's melt so easy in the heat!! you can't even carry it in the bag in summer time :( and it has no color!! so with price of $22.50 it's so-so

best lip treatment
I've owned TONS of lip treatments. I'm always on the hunt for the best lip treatments because I'm afraid of chapped lips. I tried this back when I was in high school, its the best!! My lips stay hydrated and soft. I always end up going back to this lip treatment cause its that good. Plus, It smells realllllly good & its natural!

Favorite
By far my favorite lip moisturizer, and the SPF 15 is always a plus. I use it every day and will continue to repurchase. Worth the money. Love the fresh lip sugar scrub as well.

Love it!
I absolutely LOVE this lip balm!! I received it as a gift from sephora in August of 2013 and I used it till it was completely gone. No joke! I purchased a full size and it just moisturizes on contact and your lips feel amazing afterwards. I really really recommend this product :D

Awesome!
I admit that this is a very expensive lip balm but it is the best out there...I promise! A beauty consultant advised me to use only this and if I wore lipstick to put this on underneath. My lips are now soft as satin even when there's no product on it. The trick is that you must keep using it. I even tried to stop and use BabyLips, SoftLips, and wax lip balms. Within two days my lips were worse than I ever remember them being. For those who suffer with extremely dry lips, this is worth it!
---