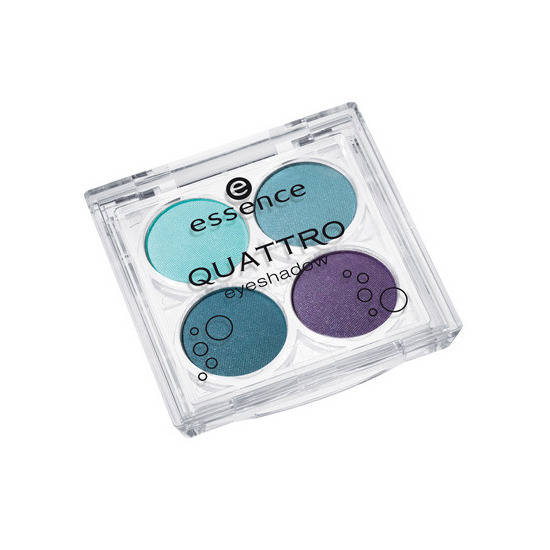 Rollover image to zoom
Reviews

Great!
I bought this as a cheap and small palette. It's great! With the colours you can do all that stuff like light on the inside of the eye, darker in the crease etc. It's a great palette for people who are just starting out with makeup and do not feel the need to buy a whole big one.

I have this in shade Sooo Cool 06 and it's great little quad to carry around, to take on a trip or something bacause it has good selection of colours and they are pretty neat for that price. It's cheap, pigmented enough, can be used wet for better pigmentation, but I don't complain. For that price, I know what I get.

Love it!!!
I really love nude color for every stuff either its make up or nail polishes or dresses and shoes and this product made me happy i really love this product and it looks like that i have done natural make i just wanna say that i really love this product...

the best!
the most best little pallete for that price! i adore it and mine is allmost gone. i love the colors. the white as highlither, the nude skin tone all over the lid. and the browns for the crease and outer corner. its really cheap but awesome fot everyday. every girl should have this in her collection

Giftedteacher M.
Jul 07, 2012
Well worth the buy!
I purchase Essence here in Toronto from Shoppers Drug Mart. So far I have not had many major disappointments. I LOVE this shadow, it has tons of pigment, great coverage and is long lasting. I sometimes apply it over the long lasting colour in the pot from Essence too, then it really lasts. I think the product is comparable to the high end brands I usually buy.

I bought this for under three dollars at my local Ulta! It was better,smoother and lasted longer than some of my more expensive shadows. I was surprised with the pigmentation! Needless to say I will be checking into more Essence products in the future! However I do not like the packaging its a little messy for me.

Handy
Thid quad is very good quality, you can use it for eyebrows, daily makeup, smokey brown eye, you have a highlight color. . . just everything you need =) I like that you have matt brown (for eyebrows) and shimmer brown for smokey eye when your going out. With this you can do a lot and for me, i use it for about half a yer now and i use it every other day =)

Pretty.
This quad is the first product I ever tried from Essence. I can't remember the exact price but I believe it was under $3. At first I thought this line was targeted for younger girls because of the colors and packaging. But the Party Animal quad caught my eye. The shadows are smooth, easy to apply, fairly pigmented. I just wish the yellow was more bold since it was the reason I chose this palette. I like it enough to try the other colors. That's my opinion. XXOO!
---