Organic Lip Balm Smooth Sphere/Smooth Stick Multi-pack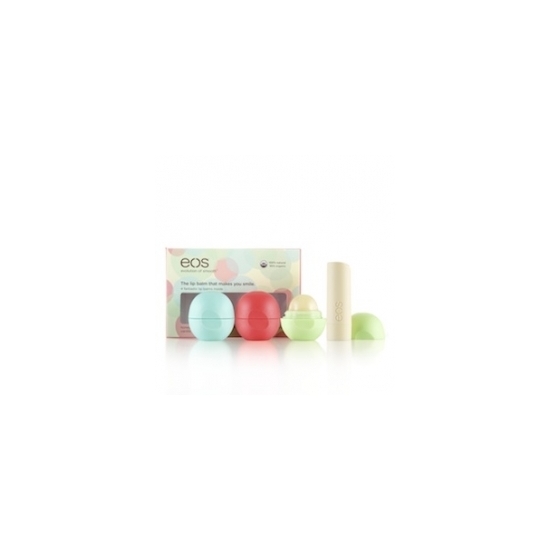 Rollover image to zoom
Reviews

Smooth, Soft, Moisturizing!
Love the like of EOS (Evolution of Smooth) Lip Balms! I now have 5 and am totally willing to add onto my collection! The ones I have are.. ~ Strawberry Sorbet ~ Summer Fruit ~ Limited Edition 3pk. Alice In Wonderland I love them and use them all of the time! I have heard quite a few bad reviews and for whatever reason I think they're fine and LOVE them!

Makes your lips super soft
My friend Amber gifted me with this balm and I really loved how smooth and hydrated my lips felt after just one use! I keep my balm on me at all times and like to use it alone or under my lipstick.

EOS!
Honestly, I have been through tons of chapstick. I have tried brands that were well-known and some that I had never heard of and THIS chapstick is the best. The thing I like most about it is that I can layer it. I use this on the bottom and sometimes put lipstick on top. Other times I'll wear a NYX lip cream on top. It's so smooth and it doesn't help my obsession that it's the cutest thing ever. I'm really into packaging and the design is adorable.
I've heard that some people's lips turn white when they apply it on chapped lips. The only thing I have to say as a rebuttal is that 1. you don't need to roll this around 50 times on your lips. It goes on easily. 2. Sometimes when your lips are extremely chapped, chapstick isn't what you need. It's water. Chapstick isn't designed to "unchap" your lips. Adequate amounts of water in your system does the trick. Chapstick helps to seal in the moisture and maintain the smoothness of your lips. So my point: your lips should be relatively taken care of. DO NOT DEPEND ON CHAPSTICK TO KEEP YOUR LIPS FROM GETTING CHAPPED.
Now, back to how awesome it is...it smells great. The end. well, and it's organic and paraben free. So it's kinda healthy too. okay really...the end.

Decent, but not for the price
Not going to lie, I love the look and smell of this product, and the fact that its organic and paraben free! Thats probably why its so expensive, but it doesn't exactly work wonders for me. I still use it because I bought a 12 pack. Whenever my lips are extremely chapped it just seems to turn them white, so I'd watch out. It is quite nourishing though, and they don't taste bad if you get some in your mouth somehow.
---