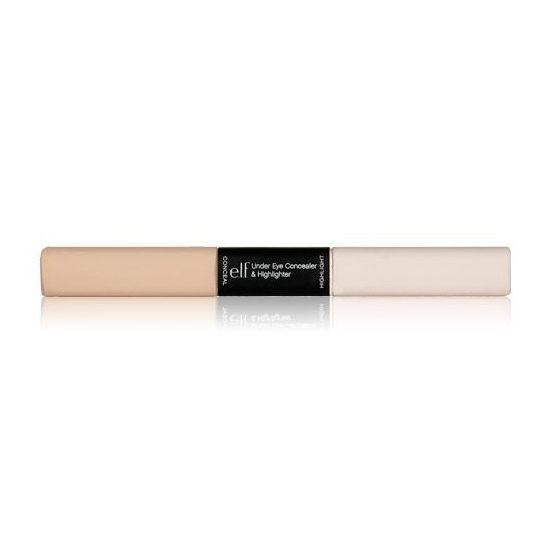 Rollover image to zoom
Reviews

Not heavy or cakey
On the concealer side in light: This concealer does its job when I get a decent amount of sleep. It will not crease. Sadly, when my dark circles are worse than normal it just can't cut it alone. Overall it's great for those who don't need extreme help with dark circles and touch ups. Would repurchase.
On the highlighter in glow: Lots of people have complained this is too light, and honestly, it is literally white. You can still find uses for it though. I like to use it on my cheekbones under a matte blush. It's also good in the inner corner of your eye. It isn't the best thing, but I'd repurchase to get the concealer.

I got this when I first started out with makeup. VERY minimal coverage, if any at all. Highliter side was very hard to blend and then when you did blend it was just sparkles. I actually switched it last night to see if maybe possibly it was any better. The packaging broke as well. Overall no my favorite e.l.f. product. Btw the stick concealer they just came out with isn't any better!

Good product, horrible packaging
I use this more for the glow end than the concealer end. I've had this product since January and it is a fantastic highlighter. I dot it on top of the cheekbone and for me it looks far more natural than any other shimmery highlighter I've tried. The concealer end is okay. It doesn't crease horribly. The packaging concept is good, but I've been traveling with it a lot and the black connector bit (not sure what to call it) fell a apart, so now I have two separate vials of concealer and highlighter floating around in my makeup bag. For $3 though, I'm thrilled it lasted even that long and I still have plenty of product to go.

Quite nice for $1~
This little stick does the trick. :] The concealer needs to be more pigmented and more yellow in my opinion. Then it would do a much better job of actually concealing undereye darkness. As it is though, I'll admit it looks very natural and stays put all day. It also works for concealing redness and acne on the face. Sheer coverage, but tones down the redness enough without looking cakey. I also like the highlighter. I actually wish it were more pigmented and shimmery like a pan included in their holiday 2012 set. Not completely highlighter-y, it more just makes your face look dewy in only the spots where applied.

Great concealer okay highlighter, BUT GREAT PRODUCT
The concealer looks so natural under the eye, around the nose, and at the cupid's bow! I love it and use it every day. Not so good on Acne though.
The highlighter is a bit too light, and is not the best but just apply a swipe of it wherever you want it and pat it down and it does it's job. The product itself did break into two (concealer & highligher split) but that was probably just my fault for being so rough with it. Great product for $3

I love this, it's easy to use and can be carried around easily. For the price it was worth it's excellent. However it runs out quickly so I'll have to keep on buying more.
---