Studio Tinted Moisturizer SPF 20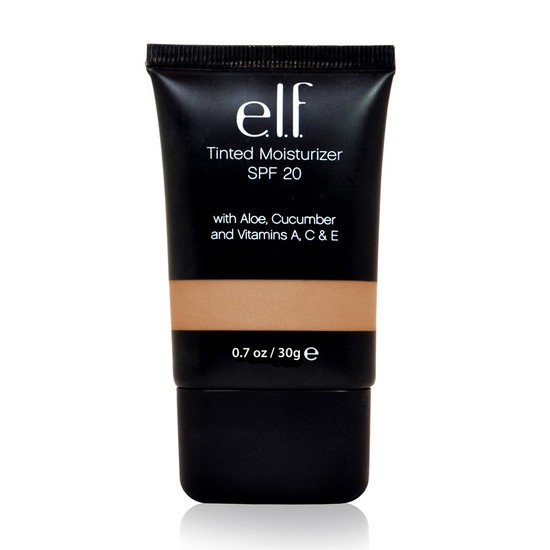 Rollover image to zoom
Reviews

will continue to repurchase!
i love this product! i will continue to repurchase it as long as they keep making it the same, if not better! i wear this if it's super hot outside or if i wake up late & need to look semi presentable for society!
i just conceal as if i were doing foundation, then use my clean hands & put it on, careful around concealed areas. set with a powder & i look a lot different! i look 10x better even if i don't have any eye make up on. (& i *always* wear eyeliner/mascara). i don't use *too* dark of a concealer, but i do use a darker shade than the tinted moisturizer & they blend together well while keeping my coverage!
i'm in the shade nude, which squeezes out a bit darker than my skintone, but blends out perfectly! it has SPF 20, which is great, but also gives it that SPF smell. plus it has vitamin A, which is good for dry skin!
for the price, this is definitely a product worth trying & hopefully find yourself using a lot.
it doesn't get cakey & i feel like even after applying a setting powder, my skin is a bit dewy! i will always keep one of these in my travel/purse make up bags

On the run color
I was surprised I loved it. Usually cheap ($3 USD) foundations are too pink or too orange from my experience. This one was perfect! I love it! I use it on the days I am not doing much, but I dont want to walk around feeling and LOOKING like a zombie haha. Its $3, not much to lose.

Surprisingly Great Quality for $3!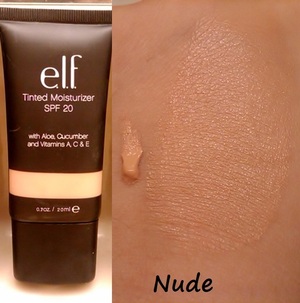 After using and loving the ELF Essentials Tinted Moisturizer SPF 15, I decided to try out the ELF Studio Tinted Moisturizer SPF 20 hoping this might be the same great quality or better than the Essentials tinted moisturizers. These moisturizers are $3.00 per .7oz tube and comes in 7 shades; Porcelain, Nude, Beige, Sand, Almond, Mocha, Espresso. This moisturizer provides a very sheer tint to the skin, but can be built up to a medium coverage if needed. The consistency of these moisturizers is thinner than the Essentials tinted moisturizers, similar to a face lotion. The scent is very fresh, having key ingredients of aloe, cucumber and vitamins A, C & E.
I personally have been using a couple of these moisturizers on/off since I got them, and I really like the coverage and hydration that it provides. It's very smooth and easy to blend into the skin. Most impressively, the sun protection it provides really does keep you from burning throughout the day. I have pretty sensitive skin, and I have not shown any irritation to this moisturizer. I recommend this to tinted moisturizer lovers, it's great for non-makeup days, keeps you moisturized, is buildable for a medium coverage, and protects your skin from the sun throughout the day.
Swatches of all shades can be found on my blog http://www.beautybykrystal.com Swatch attached is the shade I personally use on NW25 skin

Nice for a lazy day
I'm not much for tinted moisturizer because I love full coverage but I decided to try this on a whim but I now LOVE it. I wear it alone alot when I want my skin to breathe, and it's nicely pigmented for only being $3.00 and it smells like cucumbers :) Or I wear it under my foundation for just an extra punch of coverage without being cakey. I have back ups of it now!

For it's price, it's the best!
Everyone talked about this product like it was a goddess so I gave it a try a few weeks ago and I immediately fell in love with it! It's amazing, keeps my skin hydrated and of course one shade. I too, will continue to purchase this as long as it is in stock. I don't like to put on foundation in the summer time because of the hot weather.. Foundation gets muggy and gross. This moisturizer on the other hand doesn't do that. It also keeps your skin from getting oily.
This is a MUST HAVE! (Especially for those that can't go without foundation but hates how muggy and sticky it gets after a long day)

BEAUTY BARGAIN!!!!!
When the Target near me finally started selling elf products i was so excited I think I bought 10 or 15 things (bc nothing was higher than $5). This was just one of the things I picked up. I really didn't expect to love it but I did. Just like Megan N. said below you def dont need a lot so you'll get a lot of usage out of it. It went on smoothly for me and evened out my skin tone. I dont always like using foundation all the time. So I would recommend this for anyone thats looking for a good tinted moisturizer that isn't going to cost you a lot

Sojourner W.
Jun 06, 2012
Light Coverage, Know Your Shade
I purchased this last year when I was just starting out with face makeup. I had never worn foundation or powder or concealer so I was really excited when I saw this product (as well as its price tag of $3). I chose the shade Almond because it was the darkest shade at my local Target, which now I realize was wrong for me (I'm probably the next darkest, Mocha). However I still used it, I just really had to blend. I have combination/oily skin and I find this moisturizer is probably a 7 on a moisturizer scale of 1 - 10. What I really like about this moisturizer is that it has SPF in it, which made it perfect for the summer. If you don't have a lot of acne or toning problems, go for a product like this because a super thick tinted moisturizer or foundation might cause breakouts because your skin doesn't need all that coverage. Overall, this is perfect for summer and doesn't provide a lot of coverage, hence why it's a tinted moisturizer and not a foundation. Therefore if you like light coverage, then I would recommend this product to you.
Pros: - Price - Texture - Availability
Cons: - Not a lot of darker shades

feels great!
This product feels great on my skin, at first i thought it would look bad because it only cost me lik 3 bux or something like that but it actually turned out good. It does have some what of a dewy look and it hast spf 20 so thats a plus. I do recommed this product but if i were you i would set the product with a powder to mattify it a bit.
---