Studio Tinted Moisturizer SPF 20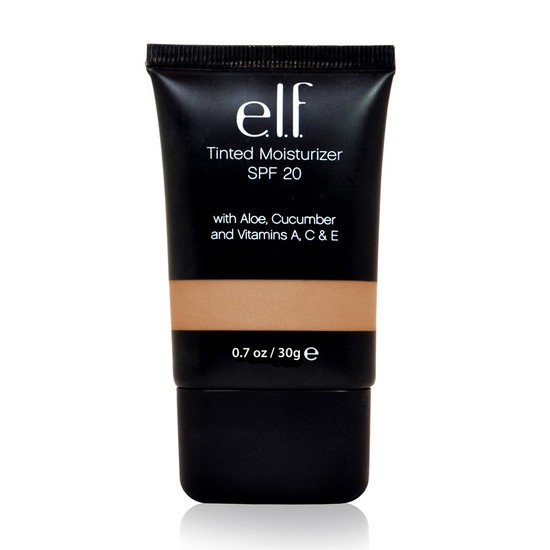 Rollover image to zoom
Reviews

Moisturizing, but little coverage
I was really excited to try this, but it didn't work for me. There was hardly any coverage. I have combination skin that can get pretty dry in places, so I liked that it was a rich moisturizer. I may try it again because I've heard good things about it, but it did NOT work for me.
Love it!
I've tried many different tinted moisturizers and this one is my favourite. It glides on my skin easily, it's not greasy at all and it matches my skin tone perfectly. I thought it would be way to orange for my skin, because I am pretty fare, but it looks like my natural skin. Although it has little coverage, I don't mind as I use a concealer anyway. The only negative is that it made me break out a little, but that normally happens when I try new products. I'd really suggest getting this product.

This is great!
I got the very lightest shade (porcelain), which matched my skin perfectly. At first I didn't like the SPF, but then I saw many beauty gurus on YouTube saying it was a good thing. I found this to be the same quality and efficiency as many American brand BB creams- at a fraction of the cost. It also helps even out my skin tone like a CC cream would. Oh, and it's not very moisturizing. That didn't bother me- I just applied lotion beforehand -but some people may find that to be an issue. There is not very much product in the package, but a little truly goes a long way. I would recommend it for teens or people with clear skin. Definitely something I would purchase again!

Broke me out!
I never EVER have broken out with a skin product. This gave me so much acne and bad skin for weeks! I only used it twice and it did horrible things to my skin. First off, the colors aren't the best matches then the smell was iffy. The product I thought was going to be okay but it made my skin look super dry and flaky and then wore off in the middle of the day leaving my skin with a horrible look! I threw it away before using it a third time. It might be just my skin but again, from personal experience, I've never had my skin do this before. I highly DON'T recommend this.

A bit too pink for my skintone, but I love the spf.
The spf in this kind of smelled a bit strong, but it doesn't linger. I'm not a fan of using spf, but I am prone to sunburn and such, so this is a great way to protect my face while also applying makeup. For only $3 I can't go wrong here. I wish they had a better selection of color, because I used it in medium, and it was a bit too pink for me, and also, a bit too light, so I had to eventually mix it with my regular foundation. I tried the tan, it was too dark. Nonetheless I like this product:)

Not my fave face TM/face product
Judging by the pretty large amount of fans of this product, I might need to rethink why I disliked this product. I got this way back when I was getting into face products and was starting with TMs. I was trying so many tinted moisturizers it was like makeup's doomsday was upon us!
I probably should apply this differently, (with different tools) - mix it into a primer/light foundation or moisturizer, and set it with a more full coverage powder. I'll share my initial opinion, but now that I know so much more about MU and TMs, I have more realistic expectations, and ingenious ways to doctor products, and use it in the most beneficial (and correct) way! It wasn't too expensive, so I'm not feeling too guilty about letting it sit in my makeup rejects basket, but I will try to use the little tube up, at some point. I actually wanted to get the Essentials TM as well as the Studio line, and I think I might like the essentials TM more. I love the little Shimmering Facial Whips tubes, especially to mix into foundations to create a luminous finish- so I assume the essential TMs will have a similar, liquid/creme consistency, perfect for mixing and playing with. Anyway, I might change this review if I re-try this product, but right now, I'm gonna just relate my initial impressions and dissatisfaction when I tried it the first time.
The packaging is cute and looks high end- Nars much? Its less than a fluid oz, so there's not much there, but I'm OK with that. I'd rather get a little product for cheap, instead of a lot of something I realize I'm not digging. It does separate in the tube, but thats no biggie. Color wise I got Porcelain 10614 but in the tube and when swatched it certainly leans more peachy/orange. I'm a huge texture MU person, so I need the texture of the product to perform just as well as the other factors. I like to apply tms/bbs with my hands, and rub it in like a facial moisturizer. I feel I can be more precise with blending- going behind and on ears, and blending/rubbing well onto my neck/chest- so no unsightly line between foundation face and bare neck. This felt tuggy/draggy and hard to blend/sink in. It didn't feel all that moisturizing and it was quite sheer. ( At the time, I didn't know how buildable it was).
So, again, I might have better luck if I change how I apply this, and if I manipulate the product a bit. I am still interested in the essential's tm and I find hits and misses with both of ELF's Studio and Essentials line.

Mary Anne M.
Jul 05, 2012
Orange-Toned and Incredibly Greasy
As much as I tried to give this tinted moisturizer a chance, it wasn't comparable to other tinted moisturizers I've tried from Urban Decay and Josie Maran. It's what you would expect from a tinted moisturizer—moisturizing with sheer coverage and sun protection, and it does just that if that's all you're looking for, and it's really cheap ($3!) for 20ml. How could I resist giving it a try? The formula feels more like a gel than a cream, but I wonder if this is why the finish for this tinted moisturizer is NOT a dewy finish, but rather shiny/greasy looking, a lot like regular sunscreen lotion. Pile that on top of natural sebum if you have oily skin.
I suppose this might be a great option (and unbeatable value) for those with dry skin, since I would think the greasy finish is more toned down for those with drier skin while quenching it with moisture, but this did not work for my combo-oily skin. While it certainly evened out my skin tone, I could not get past the heavy slick of my face after applying. Josie Maran's tinted moisturizer is loaded with essential oils, but at least that has a flattering dewy finish that can work even for combo-oily skin types. Not to mention, even in its lightest shade (porcelain), this tinted moisturizer is noticeably warm/orange.

Love it, use it every day
The shade I have is perfect for my tan skin, to the point where I don't even use foundation anymore. Love the SPF, it blends really well, and gives me a light base for daily makeup so I don't breakout. My skin can get pretty oily in spots, and this doesn't make it worse at all. I find I'm more oily when I'm *not* wearing it! Breathable is totally correct. Love it!

Sojourner W.
Jun 06, 2012
Light Coverage, Know Your Shade
I purchased this last year when I was just starting out with face makeup. I had never worn foundation or powder or concealer so I was really excited when I saw this product (as well as its price tag of $3). I chose the shade Almond because it was the darkest shade at my local Target, which now I realize was wrong for me (I'm probably the next darkest, Mocha). However I still used it, I just really had to blend. I have combination/oily skin and I find this moisturizer is probably a 7 on a moisturizer scale of 1 - 10. What I really like about this moisturizer is that it has SPF in it, which made it perfect for the summer. If you don't have a lot of acne or toning problems, go for a product like this because a super thick tinted moisturizer or foundation might cause breakouts because your skin doesn't need all that coverage. Overall, this is perfect for summer and doesn't provide a lot of coverage, hence why it's a tinted moisturizer and not a foundation. Therefore if you like light coverage, then I would recommend this product to you.
Pros: - Price - Texture - Availability
Cons: - Not a lot of darker shades
---