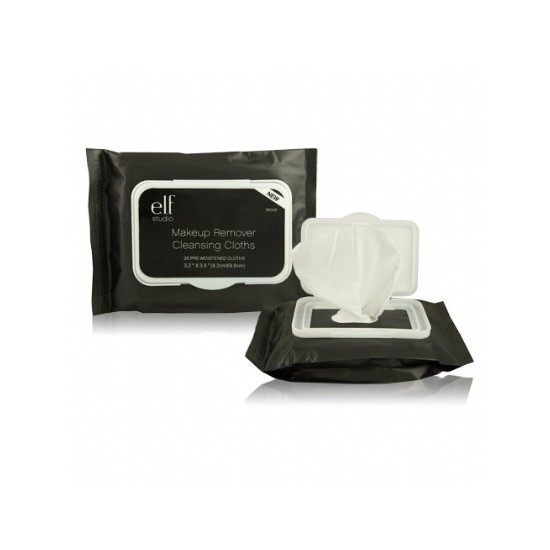 Rollover image to zoom
Reviews

Ouch!
I picked these up at Tj Maxx as a impulsive buy. I've used makeup clothes before & really liked them. These however were a totally fail. They have to have such a high alcohol content in them! Everytime I would use one I would have to wash my face the second later to relieve the burning sensation it gave me. I do not have sensitive skin so I was really surprised. Such a let down. When it comes to cleansing cloths I guess I better splurge to get good quality.

I absolutely love these wipes!
You have to get them! They don't irritate my skin and it gets *all* of my makeup off. Especially mascara, this gets all of my mascara off without a problem.

These are great! I keep them in my top drawer and use them when I'm being bad and too tired and lazy to wash my face and do my skincare regimene. They smell fantastic and take a lot of product off with only one swipe. Definitely good to have on hand or carry with you in your purse.

a must have/ must buy ... only $3
if you cannot afford any other makeup remover wipe... its alright. these wipes take off all makeup. sometimes with just one wipe. depending on how much makeup you have on. great for on the go. just wipe your face and rinse with water after. i do just that then go right to bed [i dont wear face makeup, only eye makeup and lippies] i am obsessed but im also lazy so these do it for me. im a college student/ mother of 3 so i just see nothing but positives with these wipes. dont call them "cheap" because they are good quality, call them affordable.

I love these! They take all of my makeup off smoothly and haven't bothered my skin yet! The smell was a bit much at first, but after a second of two I didn't even notice it anymore. Plus it's only $3! Can't really beat that price.

Love it
This works very good for its price. Its very convenient to have when. I bring this with me just Incase I need to redo my makeup and want to start with a clean face. And it's convenient to have when u want to stay over someone's place and don't wanna bring all those makeup removers cleanser and whatever.

The first time I used this product, I was overwhelmed by it's smell. I've always been using Neutrogena's makeup remover towelettes and they do not have a scent. The wipes leave my skin a little oily after taking my makeup off, but rinsing off my face isn't a problem. Other than that, they really do the exact same job as the Neutrogena wipes. They are also slightly cheaper. I'm only going to stick with Neutrogena's cloths because they don't emit a strong scent.

Stephanie C.
Jan 13, 2012
Quick, easy, and great!
Keep in mind that i've never used makeup wipes before. With that being said, I absolutely LOVE these! I've always used eye makeup remover and cotton balls to take off my eyeshadow and mascara, but these wipes do it in half the time and does a much better job! I couldn't even imagine how a more expensive brand would do. But I can't imagine anything much better. I will continue to buy and use these!
---