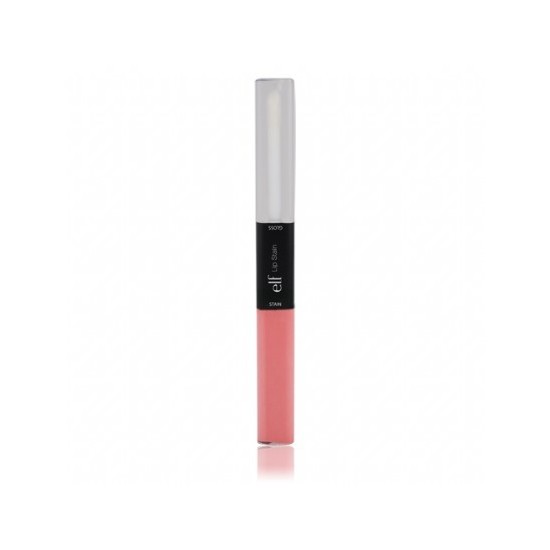 Rollover image to zoom
Reviews

You Get What You Pay For
I purchased some of these lip stainers for only $1. The names of the lip glosses really appealed to me. I can not be to harsh with this review because they were extremely inexpensive. I will go ahead and rate them on the quality of the formula.
You need a lot of product to actually stain your lips. It is a very thin liquidy texture. It really dries your lips out. I always start off with a swipe of my EOS lip balm
I do take into consideration that they were only $1. Once I apply the clear gloss my lips do look quite tinted. I will definitely use this color up. But next time I come across and E.L.F. lip product I doubt I will add it to my collection.
Hope this helps ladies.

Silky, creamy, and luxurious for a stain
The consistency and feel of this lip stain is completely unique. IN A GOOD WAY! I have loved the staying power of a stain, yet I have not liked the feel of them on my lips. If it is sticky I do not use it. If you like the stickiness of some stains (Max Factor), this is not the stain for you. I prefer the silkiness of ELF, and love the option to wear my stains alone with out a top coat.

Best of the best!
Ill begin by saying this is one of my favourite lip stains of all time, and it was an amazing plus that i got hooked on these during the studio 50% off sale!
The color payoff you get with these is beyond amazing, it has rich pigmentation to really give your lips the 'wow' factor.
They truly do last for so long, i can go through an entire day without reapplying which is great for the girl on the go.
The only thing i dont like about this is the color selection. I think there should be much more bolder colors its such an amazing formula that i would love to see a wide variety!

The perfect pink!
I love love love this product I got it during the summer to match a new shirt and it was perfect I got compliments on it all day! And since cool pinks are back in I think I'll have to bust it out more often! It applies a bit like a gloss, but I recommend working in thin layers or you get a streaky effect as with any liquid stain. I also like to smack my lips a lot while it dries so there is no way I'll get any streaks at all smacking your lips and pressing them together will also help the product last even longer, because it adheres better to the skin, I also recommend lining your lips with a natural, deep plum, or the same beautiful pink and blend it towards the middle this will create a finished, polished look and if your using plum it will make your lips look fuller and pouty add a highlight in the center of your lips with a clean white or shimmer shadow apply gloss to the center and blend to complete the plump, pouty lip look this will last all day through kisses drinks and dinner just reapply gloss if your lips feel a bit dry

Sojourner W.
Aug 13, 2011
Nice Alternative for School!
I don't really wearing lipstick EVERY single day, so lipstains are great, and I love my e.l.f one in Lucky Lady! It's a pretty corally pink color and blends in perfectly with my lips. I also own Red Carpet, which I tried out once, but since it's more of a rich, red color, i don't wear it like everyday! However, when I did wear it, it stayed on for a while! It's my fav lip stain! :)
xoxo Sojo
My Blog: http://www.thesojochronicles.blogspot.com

My favorite lip stain! I am a sucker for cream lip stains, and this one is amazing. I have this in Heartbreaker (which is slightly lighter then my natural lip color) and this coral color is amazing. I apply some lip balm, apply the lipstain, and it stays on all day. I love using this when I go to work. I am considering to buy some more of these lip stains.

OMG! <3
I have never had much luck with lip stains they are usually really drying and annoying however this one is completely different. The only thing I really recommend is putting on just a little chapstick before you apply the stain it will help your lips from becoming chapped. Overall great product I want to buy them all.
If you want that Baby Pink pout
I love this mostly for the color! Birthday Suit is my "go-to" lip color. I don't really care for the gloss that comes on the other end, but that's okay because it's only $3 at Target. I would advise you to be careful with this product because if you drop it on a hard surface, the stain or gloss side may break due to cheap packaging!
---