Studio Flawless Finish Foundation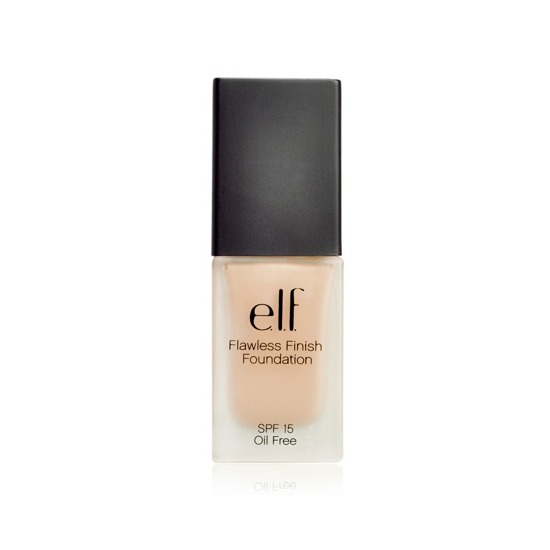 Rollover image to zoom
Reviews

I really really like this foundation! i wasn't sure how the quality would be since the price is so cheap but it is very light weight and stayed on the 7 hours i wore it with no problems.
my skin gets oily through out the day so i always have a problem with foundation wearing off around my mouth but this foundation lasted pretty well. to me it looks more dewey then matte but that could be because of my skin type.
it also covered up my huge pores beautifully and it actually smelled so nice! i will definelty buy this product again and again!

I LOVE this foundation
This is by far my favorite foundation. I LOVE it! It gives you great coverage and it lasts throughout the school day- which is a HUGE plus for me. Usually my make up wears off by the end of the day, but this stays. It also has a good price, and I love that it has a pump. The only bad thing about it is that it gives you a dewy finish which isn't good for people with oily skin, like me. But you can just use powder and it makes it look better. I use ELF Studio Translucent Matifying Powder. I would definitely recommend this foundation to anyone who is looking for a good foundation that isn't too expensive.

FAVORITE drugstore foundation
I LOVE this foundation!! I feel like its full coverage on me. And I have such a hard time finding any foundation, High End or Drugstore, that matches my skin color perfectly and gives the exact coverage and finish I desire. THIS foundation is it for me!! The only thing I do no like is the pump isnt that great. But i just scoop the product out of the bottle and put on my brush and just buff into my skin. It is definitwely dewey. I do set with a few taps of a puff with my Mac MSF Natural or Mac Studio Fix Powder. I have combo / oily skin - and i do get oily through out the day, but this is still the best foundation i have ever found to really give me that dewey finish!!

Great coverage
This stuff works really well. It does this trick. I have it in both Sand & Buff. Sand is a bit light, but after I add powder on top its the right shade. Buff is a lil too dark at the moment thanks to my lack of tanning, but come summer I will be busting it out again. Totally worth the $6, but with the all the promo codes I'm sure you could score it for $3 like me.

great full cov. foundation
I love this stuff! Awesome for a full or medium coverage application, and paired with their studio powder. Its a wonderful marriage! Its $6 which is a steal for the quality and comes in pump form. I do with that there was more colors to choose from but CA you can custom mix well You should be fine!

This is an amazing foundation - I'm very picky with foundation. This one is only $6 at full price which is fantastic of course! It gives amazing coverage and lasts all day! Love that it has a pump - a lot of foundations seem to be without one these days. Lovely finish and easy to apply with fingers or a brush.

a little goes a long way
When I first tried this foundation I was surprised that all I needed was just a little bit of foundation for a full coverage application. The only thing that I don't like about this foundation is the dewy finish,I already have oily skin and the dewy finish really doesn't do any good but I top it off with MAC mineralize skin finish powder then I have a natural look with no shine. Just the way I like it.

Elizabeth C.
Jan 03, 2013
I found it a great foundation
I have normal to dry skin and I wanted something that wouldn't sit like a mask on my face. I found that working this foundation into the skin with a flat top brush works great. The finish is like a satin, but not overly 'dewy'. It looks great once powdered. The smell is nice, not over powering or really chemically smelling. I have read that there were people who had problems with breakouts and the packaging. I have very sensitive skin and it did not break me out, I also have not had the pump malfunction.
---