Studio Daily Brush Cleaner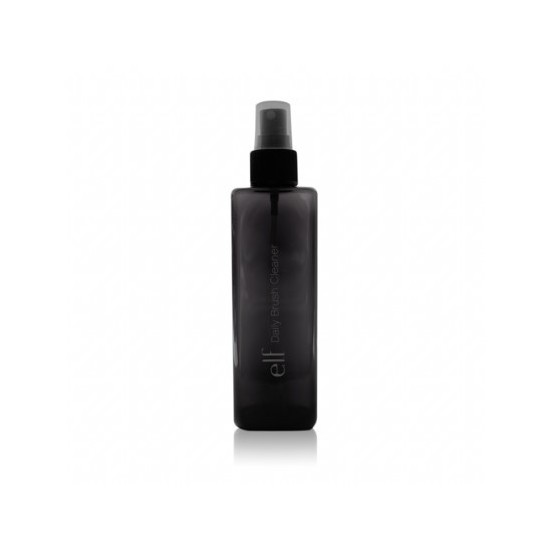 Rollover image to zoom
Reviews

Great for quick cleanings.
People need to understand that this is a DAILY brush cleaner. You use this in between cleanings. It's not going to deep clean your brushes or remove every trace of makeup. It's just to quickly spray on your brushes to disinfect them! The smell really isn't as bad as everyone says it is either. I actually kinda like it. It smells very fresh and clean. But it is rather strong and the scent lingers for hours. My brushes even still smell like it the next day. So if you don't like the scent, I can see why that would be a problem. But all in all, I like this product. I mean for $3 you really can't complain!

Very Disappointed!
I enjoy many of e.l.f's products. I buy them frequently, but I must say this is by far the WORST product I have ever purchased from them. The smell is strong, kind of like hairspray, but I was willing to overlook that. I first tried it on my e.l.f. foundation brush. It removed a small amount of makeup, but there was still a large amount left on the brush. Then, I decided to try it on a smaller eyeshadow brush. No luck with that one either. I am VERY disappointed, and will not purchase this item again. I hope e.l.f will consider using a different formula for their brush cleanser.

great for the price!
At only $3, this brush cleaner does the job pretty well! I've got oily skin so I'm glad it's anti-bacterial. The only thing is that it doesn't dry too fast, so I can't re-use a brush during one morning routine. It doesn't smell like roses, but it's really not that bad -- doesn't bother me at all.

Smells bad, but it works.
This is meant to clean brushes before actually deep cleaning them. It does work! Yes, it smells. But it's only a few dollars...I'd rather not spend a butt load of money on something more expensive that smells better, but does the same thing that this does. It does its job. The smell goes away.

THE SMELL!
omg, It smells so horrible. Like, soooo fragrant. It made my nose hurt, plus I was sorta worried about using the brushes with all the fragrance being putting on my face..BUT if you can get past the smell. it cleans the brushes decently BUT doesn't dry very fast..

Not the Best
I bought this brush cleaner today, thinking "E.L.F. has some really good products, so why not try the cleaner?" It smells awful for one, kind of like hairspray (not so appealing) and it doesn't really do a whole lot of cleaning, it got some of the makeup off the brushes, but overall I wasn't extremely pleased. Highly doubt I'll be buying this again.

Smells AWFULL!
This has the worst smell you could ever imagine. If I had known how badly this stunk when I was considering buying it I would have never purchased it. It does a good job cleaning the brushes though. I spray it on a wash cloth, run my brushes over the spot I sprayed, and I'm done. All color is removed from the brushes and they are dry in seconds. However, now my brushes stink.
---