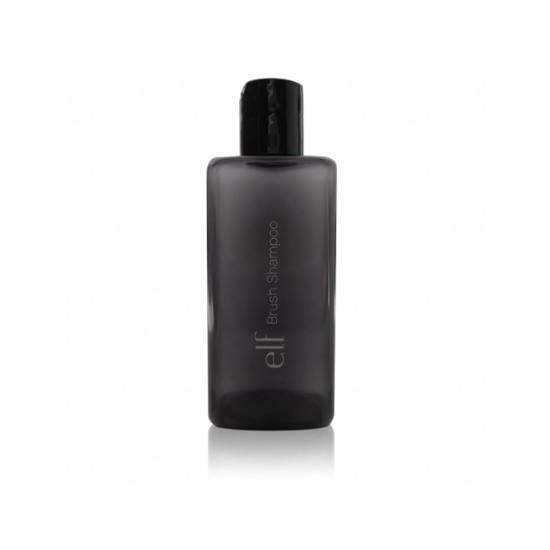 Rollover image to zoom
Reviews

Barely new and I love it already!
I've been shopping around for a brush cleaner since I ran out of MAC's brush cleaner and was looking for cheaper alternative. I almost forgot about ELF and remembered seeing they had a brush cleaner and for cheap! What I like about this is that its consistency is like shampoo vs MAC's which is like water and it wastes. This, a couple of drops and it did it's thing! It, made my MAC stippling brush's white part actually white! I can also tell it's soft so it conditions. It's only been a couple of hours and already they're dried vs waiting a day. I plan on using this on a weekly basis and getting their daily brush cleaner soon. The way I can tell I need to clean my brushes is when I start to break out slowly good thing this is cheap so now I can wash my brushes more often and avoid the breakouts!

Nice!!
Just got finished using this for the first time as my brushes where in desperate need of a wash. It worked very well for me. It even cleaned my eyeliner, foundation, and concealer brushes well. I have seen a lot of reviews stating it didn't work well with those. I don't know maybe some people have bad batches. My brushes look like new!! Waiting for them to dry now. We will see what they look like for sure then.
Me Likey!
I like this shampoo! it works great and cleanse my brushes fast and doesn't foam too much! I usually use hair shamppo but I saw it at Target for $3! I couldn't resist! I don't know how much it effects the texture of the brushes because I washed them last night but they seem soft!

Sojourner W.
Jul 07, 2012
Really Nice!
This is the only brush cleaner or shampoo that I've used and I don't feel the need to try another. I think this works really well for cleaning my brushes, but it's not totally perfect. For my cream eyeliners or black pigmented products the shampoo doesn't totally clean them, but for the most part it does. I'm always afraid that products like this will smell, but this one smells just fine. I don't have any complaints about that. I think this cleanser really gets the eyeshadow, concealer, foundation, etc. out of my products. This shampoo works really well with my foundation brushes too. I have little complaints about this product! It's great, especially for the $3 price!
Pros: - Price - Smell - Formula - Texture - Cleaning Abilities
Cons: - Might not get black pigmented products totally clean - Availability ( only online or Target)

pretty good!
To be honest, this brush cleaner is almost like the rest of them out there. for three dollars its not that bad however the container is small. You can also use regular hair shampoo like suave or Vo5.. they usually run for like 89 cents on sale to 1 dollar.. if you want an even cheaper alternative then elf's brush shampoo.

Mary Anne M.
Jul 05, 2012
A Good Weekly Brush Cleaner
I got this on whim since prior to using a designated brush cleaner I was using The Masters Brush Cleaner & Preserver, which is a soap intended for cleaning fine art brushes soaked in things as tough and as toxic as oil paints. I wasn't sure that was a good idea since it wasn't intended for makeup brushes, but it did the job better than this e.l.f. Brush Shampoo!
I don't regret buying this brush shampoo but I probably wouldn't repurchase either because I've used products or mixtures that are more effective at cleansing and conditioning my brushes. This is definitely NOT a heavy duty brush cleanser; e.l.f. has a Daily Brush Cleaner, and well... this is practically their Weekly Brush Cleaner, because that's how often I used it. If my brushes weren't washed for a month (shame on me), this shampoo would not clean EVERYTHING—my powder brushes would need several repeated washes (we're talking 5+) before there was no more makeup draining into the sink.
However if you're really good about cleaning your brushes, this is an alright brush cleanser as I can vouch for the weekly use. At the end of a week's worth of applications my brushes won't sustain too heavy of leftover product and this shampoo will remove it if you lather it through the bristles thoroughly. It takes a little bit of work on a weekly basis but it does work on somewhat dirty to moderately dirty brushes, but not on heavily dirty ones. If you don't wash your brushes often but use them all the time, don't bother with this; even if you used the whole bottle in a single sitting, you'll be wasting time and energy with repeated and inefficient washes.
The packaging is a plastic squeeze bottle but there's a slight leak on the part of the cap that you push down on to open the bottle. It's not a huge problem but it can look icky and would need to be wiped regularly. I'll still use up my bottle to clean my eyeshadow brushes and occasionally my powder and blush brushes, but once it's done I'm resorting back to my fine art brush soaps.
---