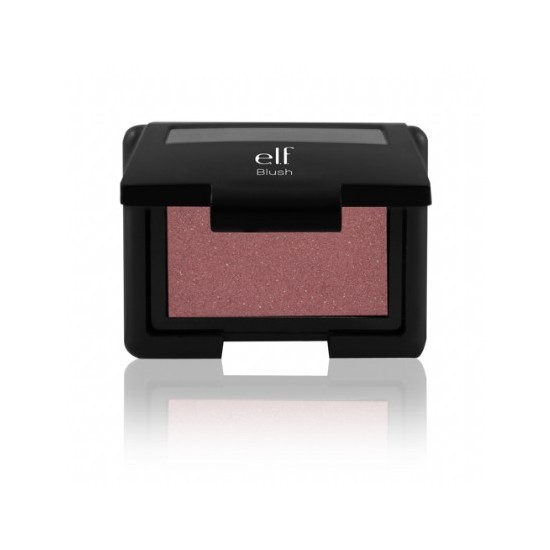 Rollover image to zoom
Reviews

Very natural
This gives me the most gorgeous natural glow... It may not be for everyone but for me it's perfect.. It's the perfect neutral blush that can go with just about any makeup look , not too overpowering on the face ... Very pigmented .. The only complain I have is that it does t last very long and I have to reapply after a couple of hours because the color seems to fade

This ELF Studio Blush is a great product to add some color to your cheeks! I love to apply some on the apples of my cheeks for just the right amount of color! The product is very pigmented. I think the packaging is very sleek looking! You cannot beat this product for the price of $3! A great deal!

I love it! Beautiful coral with gold shimmer that makes your face just glow. However, when you swatch it or look at it, it looks very chunky and gritty....almost scary. But ELF products aren't always the same. One item could be a completely different texture from another one. But it still looks great.

Very natural looking, good for my every day natural look
Obvi I have seen these blushes been praised to high heaven, so on one of my more recent Target trips I had to check them out. I had been wanting to grab one for a long time but decided to wait- impulse control after all! :) The day I got them the other colors I had in mind had just about been ransacked- the boxes were all crumpled up and the shades I wanted were nowhere to be found- a lot of stuff was not in stock. Luckily Candid Coral was still around to I chose it. Its not super coral-y or super pink, and the gold micro-glitter stays in the pan and not on my cheeks, thankfully. Its a little stiff in texture and I needed to dig with my brush many times to get the desired pigmentation/amount but once I got what I needed it was great. This shade appears more pinky than coral on me, looks very natural, and fits in great with my light MU/ no makeup makeup look/natural look seamlessly. It also lasts for quite awhile, and works as a very natural/light contour. The compact is very cute and light, and of course I love the price. You might have to dig around in stead of tap (like WnW's Color Icon blushers-very pigmented) but its well worth the extra effort. These also don't turn orangey through out the day- they stay the way you applied them at the start of the day- at least Candid Coral does. I'd probably pick up more when I have the time/money.

Love!
I love these bronzers they are pigmented and only $3!! I have candid coral, blushing rose, berry merry, gotta glow (which is a highlighter), and mellow mauve! They are great! I also have one in peachy keen, but it comes off as like an orangey bronzer. So I don't really recommend it.

Stephanie G.
Nov 12, 2012
Great bang for your buck!!
These could easily be priced higher than $3. I have a couple shades (candid coral, mellow mauve) & they both work amazingly. Last all throughout my work day at least. Sometimes longer if I dont touch my face. I think Candid Coral gives the same glowing effect of NARS Orgasm.

This is a super pigmented blush, and for only 3.00 you really cant go wrong. However, these blushes do have a fair bit of glitter in them, which you cant really see in the pictures. It lasts a longtime (almost all day). I have this blush in Tickled Pink and Candid Coral, and Candid Coral give a very natural glow. Tickled Pink is more of a pink.

Is mine defective?
Pros: Love the color Cons: hard to get any product on the brush doesn't last more than an hour
I wish I had better things to say about this blush. Most people seem to have a good experience with this blush but it's just not working for me. I'm wondering if it's just the one that I have.
---