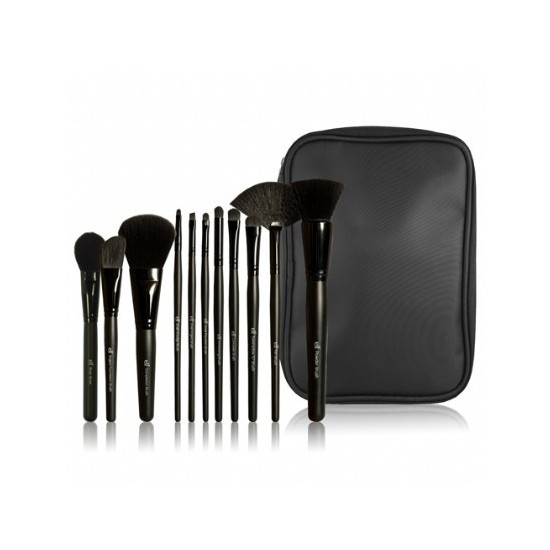 Rollover image to zoom
Reviews

Great value
This was my first brush set, it is an amazing starter set. The brushes are soft, and hardly loose any hair, are easy to clean and since they arent real hair are great for cream and gel based products. And the best part is the price (I got mine for $15 on a Mothers Day 50% off all gift sets promotion!) I think its wonderful for someone just getting into makeup, and I still use the brushes for my personal makeup routine.

Heck yea!
My friend gave my this brush set for my birthday and I must say I absolutely love this! I was planning to get it but she bought it for me (: The brushes are great and I love the quality! Definitely great for beginners who don't want to splurge on a set of expensive brushes.

Elizabeth C.
Sep 15, 2011
love it
this brush set is so affordable, every singel brush is so soft and so easy to use and clean, i would recomend this set to anyone, and is good for those just getting into makeup. my favorite brush in the set is the powder brush i had to buy a back up, hope this helps -cjsmakeup-

Better Than Sigma!
I bought this brush set a while ago and although when I recieved it there were two pieces missing, the angled foundation brush and one of the smaller brushes, I loved the set! I contacted ELF & they did send out my missing brushes but I wish I didn't always have to let them know they forgot something. I digress. I actually got this for $15 too with a coupon code & let me say these are better than some of my Sigma brushes!! They barely shed, they are super soft, and so easy to clean. I use some of these brushes every single day!

i would give this set 10 stars if i could!!
i was looking for a high end brush set last summer and was willing to plunk down a few hundred bucks for a set of brushes. thank goodness i stumbled upon the elf website....they offered their entire set of brushes with a fabulous black case all for around $30!!! i couldn't believe my eyes i thought it had to be a joke...there is no way these brushes could be any good. talk about a shocker - these brushes are better than any other synthetic brush i've ever used. so if you are unsure of spending the money please don't hesitate buy Buy BUY these brushes!!!!! i even customize the outside of the case....i sewed on a patch, also added some safety pins of various sizes (not only does it look punk but they're there if i ever need one in a pinch) i can't say anything bad about this set at all. thanks elf!!!

great product for a cheap price
i bought this collection about 6months ago and im in love with it i even went to target to pick up extra brushes i love the studio line better than the cheaper line i find myself using only about 5-6 brushes but it is still worth the price i even got mine at half off so it olny cost $15 for 10 brushes

In my opinion the powder brush alone is worth the price. The other brushes aren't bad...some are not so great, and some are good. Their eye brushes are nice, and I like the fan brush...most of the face brushes are oddly shaped for my taste but will get the job done. The one thing that usually bugs me about ELF brushes is that the ferrels are often loose. This is easily fixed with glue but still. If you are wanting a set of brushes and are on a budget...these are definitely for you!

these aren't the best brushes out there but they aren't bad. They definitely get the job done if you have a good hand. This is a great great great brush set for beginners and do recommend this set.
---